Photo Gallery
KU basketball v. Louisiana-Monroe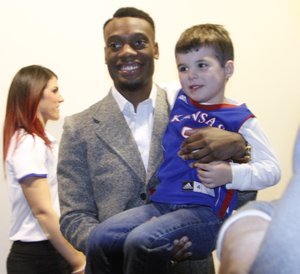 Images from Friday night's 80-63 KU victory over Louisiana Monroe.
Podcast episode
Tarik Black, Andrew White and Wayne Selden discuss KU's 80-63 victory over Louisiana Monroe
Podcast episode
Kansas University men's basketball coach Bill Self talks about his team's effort and all the fouls that were called during KU's 80-63, season-opening victory over Louisiana Monroe.
Box score
• Kansas-Louisiana at Monroe
Document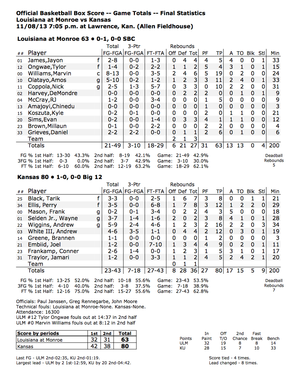 Whistle while you work took on an entirely new meaning Friday night in Allen Fieldhouse, where 16,300 basketball enthusiasts vacated the building grumbling variations of "Rock Chalk, Foul Hawk!"
They all must have felt a little like passengers in a car driven by someone obsessed with testing the brakes by tapping them constantly. (My father was a great, great man, but why did he constantly have to do that?)
On a night that featured more tweets than Carlos Danger could send with the shades drawn, a whopping 58 fouls were called in Kansas University's 80-63, season-opening victory over a veteran, driven Louisiana at Monroe squad that hung within single digits for the first 27-plus minutes.
ULM coach Keith Richard shared what he is telling his players about playing to the new rules that restrict defensive players' use of hands and arms.
"I'm telling 'em not to freak out is what I'm telling 'em," Richard said. "This is going on all over the country. It's not just a Monroe thing. It's not just a Kansas thing. The players have to adjust and not lose their minds because of it. It's not going away."
Unless, of course, the fans who are freaking out go away from their TV sets and ratings drop. And that would be a shame because the intended consequence of the rules was spot on. College basketball had become too much of a bump-and-run, defense-dominated game. Last season, scoring reached its lowest level since 1952.
But the players have been playing that way so long they can't stop themselves, and the refs are following orders. So what we're left with is a test of patience that essentially sets up a race. What will happen first: Will the players learn to play a different style or the network TV power brokers run out of patience and work to convince college basketball to return to the old style?
"It's difficult, it sure is," Richard said. "There were some bad calls out there tonight. Pitiful. But both ways."
It's not often a winning and losing coach ever agree on officiating and acknowledge that the other guy caught some bad breaks, too, but that's exactly what happened in the aftermath of the tweet-fest.
"I think some of the things that were called tonight, I have to watch on tape because I disagreed with several of the calls that even went for us, but the referees have to call the rules," KU coach Bill Self said. "That's their job. What I would say is there were some things that happened off the ball that didn't have anything to do with anything.
"That's an ugly game. I don't see how you can have a pretty game when there are 58 fouls. It's fragmented. Whenever you think you get a little rhythm going, it stops."
In theory, if players can adjust as aggressively as the refs have, the goal that is pretty basketball could be reached. But we all must crawl through miles and miles of mud to reach the beauty.
"There were so many fouls called," Self said. "So we either shot a wide-open layup, or it's a foul. I bet you across America shooting percentages are going to go way up because of the way the game's being called. That's just my call."
One call — or was it a final straw — sent Self's temper soaring to the roof. In the heat of the moment, Richard couldn't believe Self didn't get tagged with a technical. Afterward, Self echoed a similar sentiment.
Asked to predict when a flow would return to the game, Self said, "I don't know. I really don't know. By conference play, I think it will be a lot better. I can't determine if it's good for us or bad for us. I know it's bad to watch. We do have a lot of depth."
He asked himself how many of the 58 fouls would have been called last season and then answered a maximum of 40.
Kansas sophomore Andrew White III said, "We were told it was going to be like this, but even when you are in the game it's very surprising. Even off the ball it's very different. There were a lot of bumps away from the ball that were called as fouls. It's surprising and frustrating, but that's the rule, and we need to adjust on how the referees are calling the game."
Perhaps technology can ride to the rescue and arm referees with a whistle that must be blown twice. The first blow engages the whistle, the second makes a sound. That way, refs can think, "Do I really want to do this?"