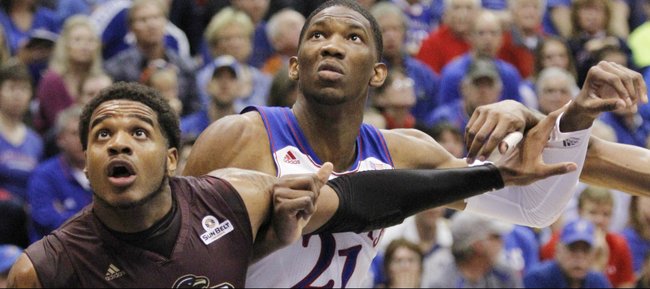 Photo Gallery
KU basketball v. Louisiana-Monroe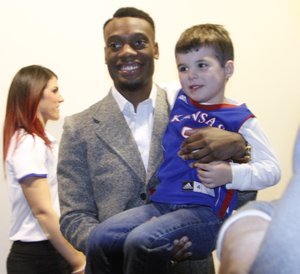 Images from Friday night's 80-63 KU victory over Louisiana Monroe.
Podcast episode
Tarik Black, Andrew White and Wayne Selden discuss KU's 80-63 victory over Louisiana Monroe
Podcast episode
Kansas University men's basketball coach Bill Self talks about his team's effort and all the fouls that were called during KU's 80-63, season-opening victory over Louisiana Monroe.
Box score
• Kansas-Louisiana at Monroe
Document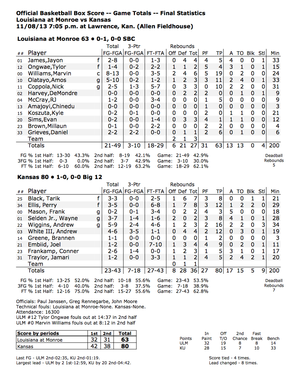 Kansas University's 700th victory in Allen Fieldhouse will go down in history as ... a game in which the Jayhawks nudged Louisiana at Monroe, 80-63, despite using their third- and fourth-team point guards most of the first half.
"It was ugly and it can get ugly when you play without a point guard. For us to play without Frank and Naadir ... we didn't practice that way," KU coach Bill Self said with a smile Friday after KU overcame a scrappy Warhawk team and, in the process, improved to 700-108 all-time in Allen.
"It was good to get some other guys some minutes," Self added.
Starting point guard Naadir Tharpe wore street clothes courtesy of a one-game NCAA suspension for playing in a pro am game last summer in Chicago.
Back-up Frank Mason, meanwhile, picked up his second foul just four minutes into the 2013-14 season opener, sitting the rest of the first half with Conner Frankamp and Wayne Selden running the offense.
Frankamp had two assists and a turnover in 10 minutes the initial half, while Selden, who also played 2-guard, hit for eight points with three assists and a turnover. KU took a 42-32 lead into halftime. Mason returned to play 14 minutes the final half and finished with three points, five assists and no turnovers.
"Frank did well," Self said. "He turns it over a lot in practice, but in games does a better job taking care of the ball. You could see we were better when he was in the game. He had the speed element."
Frankamp finished with five points, three rebounds and three assists against one turnover in 17 minutes; Selden eight points, four assists against one turnover in 28 minutes.
"If we do it three minutes a day, that would probably be a lot," Self said of running offense with Selden at the point. "And Conner, too. We want Conner to play the point, (but) he'll be more effective off the ball when we have Frank and Naadir.
We practiced him at point just to be the backup for this game for the most part. Those guys are both new to it. They did fine, but it was a safe fine. It wasn't a playmaking fine." The Jayhawks needed a vocal assist from Self to finally put away ULM in the final half.
KU led just 47-41 with 15:34 left when Self stormed down the sideline to scream at an official who called a foul on Mason. The outburst, which didn't draw a technical foul despite Self leaving the coach's box, finally fired up the Jayhawks and the crowd as KU went on a 9-2 run to open a 56-43 lead at 11:10.
Four players (Tarik Black, Mason, Andrew Wiggins, Andrew White III) scored in the surge that stretched to 15-7 and a 62-48 lead at 8:16.
"I would say that would be an accurate observation," Self said, asked if he thought he'd receive a 'T' for his outburst. "I didn't do it to fire up the crowd. I did it because I thought it was a bad call. It may not have been a bad call. I thought it was.
"It's going to be hard to get the crowd into the game this year when you stop it every possession (because of new foul rules)," he added. "Home crowds are not going to be as 'homey' if you have a stoppage every possession."
KU's game-high lead was just 20 points at 72-52 with 4:42 to play. Asked about Self's energy, Selden said: "It definitely is fire and fuels the tank for us. We see it and it gets us all into it. Then the crowd gets into it and we turn it up a notch."
Freshman Andrew Wiggins' long-awaited college debut resulted in 16 points off 5-of-9 shooting (2-4 threes) with three rebounds and three steals in 34 minutes. Perry Ellis had 12 points and eight boards and White 12 points and four boards. Marvin Williams had 19 points for ULM.
"Obviously we want to come out and win bigger than we did and finish the game off stronger," center Tarik Black said after scoring eight points with seven rebounds. "At the same time, we are in the beginning of the season. We are still fresh, learning about each other, learning the system. It was like the first two (exhibition) games. It is a learning experience We were all so amped because it was the start of our season. We are glad to come in the locker room 1-0 right now."
KU will meet Duke about 9 p.m. Tuesday in Chicago. Michigan State meets Kentucky in the first game of the Champions Classic at 6:30.