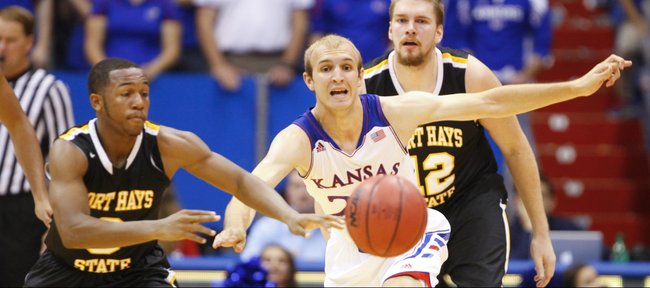 Conner Frankamp, the all-time leading scorer in Wichita City League history, didn't manage a point while playing 11 minutes in his Kansas University exhibition basketball debut against Pittsburg State on Oct. 29 in Allen Fieldhouse.
That shaky outing was long forgotten after the 6-foot freshman struck for eight points off 2-of-3 three-point shooting and 2-of-2 foul shooting in practice game No. 2 — Tuesday's 92-75 exhibition victory over Fort Hays State.
"I was not near as nervous this game as I was the first game," said Wichita North grad Frankamp, who scored 2,275 points in his four-year high school career, 44 more than current KU teammate Perry Ellis of Wichita Heights.
"The first game, I was really nervous. Nerves kind of went away this game. I feel like we all played better."
Frankamp's first three as a KU player opened a 29-8 run that stretched a 21-20 lead to 50-28.
"It was exciting," said Frankamp. "It was a good pass by my teammate (Frank Mason). It's just cool to knock down your first three as a Jayhawk."
He was one of eight reserves to combine for 49 points.
"We came in and were aggressive on the defensive end. We were aggressive on the offensive end," said Frankamp, who had two steals while again playing 11 minutes. "I feel the second group came in and played pretty well."
Sophomore forward Jamari Traylor led the bench brigade with 11 points and seven boards. Frankamp and Joel Embiid had eight points, Andrew White seven, while Naadir Tharpe and Brannen Greene totaled six. Walk-ons Christian Garrett and Niko Roberts had two and one respectively.
"I feel I am confident," said Frankamp, who is known for working shooting about 200 three-pointers a day on days the Jayhawks practice and 400 on KU's off days. Frankamp considers it a bad day when he misses "30 or 35" of the threes.
"It has been a little bit of a change from high school to college. I feel I'm making the transition pretty well. It's just something I've got to keep working on," he added.
KU senior Tarik Black says a relaxed Frankamp is fun to watch.
"He can shoot with the best of them," said Black, who had three points, three rebounds against the Tigers. "We've been doing five-minute shooting (drills) ... Conner didn't miss a shot in 10 practices in five-minute shooting. That's unbelievable. He's a good player."
There's been talk in the media and with fans that Frankamp and/or Brannen Greene (six points, 12 minutes vs. FHSU) might red-shirt this season, though coach Bill Self has said there's a good chance no Jayhawk will sit out the season for a fifth year down the line.
"I'd like to play as much as I can," Frankamp said. "I feel I can help the team. I feel I can be a spark for the team."
KU will open the regular season against Louisiana-Monroe at 7 p.m., Friday, in Allen Fieldhouse.
"We're really excited for that," Frankamp said. As a side note, a victory Friday would be the 700th in Allen Fieldhouse. KU is 699-108 in the building which turns 59 years old in March.
Red-shirt talk: Self was asked at a luncheon Wednesday in Wichita if he'd red-shirt any players this season.
"I'd say we're looking (into it); I'm not sure we will," he said. "Look at this year's team ... guys who would be candidates are guys who can all help us win four or five games this year. If you don't have unbelievable kids and chemistry, you'll deal with some internal issues. All of them are the best in their area or state or region when they played high school ball. If you go to a place and do not impact it in a consistent way, it can create frustration. It's one of those things we've got to get right," he added, noting, in retrospect, it would have been smart had Tyrel Reed red-shirted during the 2008 national title season.
Recruiting: Self at the luncheon said the Jayhawks, who have received a commitment from No. 12-ranked Kelly Oubre, 6-7 shooting guard from Findlay Prep in Henderson, Nev., would like to land two more players in recruiting. KU is still in the running in the early period for Chicago power forwards Jahlil Okafor and Cliff Alexander and Minnesota point guard Tyus Jones.
"We've got one commitment. I'm anticipating losing three (players). I don't know who," he said. "That's what we recruited for. If we could sign three, that'd be great. If we sign two, that'd be fine, too. If we sign one kid ... we're excited about him. We're in the game on some guys. The competition is pretty stiff."