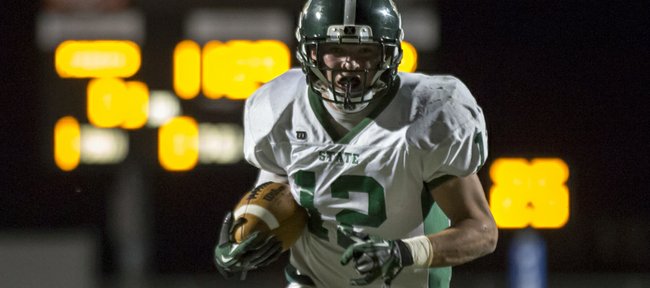 A little more than eight hours after making official his oral commitment to the Kansas University football program late Wednesday night, Free State High senior-to-be Joe Dineen tapped the alarm clock, pulled himself out of bed and headed off to summer weights in preparation for his final season of high school football.
So much for any extended celebration about his big decision.
Dineen, a 6-foot-2, 197-pound do-it-all athlete who projects as a safety at KU, informed Kansas coach Charlie Weis of his decision around 10 p.m. Wednesday night. After enjoying a few smiles and laughs with his future head coach, he did what he would do every night — grabbed a quick shower and headed to bed so he'd be ready for the early-morning wake-up call at 6:15. One problem.
"I couldn't really sleep too much (Wednesday) night," Dineen said. "I was pretty excited."
Dineen's commitment — KU's third in the Class of 2014 — is the culmination of a lifelong path that led him to join the Jayhawks. Although the Free State standout entertained offers and interest from other programs and did his due diligence to ensure he made an informed decision, he admits that the school he grew up watching and rooting for rarely left his mind.
"I kind of knew deep down that KU was where I belonged," Dineen admitted Thursday. "It's kind of fun going through the recruiting process and all that, but I truly believe that KU has one of the best, if not the best, coaching staffs in the country. No matter what, I think Coach Weis is going to turn this program around and I want to be a part of it. Especially being a hometown kid and having seen all the ups and downs, I want to do my part to help bring a winning team to KU."
Dineen, who has played all over the field during his career at Free State and projects as the Firebirds' starting quarterback for 2013, said the relationships he built with Weis and linebackers coach Clint Bowen played a big role in him choosing Kansas. Bowen, like Dineen, grew up in Lawrence and later played at KU, and the Jayhawks' newest commitment said their similar paths also influenced his decision.
"I've actually heard a lot of people say I remind them of Coach Bowen," Dineen said. "And that's kind of cool. We kind of related on a level that was more than just, 'I want you to play football,' it was also, 'I've been in your shoes.'"
Although Dineen entertained the idea of going away for college and appreciated the fact that his parents never tried to pressure him to stay close to home, his love of Lawrence and his support system made it hard to envision himself playing anywhere else.
"I want my family and my friends to be able to watch me play and I want to be able to watch my younger brothers play, too," he said. "Coach Weis said something to me that really stuck with me during one of my visits. He said, 'You can be home and enjoy all the benefits of going to school in the town you grew up in, but you can also isolate yourself and do your own thing.' So it's kind of the best of both worlds."
The timing of his commitment may have been the best part for Dineen, who said he chose now to make his decision for one reason.
"I kind of wanted to enjoy this summer," he said. "I didn't want my last summer of high school be real stressful and I also wanted to be able to focus on my high school team and our season."
Dineen, who is rated as a three-star athlete by Rivals.com, joins Gardner-Edgerton running back Traevohn Wrench and East St. Louis, Ill., linebacker Kyron Watson as the early commitments in KU's 2014 recruiting class.