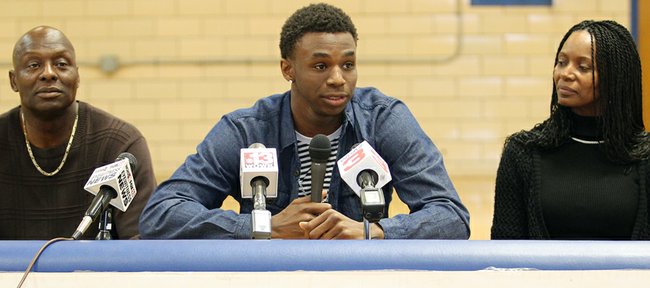 Down to four finalists the past many weeks, Huntington (W. Va.) Prep basketball phenom Andrew Wiggins had a difficult time distinguishing and deciding between Kansas University, Florida State, North Carolina and Kentucky.
Ultimately ....
"I just followed my heart. Kansas had my heart so that's where I wanted to go," Wiggins, a 6-foot-8, 215-pound small forward said Tuesday morning after signing a letter-of-intent with KU.
"I'm looking forward to getting there and just doing my thing," added Wiggins, Rivals.com's No. 1-rated prospect, who is expected to be taken first in the 2014 NBA Draft.
Suffice it to say hordes of KU fans — including those who logged onto the Twitter account of Huntington Herald-Dispatch sports writer Grant Traylor shortly after 11 a.m., Central time, to learn of Wiggins' decision (Traylor was the only media member allowed to break the news from a private signing ceremony) — will be counting the days until the start of the 2013-14 season to watch Wiggins "do his thing."
In his case, that's unleash his repertoire of spin moves and highlight-reel dunks at the shooting guard and small forward positions, interchangeable in the KU offense.
"I've got a weight lifted off my shoulders. I can relax now," said Wiggins, who will be playing one year of college ball just up the road from his brother, Nick, a senior-to-be at Wichita State.
"That's another positive in going there. We talked about all the possibilities. My brother is right there with me. Wichita State is like an hour-and-a-half travel away, so I can be close to my brother. I just look forward to having fun (at KU) and competing," he added.
Wiggins — the last ranked player in the Class of 2013 to announce his college choice — didn't keep anybody waiting on Tuesday morning.
His press conference, which was scheduled for 11:15 a.m., started at 11:09. That's when Traylor's tweet came out, KU coach Bill Self and lead Wiggins recruiter Kurtis Townsend not immediately noticing that they'd won the biggest recruiting battle of their careers.
Recruiting analyst Shay Wildeboor of Rivals.com called Townsend with the news.
"Shay asked Kurt, has he heard? We said, 'No, he hasn't done it yet,'" Self said. "Shay said, 'He just did it. He's coming to Kansas.' It's how we found out. Everybody started running in the office saying it was out everywhere he signed. Then my phone started blowing up. I probably got 150 texts in 10 minutes.
"There wasn't jubilation," Self added. "It was kind of a surreal feeling. I was so happy. It was a humble happiness. I was so proud we were able to land Andrew. There were some high fives, but not that much celebration. There will be a time we do celebrate. Hopefully that's after we win a lot of games next year," Self added.
Self admitted he went to bed on Monday night apprehensive about Tuesday's announcement.
"I didn't think it was great," he said of KU's chances. "I kept texting him. I couldn't get him to respond. In the morning I text him and said, 'Hey man, have a great day today.' He texted back, 'Thank you.' That's been my limited contact with him in recent days because he shut it all down and wanted to think about everything. We had no communication with the family until after he signed the papers."
Wiggins — his high school coach and teammates didn't know the decision until thepress conference — actually decided last weekend, at that point asking his parents, former NBA player Mitchell and track Olympian Marita, to make the trip from Toronto to West Virginia for an announcement. The Herald-Dispatch reports that the parents held a meeting with their son to make sure he was solid with his decision, before walking into the high school gym for Tuesday's ceremony.
"Just letting down the other schools," Wiggins told Traylor of the only downside to the day. "All the other three schools were great schools. I couldn't go wrong with any one of them."
Of KU, he added: "I've always liked Kansas and I like their style of play."
Wiggins, who averaged 23.4 points and 11.2 rebounds last season for 30-3 Huntington Prep, likely won't be in Lawrence this summer. He said he plans on returning to his native Canada to be with family and friends and likely play for Canada's Under-19 national team.
Self said that's fine with him, just as long as he's in a spot where he's "getting better."
Self said there's plenty of time to work out details. Tuesday was a day of celebrating the signing of a player who reclassified from the Class of 2014 to '13 back in October.
"I thought it was the longest long shot," Self said, "at least when we first got involved and everything. The more we hung around, the more we felt he liked us. There was a little bit of a connection. Kurtis (Townsend) played a huge role in making sure that occurred."
Self said KU caught a break in Wiggins visiting for Senior Day.
"He saw what this place was about," Self said. "The game wasn't a huge high intensity game (vs. Texas Tech) but he was able to see how the players are beloved here. After he left, I felt we were definitely in the game and had a shot."
— The Associated Press contributed to this report