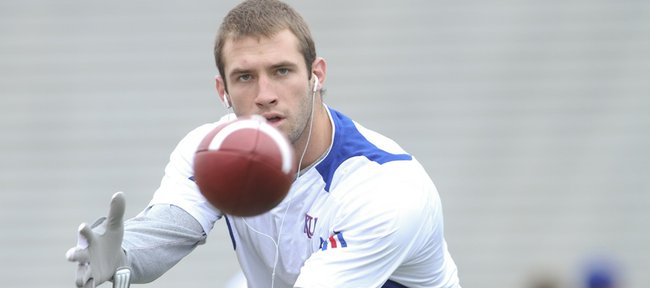 For the past couple of seasons he made a name for himself catching passes for the Kansas University football team. Now he'll attempt to teach others to do the same.
Kale Pick, who graduated from KU in December of 2012 with a degree in psychology, has been added to head coach Charlie Weis' coaching staff, school officials announced Monday.
Pick will serve as a graduate assistant for offense, replacing Matt Middleton, who spent one season with Weis and moved on to become the wide receivers coach at the University of South Dakota.
In his new role, Pick will work closely with KU wide receivers coach Rob Ianello, who also serves as Weis' recruiting coordinator.
A Dodge City, Kan., native, Pick spent the majority of his first two seasons at Kansas playing quarterback before finding a home as a wide receiver. He was the Jayhawks' top pass catcher in 2012 and concluded his career with 63 receptions for 752 yards and two touchdowns.