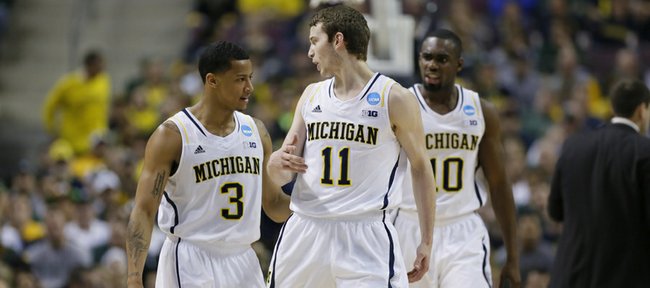 Four CBSsports.com college basketball experts — Gary Parrish, Jeff Goodman, Matt Norlander and Jeff Borzello — each pick No. 4 seed Michigan to defeat top-seed Kansas University in Friday's Sweet 16 contest in Dallas.
Doug Gottlieb of CBS Sports Radio also predicts the Wolverines will prevail in the 6:37 p.m., match-up in Cowboys Stadium in Arlington, Texas.
The Jayhawks are 2-point favorites in Vegas, but the negative prognosticating has made some wonder if KU coach Bill Self will use the "no respect" angle in game preparation this week.
"I guess we could use it. I don't really think there's that type of motivation we need to use to get our guys ready," Self said before Tuesday's practice in Allen Fieldhouse. "I hope everybody talks about Michigan. That's fine with me. We're still the 1-seed. We need to play like the 1-seed. We haven't done that yet, at least consistently.
"They are very capable of being the 1-seed," he added of the Wolverines of the Big Ten. "Two or three weeks ago they were on the 1-line. There's not a nickle's worth of difference between the teams. Whoever plays best on Friday will win."
The Wolverines (28-7) may boast the country's top backcourt in sophomore Trey Burke and junior Tim Hardaway, Jr. Also, freshman forward Mitch McGary appears to be coming into his own after scoring 21 points off 10 of 11 shooting and grabbing 14 rebounds in Saturday's 78-53 third-round rout of VCU.
"I see the same thing every time I watch them play. They stretch you at the 4-spot. They have arguably the best point guard in the country, an unbelievable backcourt. They are extremely well-coached (John Beilein) and well-drilled. They average only nine turnovers a game, which is best in the country," Self said.
"They don't beat themselves. When they are playing well, they play as well as anybody in the country. On the flip side, when we play well, we play about as well as anybody. It should be a heck of a game without question."
Self's Jayhawks (31-5) trailed at halftime in their first two games — wins over Western Kentucky (64-57) and North Carolina (70-58).
"Part of our strategy this time, we're going to tell our guys to actually make shots," Self said with a smile. "Maybe that should be our strategy rather than just throw it up there. The first two games we didn't get off to good starts, without question. Of course in winning the Big 12 tournament we played very, very well. We've got a little momentum. We played terrific the second half against North Carolina.
"The guys got some confidence back. I think there was a little extra pressure. We don't talk about it, but I guess we can (now). Being a 1-seed playing in your backyard where expectations are you are going to do this, sometimes you play not to lose rather than embrace the moment. Many times, coaches and players (say), 'Let's just get through this,' rather than saying, 'I'm going to enjoy every second of it.' That's the mindset we can improve on moving forward."
Wesley doubtful: Self said junior forward Justin Wesley (severely sprained right ankle) is doubtful for the game.
"It's fairly significant," Self said of the sprain, noting X-rays showed no broken bones. "We hope he'll be able to go. We don't think any way he'll practice in the next two days."
Self on KU's women's team reaching the Sweet 16: "They've been unbelievable in the tournament. They played great last year and this year went on the road to Colorado and beat the Buffs on their home floor and had a great win (over South Carolina) last night. I was really happy for her (KU coach Bonnie Henrickson) and her program and they've got seniors who have given their heart and soul to this place. It's really nice for them.
"She (Henrickson) has done a really good job here. I'm so happy for Angel (Goodrich) and those other seniors, for them to get a chance to continue playing."
Encouraging words: North Carolina coach Roy Williams showed some class in speaking to several Jayhawks in the handshake line following the Jayhawks' win on Sunday in Sprint Center.
"He said, 'Good game,' and to go win it all," noted KU senior Travis Releford. "I think that's the message their whole team told us. Of course if we would have lost, we'd probably have done the same thing.
"He's a fan of Kansas," Releford added of former KU coach Williams. "He's said that before. I'm sure he's always going to be (a fan of KU). It's cool to have support from another coach."
One day of rest, reflection: Self elected to give the Jayhawks a day off Monday.
"We decided yesterday to let them get away from us (coaches) and be a normal student for a day," Self said. "We'll jump head first into it today (Tuesday) and get heavy into it."
Coaches get along: KU football coach Charlie Weis texts Self "all the time," Self said. "He's been terrific. He's been a big fan. I'm a big fan of his program and of course he's been great."
Travel day today: KU is scheduled to board the bus at Allen Fieldhouse at 2 p.m. today and fly out of Topeka's Forbes Field at 3 p.m. The Jayhawks will hold an open practice from 2:10 to 3 p.m., Thursday, at Cowboys Stadium.