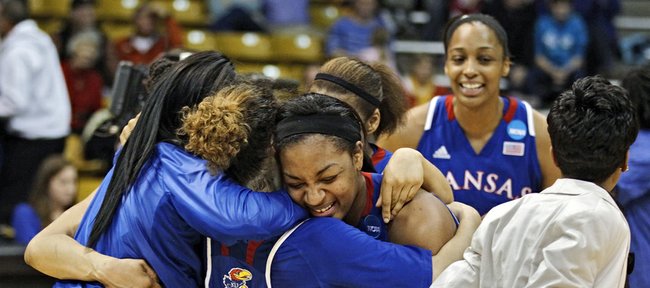 Kansas University has a knack for hanging around in the NCAA women's basketball tournament. For KU senior Monica Engelman, who scored a career-high 27 points in the Jayhawks' 75-69 second-round win over No. 17 South Carolina, it just wasn't time for the Jayhawks to go home.
"The three seniors and the rest of this team — we were hungry, and we wanted to do everything possible, individually and collectively, to advance," Engelman said.
With the win, Kansas (20-13) will advance to the Sweet 16 for the second consecutive year. The Jayhawks play again on Sunday in Norfolk, Va., against the winner of No. 2 Notre Dame vs. Iowa.
Engelman's 27 points trumps her previous career- and season-high 26 points, which she scored against TCU earlier this season.  The senior averaged 9.4 points per game this season.
Her mom, Marlene, who was stranded, snowed in at a gas station during Kansas' first-round game against Colorado, finally made it to Boulder after I-70 reopened. That might have had something to do with the game of her career, Engelman said.
"We all owe Marlene (Engelman) for that one," said a jovial Kansas coach Bonnie Henrickson.
Kansas joins a 1996 San Francisco team as the only No. 12 seeds to win in the second round. Since the women's NCAA Tournament field was expanded to 64 teams in 1994, No. 12 seeds are 2-15 in the second round, including the Jayhawks' win Monday.
In 2012, the Jayhawks made it to the round of 16 as a No. 11 seed, where they lost to Tennessee after defeating Nebraska and Delaware.
"We wanted that feeling again," Goodrich said.
Both teams were vying for back-to-back Sweet 16 appearances. The Gamecocks (25-8), who finished fifth in the SEC and won a school-record 11 conference games this season, lost to Stanford in the 2012 Round of 16.
The Gamecocks trailed for much of the first half until a steal and layup by Ieasia Walker at 8:50 gave South Carolina a one-point lead, 22-21. That score came in the middle of a 10-0 Gamecocks run, during which South Carolina stifled Kansas for nearly three minutes.
But Kansas charged back with an 8-2 run that gave the Jayhawks a 42-41 lead heading into halftime. Engelman scored 18 of the team's 42 points in the first half, the most scored by any Jayhawks player this season before halftime.
After the break, KU pulled away 59-52 with less than 13 minutes remaining on a four-point play by Goodrich, who drew a foul on a three-pointer.
With less than seven minutes to play, KU senior forward Carolyn Davis fell to the ground while defending Aleighsa Welch and limped off the court, grimacing and favoring her healthy right leg.
Davis, who dislocated a knee and tore an anterior crucial ligament midway through last season, was examined by KU medical staff and checked back into the game at 3:51. The senior added 12 points and five boards.
"It's always a scare to see someone go down, and when I looked at her, she kind of just held her knee and I was kind of like 'Dang,'" Goodrich said. "I didn't know what to think, really, but for her to get up and stand up it relieved me a little bit."
With 30 seconds on the clock and the score 72-69, Walker missed a three-point jumper that would've tied the game. Kansas' lead grew to five with a pair of free throws from Goodrich, 74-69.
Goodrich went to the line again after stealing the ball and drawing a foul with 15 seconds remaining, putting away the game for Kansas, 75-69.
The senior said she never worried about losing the game, even when Kansas trailed.
"As a point guard and as a leader, I can't show my face as worried because my teammates look to me," Goodrich said. "I feel like we've grown in that aspect of being really composed and really just trying not to let anything get to us."
Junior guard Markisha Hawkins lifted Goodrich off her feet after the buzzer, overjoyed at yet another unlikely run by the Jayhawks to the Round of 16. Goodrich led the team with eight assists and added 20 points.
"She was just yelling 'Sweet 16' in my ear and just hugging me," Goodrich said. "She always does that. I don't know why she picks me up, maybe it's because I'm so small."
Sophomore Chelsea Gardner led the Jayhawks with 12 rebounds, eight on defense and four on offense.
South Carolina grabbed 26 offensive rebounds to Kansas' 17, and the Gamecocks' bench added 16 to the Jayhawks' six. But the Gamecocks couldn't top the Jayhawks' 46 percent field-goal shooting and 50 percent three-point shooting. The Gamecocks' leading scorers were Bruner and Welch, who scored 16 apiece.
The Jayhawks' win over South Carolina made it four wins in four days for the men's and women's basketball programs at KU. A small Kansas contingent sat behind the Jayhawks' bench holding a banner that read "We believe in you!"