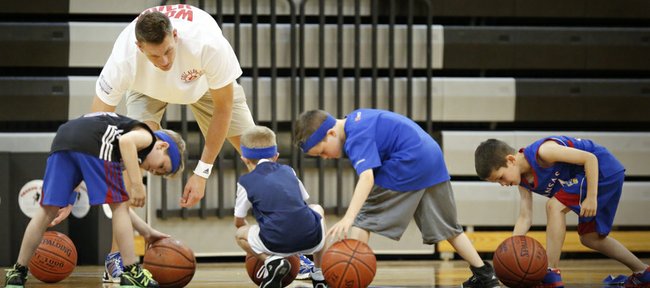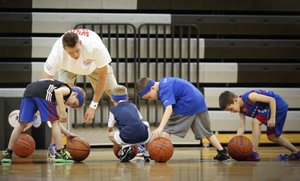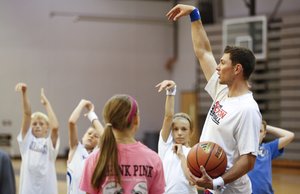 Olathe — Cole Aldrich says he has almost felt guilty when scrimmaging against some of the current Kansas University basketball players in recent weeks.
Though he's going into his fourth year in the NBA, Aldrich, a former KU center, says he feels like one of the least-athletic guys in the building.
"It's just like, 'Wow.' They fit right in with the guys in the league (NBA)," Aldrich said of the current Jayhawks. "They all can jump. They can run. That's going to be a fun season to watch them this year."
Aldrich — he talked during a break at his Cole Aldrich Basketball Camp held Monday at Olathe Northwest High — said the biggest surprise for him had been the play of 6-foot-9 Memphis transfer Tarik Black.
"He kind of reminds me of (former KU foward) Darnell Jackson. He really does," Aldrich said. "A guy that's not necessarily overly skilled, but really works hard. And he's a big body.
"Darnell didn't quite like to hit people like Tarik does, but I've had a good time going against him. It's been fun."
Aldrich also has been playing alongside the nation's top-ranked recruit: 6-foot-7 wing Andrew Wiggins.
"Obviously, athletically, he's one of the best. He'd be one of the most athletic guys in the league right now if he was there," Aldrich said. "Skill-wise, it's still early. The kid is 18 years old. He just came from high school. How do you expect him to be the next LeBron (James) or the Kobe (Bryant) or whoever? You put a lot of pressure on a kid like that.
"The good thing is, what I've noticed so far, is that he works hard. He has a good head on him. He's a little quiet, shy kid, but I think once the time comes, he's going to open up and feel more comfortable, and things are going to come, and he's going to really excel."
Aldrich has been linked quite a bit to Wiggins recently after the freshman skied for a dunk in a KU summer scrimmage Wednesday at Horejsi Center. Aldrich — the last player back — chose not to challenge the slam, though he has still received some flak on social media from people telling him that Wiggins dunked on him.
"Did I jump? Did I try to go block it?" Aldrich asked with a grin. "It's a camp game. You get a bunch of kids that are anywhere between the ages of 8 and 16, and all they want to see is dunks. But it was having a good time."
Aldrich said he hadn't lost any sleep over the jabs he's received, saying if he had challenged the shot, there also could have been a risk of injury for both players.
"If it happened in October, I might have tried to go and block it. Who knows?" Aldrich said. "It's fun. It's summertime. It's for the show for the kids."
Aldrich, who was traded from the Oklahoma City Thunder to the Houston Rockets to the Sacramento Kings last season, becomes an unrestricted free agent on July 1. The 6-foot-11 center has been playing pickup games at KU to try to stay in shape, which is important because an interested NBA team could request him in for a workout.
Aldrich finished the season strong a year ago, scoring 12 points in two of his last three games. Over that three-game stretch, he made 13 of 15 field goals (87 percent) and averaged nine rebounds.
"I think the biggest goal for me right now is to get on the court," Aldrich said. "When I got traded to Sacramento, I was finally able to get out on the court and show I can play still. That's the biggest thing — just continue to work. Get in a good situation and be with a good group of guys."
With the NBA Draft coming up Thursday, Aldrich said his advice for KU's future pros would be to enjoy the experience — and also be ready to wait for success.
"There's so many good guys in the league that sometimes a little patience is good," Aldrich said. "I'm learning that. I've been working hard the last two years and finally have gotten an opportunity and ran with it."