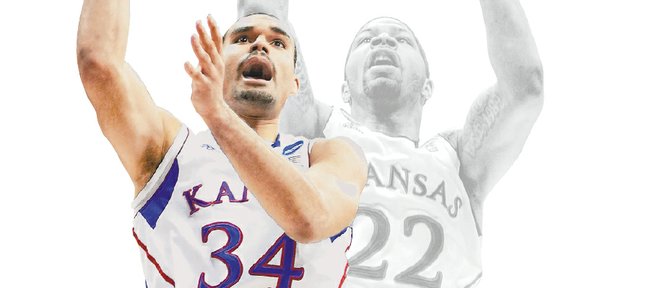 Kansas University sophomore forward Perry Ellis has hit the film room this offseason to improve his game.
One of his main studies? Former Jayhawk Marcus Morris, whom Ellis watched quite a bit growing up.
"I just really try to look what he does and see how he does it in the system," Ellis said, "and try to copy what he does."
The two have quite a bit in common — the most obvious of which is body type.
In their freshman seasons, both Morris and Ellis shared the same measurables: a height of 6 feet, 8 inches and weight of 225 pounds.
Ellis is hoping the similarities don't end there.
After an inconsistent freshman season, Morris significantly increased his scoring (12.8 points per game from 7.4) during his sophomore year after fully committing himself to the weight room.
At first glance, Ellis (5.8 ppg last season) might be going through a similar transition.
In two camp games this summer, the Wichita native appears to be elevating higher, especially around the rim.
"That makes a big difference on the court," Ellis said. "Now, you're not worrying about, 'Oh, I can't do something.' Now you think that you can do it, and you just play better."
Morris also improved his offensive skill-set each year, developing his midrange jumpshot and face-up game later in his career.
The face-up game is what Ellis has worked on most this summer. While on his own in the practice gym, Ellis will spin the ball up in the air to simulate a pass, then catch it and work like he's going against a defender.
"The more you can incorporate it in your game, the better," Ellis said of his face-up game. "The more variety of ways you can score, the better it is. It just helps you and the team out."
Ellis also has extended his shooting range. After going 2-for-3 on three-pointers all of last season, the sophomore already has made four three-pointers in the two camp scrimmages this summer.
"I've been getting a lot of shots up," Ellis said. "That's the key. … That's what I've been doing, and I feel comfortable right now."
Ellis also says he's quicker this year and — in a strange way — says improving physically has helped free him up mentally. There were times a season ago when he believed his body kept him from reaching his potential.
"I was kind of like, 'Man, I feel like I can't do this.' There was something holding me back in my mind," Ellis said. "That's the mental part of it."
In terms of basketball, his knowledge is growing as well.
Ellis — a 4.0 grade-point student in high school — admits his freshman season was "overwhelming" at times.
"Just learning stuff at a fast pace. I wasn't really used to that in high school," Ellis said. "Then, I just started getting acquainted."
Though he had an impressive finish to last season — making 30 of 46 two-pointers in his final seven games (65 percent) — Ellis believes he's in an even better place now when it comes to knowing his role on the floor.
"My mind-set is really just to keep working hard," Ellis said. "I'm not worrying about anything. I'm just playing basketball, and I'm really having fun playing now."