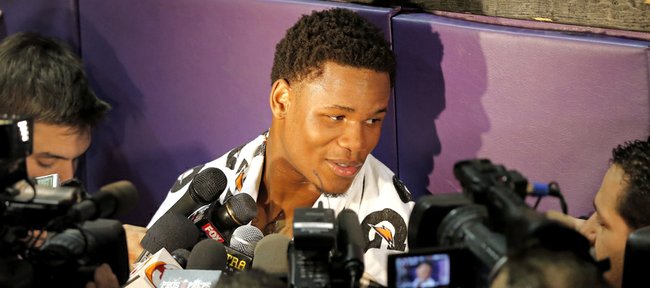 As it stands today, the experts say Ben McLemore could go as high as No. 2 to Orlando — as low as No. 5 to Phoenix — in Thursday's NBA Draft.
"I don't put any thought into that (draft order). Whoever picks me, I've got to go in there and do what I'm supposed to do," McLemore, a 6-foot-5 shooting guard out of Kansas University, told DraftExpress.com — a website that, along with nbadraft.net, has the 20-year-old St. Louis native being chosen second by the Magic.
"I am a Miami Heat fan, but I really don't have a team I really want to go to and play for," McLemore stated recently.
More than one expert has said McLemore's stock has been dropping because of sub-par workouts for Cleveland, Orlando and Phoenix. ESPN's Chad Ford and Sheridan Hoops' Joe Kotoch, in fact, both have McLemore headed to the Suns at No. 5.
"His lack of preparation for the draft is hurting him," Ford writes at ESPN.com. "Multiple sources told me that his workout in Phoenix was not impressive; he wasn't in shape, and he struggled to keep up in the workout. I heard similar things in Orlando. McLemore is in a tug-of-war right now between adviser Rodney Blackstock and his agency, Rivals. It's kept McLemore out of the gym and, for the most part, out of workouts. How much will all of this affect the draft stock? I'm told teams are worried. But how worried? Enough for one of the most talented players in the draft to slide further?"
Kotoch wrote: "McLemore's troubles stem from his inner circle and poor conditioning. McLemore has not been impressive at workouts in Phoenix or Cleveland. One executive who watched McLemore said 'Jamaal Franklin looked like a better prospect than him, and he's still recovering from a sprained ankle.'"
One NBA front-office official — who also could not speak on the record in accordance with league rules — told the Journal-World that McLemore appeared "pudgy" at a recent workout and might be 10 pounds overweight.
"He was struggling after 15 minutes," the official said. "He could slide down (Thursday). I hear no further than 7 to 10, but there's a chance he could slide because of some of this stuff (including the inexperience of his first-year adviser, Blackstock)."
The NBA official said at one point Cleveland was leaning toward taking McLemore at No. 1 overall, but had since changed its mind. He said it would be hard to imagine the Suns passing on him at No. 5, recent concerns notwithstanding.
Until Cleveland says otherwise, there's still a chance McLemore could be the first true shooting guard since David Thompson in 1975 — and second Jayhawk of all time (Danny Manning, 1988) — selected No. 1 overall.
The Cavs, however, are said to be happy with 2-guard Dion Waiters, the No. 4 overall pick in the 2012 Draft, thus may select one of two big men — Maryland's Alex Len or Kentucky's Nerlens Noel.
Orlando, which picks second, could draft McLemore and insert him in the starting lineup. The current starter is Aaron Afflalo, with Doron Lamb and E'Twaun Moore the backups.
At this point, nothing is out of the question. McLemore could become KU's second No. 1 pick in history, first No. 2 pick of all-time, first No. 3 pick since Raef LaFrentz in 1998, first No. 4 selection since Drew Gooden in 2002, first No. 5 since Thomas Robinson in 2012, first No. 6 since Walt Wesley in 1966 or first No. 7 since Kirk Hinrich in 2003 (Wilt Chamberlain, by the way, was territorial pick of the Philadelphia Warriors in 1959).
"McLemore can absolutely shoot the ball, and he's one of the best athletes in the draft," Ryan Blake, the NBA's senior director of scouting, told the Elyria (Ohio) Chronicle-Telegram. "He can score inside a la Dwyane Wade,and he's smooth like Ray Allen. And he can defend.
"He could be that Dwyane Wade or Ray Allen type. If that's what you come down to — at best Dwyane Wade and at worst Ray Allen — that's not bad. He came in so confident, and he's worked so hard to get where he is. He's not going to stop working. He has that spark. This guy is going to continue to get better."
McLemore hasn't shied from the comparisons to the Miami Heat's Allen. He has embraced them.
"I think that's a pretty valid comparison," McLemore told Orlando's aXis Magazine. "He's one of the best shooters in NBA history, so I've tried to watch how he does the little things and also how he shoots the ball so I can learn more."
One knock on McLemore is, he's viewed as a player unwilling to take over games. On the other hand, he played just one year of college basketball after practicing a year and, at the age of 20, obviously could grow into that role.
"I think so," KU coach Bill Self said, asked if McLemore has the makeup to become more aggressive. "He's done it with us. He's improved. People look at what he did from an aggressiveness standpoint, but don't realize where he started from an aggressiveness standpoint. He's a little bit of maturity away. He'll get that through strength training, through repetition. Coaches and teammates will be very demanding of him. I don't think that's the issue. You want to draft talent first and foremost and a great kid. He fits that criteria. He'll have to get a little nastier. There's a lot of things people have to work on when you get to a certain level. He'll address it and work on it. I'd rather teach him that than how to shoot, because we all know he can shoot."
McLemore said: "Being young (last year at KU), you don't want to mess up. Also, we had four seniors who I looked up to a lot. I learned from them my freshman year, when I had to sit out. They did so much for me. It was different the next year seeing I had to be leading scorer for the team."
McLemore has been invited to the Green Room for the draft, ESPN reported Saturday night.
Other potential KU draftees: Jeff Withey could be selected as early as No. 21 by Utah, an NBA official told the Journal-World. "He protects the basket by blocking shots," the official said. ... Travis Releford played well at workouts and may now be a second-round pick. "I hear he's late 40s," the NBA official said. "The Lakers (18th pick second round) would like to have a big guard like him. I'd say it's 50-50 whether he gets drafted." ... Elijah Johnson will not be drafted, the NBA official said. "He's not on the radar. There's some concern about his knee. If he asked me, I'd tell him to go to Spain and Italy and call it a day, make all that money over there tax-free." Johnson worked out for Portland for a second time Saturday. ... Europe also figures to be the landing point of Kevin Young. ... Look for the Brooklyn Nets possibly to deal Tyshawn Taylor, the NBA official told the J-W. "The Nets like Isaiah Canaan of Murray State," he said.
Withey in Indy: Withey on Saturday had his 14th and final individual workout, for the Indiana Pacers. "I have a pretty big range of where I might go," he told the Pacers' site on nba.com. "I've heard anything from 15 to 30. At the same time, it's a once-in-a-lifetime opportunity, and I'm blessed to be traveling as much as I am."