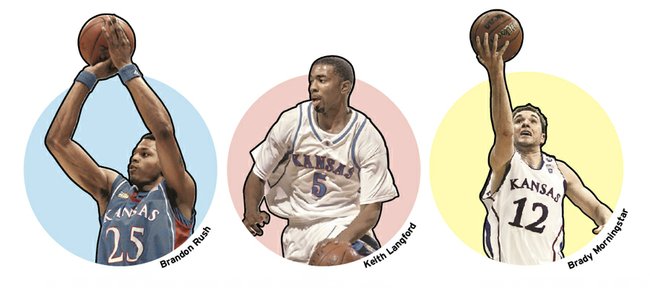 In today's world of college basketball, the small forward role is one of the game's most ambiguous positions and, in some cases, has become obsolete.
Many programs plug a guard into the spot, choosing to play three guards and two "bigs" instead of going with the traditional two-guard, two-forward, one-center lineup.
Other coaches elect to use the spot to put more beef on the floor and wind up playing bigger lineups, with the "three" position manned by a guy who can offer help down low.
During Bill Self's 10 seasons in charge of Kansas basketball, the Jayhawks more often than not have gone with the three-guard lineup. Because of that, classifying guys for Part III of our summer series that looks back at the top players of the Self era was a little tougher to do.
Here's a look at who we picked and what we came up with:
Gary Bedore
Keith Langford: I truly believe his jersey should hang in Allen Fieldhouse. He was a scoring machine who could slash and also shoot the jumper. He started hitting big shots his freshman year, like the one at Nebraska, and never stopped. Loved his attitude and the fact he'd say what was on his mind.
Brandon Rush: Rush might have been the smoothest player in KU history. He definitely had the wildest recruitment, taking his sweet time before choosing KU several weeks after the semester started. You couldn't help but like the easy-going Jayhawk.
Xavier Henry: Though he never lived up to the hype (few one-and-done players do), he was a nice kid who had a sweet little left-handed jumper. That jumper isn't dropping near enough in the NBA and his future may be in Europe.
Brady Morningstar: He had his critics, mainly individuals who don't know the game of basketball and preferred a more athletic sky-walker than the consistent Morningstar. Brady could score when the team needed points and was a lock-down defender. He may be the most underrated player in the Self era.
Mario Little: Little was a decent junior college acquisition who always seemed to have somebody ahead of him in the rotation. I think he's one of those guys who can play overseas until he's 40 like Scooter Barry did. I always enjoyed checking in with his cousin back in Chicago, a pizza delivery driver and proud of it and proud of Mario, too.
Tom Keegan
Brandon Rush: Unreal stamina, terrific shooter, great leaper, good defensive rebounder and a jet on the break.
Travis Releford: Great finisher on the break, an efficient shooter and a lock-down defender, he could have reached coach's forecast of a 1,000-point career if the collapse against Michigan had not occurred.
Keith Langford: Some guys are shooters, some scorers. Langford was a scorer who could get hot from long distance, but didn't have to get hot to accumulate points.
Brady Morningstar: When he was told to guard a big-time shooter and not drop off him to help, that's what he did. When he was told to keep the ball moving so that the defense eventually would break down, that's what he did. Underrated at both ends.
Xavier Henry: Loved playing at Kansas, even though he stayed just one year. A good shooter and defender, he was on the brink of blossoming into a star.
Matt Tait
Brandon Rush: Despite the fact that he never seemed to break a sweat, Rush was one of the most skilled individual players Self has brought to KU. He could slash, shoot and rebound, and, defensively, his length and athleticism made life miserable for opponents. He gets a lot of love because he helped bring a title to town. But he probably should get more.
Keith Langford: Few players in KU history have made scoring look so easy and done it in so many different and entertaining ways. Langford certainly earned the right to have those Superman-inspired T-Shirts printed.
Brady Morningstar: The only justification needed for ranking the Free State High grad as one of the top small forwards in the Self era is this: The Jayhawks always seemed to look better when Morningstar was on the floor. Offensively, defensively, effort-wise or otherwise, the fundamentally sound scrapper did whatever it took and did it well.
Travis Releford: When I first saw Releford play in high school at Bishop Miege, I was shocked by how unselfish he was and how willing he was to do whatever his team needed. Those characteristics served him well at KU, too, and he'll be remembered by KU fans for a long time.
Xavier Henry: You have to remember that Henry was on a team loaded with offensive weapons. If he hadn't been, his size, skill, shooting touch and athleticism might have led him to become one of the top players in KU history, one-and-done or not.
Jesse Newell
Brandon Rush: His lowest three-point shooting percentage in his three years? That would be 41.9 percent his junior year. Self still raves about Rush's defense when he's asked to talk about the '08 title team.
Keith Langford: Still ranks seventh on KU's all-time scoring list. Smooth mid-range shooter who was able to create his own shot while keeping his turnovers down.
Travis Releford: After barely playing in his first three years at KU, Releford ended his career with two impressive statistical seasons. As a senior, he finished eighth in the nation in effective field-goal percentage while also drawing the defensive assignment on the opposing team's best offensive perimeter player nearly every game.
Xavier Henry: Henry gets unfairly docked because of an unexpected NCAA Tournament exit against Northern Iowa. Henry made 42 percent of his threes in his one season while ranking in the top 250 in steal percentage. Cover up the names, and it'd be tough to distinguish Henry's stats in his one year from Ben McLemore's in his.
Brady Morningstar: Morningstar filled an important low-scoring role for KU and did it well. He made at least 39 percent of his three-pointers in each of his final three seasons and also had a knack for sticking on players defensively through mazes of screens.