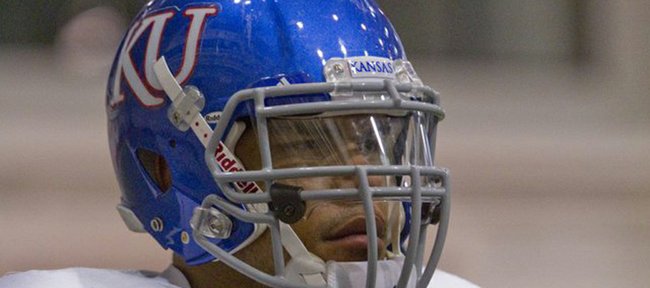 Kansas University football coach Charlie Weis has dismissed junior defensive end Chris Martin from the program, KU announced through a press release Monday afternoon.
Martin, a 6-foot-5, 260-pound junior college transfer who played at Florida in 2011 and City College of San Francisco in 2012, was one of three men arrested on suspicion of robbing cash and marijuana from victims at gunpoint at a home on Camelback Drive on May 13.
The former five-star prospect, who was projected as a starter during the upcoming season, remains in an ongoing legal battle but will not move forward as a member of the KU football team.
"Due to recent incidents Chris Martin was involved with, he was given a list of stipulations he was required to meet for him to remain a member of the Kansas Football team," Weis said in the release. "Because he did not follow some of those stipulations we have dismissed him from the team."
Martin has been in trouble with the law before. He was cited for marijuana possession while playing at Florida and later transferred from the school. He came to Kansas to reunite with Weis, whom he originally committed to out of high school when Weis was still the head coach at Notre Dame. Their past connection, coupled with Weis' willingness to give talented players a second chance while trying to turn KU football around, seemingly made the reunion a good match, but less than five months into his stay in Lawrence, Martin ran into trouble that cost him his chance to be a Jayhawk and may have jeopardized his promising football career.
Martin's next court appearance is scheduled for June 24. That's when he could learn whether he will go to trial for aggravated robbery or if the charges will be changed or perhaps even dropped. Sources told the Journal-World that the decision to remove Martin from the team likely would not change regardless of the outcome of his legal case.
Sophomore Ben Goodman, a 6-3, 255-pound defensive end who was listed behind Martin at the Buck position on KU's pre-spring depth chart, figures to get the first crack at earning first-team reps at the position. Junior Michael Reynolds, senior Jordan Tavai and senior Keba Agostinho also could compete for playing time. Juco transfer Andrew Bolton, who has not yet arrived on campus, also might factor into the mix prominently at one of KU's two defensive end spots.