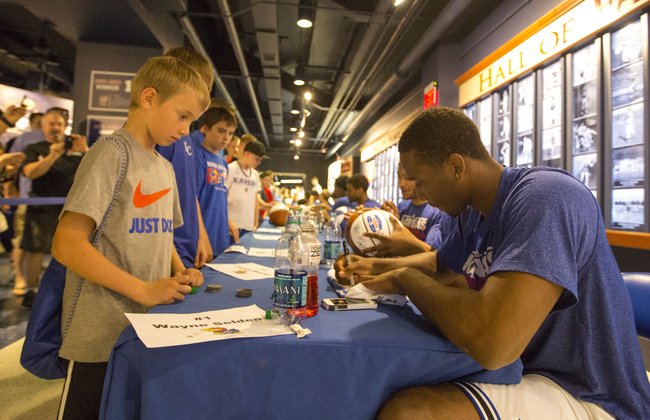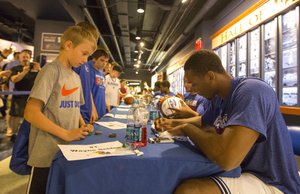 Frank Mason and his Kansas University basketball teammates good-naturedly signed shirts, shoes, basketballs, posters and plain sheets of paper for hundreds of KU coach Bill Self's basketball campers during a marathon 2 1⁄2-hour orientation session Sunday in Booth Family Hall of Athletics.
"It's amazing. This is my first event doing something like this. I'm just happy to see all the kids smiling," said Mason, KU's 5-foot-11, 180-pound freshman point guard out of Massanutten Military Academy in Woodstock, Va.
"I knew it would be like this," Mason added, "because the tradition is very great here. It's the fans. They are wonderful. I hope to have a lot more events like this."
Mason has all the makings of a future fan favorite at KU. Self calls the speedy point guard, who averaged 17 points and eight assists a year ago for 30-4 Massanutten, a "jet."
"I think my strength is getting my teammates involved, getting in the paint, but most of all on the defensive end, being a good defender," said Mason.
Also ... "being a point guard, being a leader, controlling the tempo," he added.
The former Towson University signee, who went to prep school for one year after failing to qualify for a college scholarship, averaged a state-best 27.4 points a game during his senior campaign at Petersburg (Va.) High. During his Petersburg career, he scored 1,901 points, and the Wave went a combined 78-4.
He exploded for 50 points off 16-for-21 shooting two summers ago in the 804 All-Star Game in Richmond, Va.
"Well, my 50-point game in the all star game was a great experience. I didn't know I was close to 50 until the end," Mason said. "It was surprising."
He received recruiting interest that summer from Tennessee, Louisville, Seton Hall and UConn. KU offered Mason a scholarship in July of 2012 after watching the lead guard's AAU team win a tournament in Las Vegas. Despite the major-college interest — he chose KU over Alabama, Maryland, South Carolina and Virginia Tech — he never quite caught the attention of the recruiting writers. He wound up the No. 76-rated player in the Class of 2013 by Rivals.com after beginning the 2012-13 season ranked No. 134.
"I don't pay attention to rankings," Mason said. "I just play my game and believe in my strengths, believe in my coaching staff and coach Self, who is a great coach, and everything else falls into place."
Asked if he has anything to prove, he said: "We have something to prove to every other college team and every other program. That's about it. I don't have anything to prove personally."
KU coach Self doesn't pay heed to national rankings when signing players.
"Frank is one of the best-kept secrets in high school basketball," Self said. "I really believe even though his high school ranking is not much, he's a guy that is as good as any guard out there."
He's expected to battle Naadir Tharpe for the starting point-guard position. Combo guard Conner Frankamp also could be in the mix at the lead-guard slot. Two-guard Wayne Selden also played some point in high school.
"My goals my first year are to compete every day, work hard and do what I can to help the team win," said Mason, who is roommate of freshman shooting guard Brannen Greene. "I have wonderful teammates. Everyone loves to compete. We are going for the national title and no less — Big 12 champs and more."
For now, Mason is just happy to be here.
"I absolutely love this place. I love the program, everything about it," he said.
In other KU newcomer news, freshman Andrew Wiggins, who has decided to not play for Canada's Under 19 team this summer so he can work out with his teammates in Lawrence, will be here "probably mid-week," Self said Sunday on the first day of his Sunday-Thursday camp.