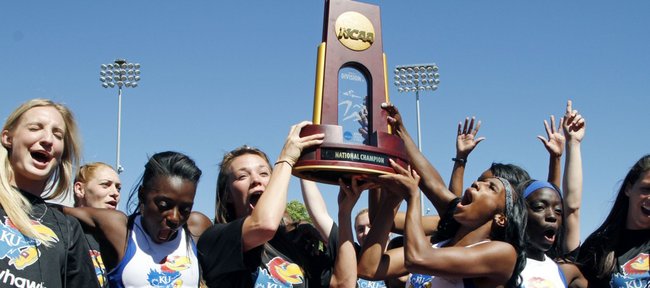 A year ago, the Kansas University women's track and field team gave it a heck of a go at the national outdoor meet and nearly won a trophy. But some late drama cost the Jayhawks, and they finished fourth.
Disappointed but not willing to let the close call define them, the Jayhawks chose to use experience as motivation and at last winter's indoor meet fielded three individual national champions but again fell short of bringing home the big prize.
They were shocked. Confused. Frustrated. And searching for answers.
That's when assistant coach Wayne Pate stepped in with a short-but-sweet speech that proved to be the catalyst to last weekend's outdoor national championship domination.
"Coach Pate stood up and told us that it was a three-month commitment. That's all it took," said senior Andrea Geubelle, who paced the team with a pair of runner-up finishes at last weekend's NCAA Outdoor in Eugene, Ore. "And if we just went out and worked as hard as we could every single day, going into nationals we would have confidence that I don't think any other schools knew we had. And a lot of that came from our coaching staff."
From the six coaches who fine-tuned their athletes to the 11 women who contributed points to the Jayhawks' team score, the team came together to deliver a performance for the ages.
"At Indoors, when we had three national champions and we didn't win, it was kind of like, 'What happened? Why aren't we winning,'" Geubelle recalled. "And I think that just goes to show the (importance of) the little points. You can have three national champions but, like (head) coach (Stanley) Redwine has said over and over, it takes a total team effort."
Sunday afternoon, mere minutes after returning home from Oregon, the KU women were serenaded with love and cheers from a small group of fans and athletic-department officials who gathered inside Allen Fieldhouse to welcome them home.
Although the applause eventually subsided and the celebration came to an end, the lovefest continued a few hundred feet down the hall in Hadl Auditorium, where the coaching staff and team's top four point-scorers talked with the media about their magical weekend.
The focal point for all of them was the camaraderie and teamwork it took to win.
"The University of Kansas has been coming," Geubelle said. "Such an amazing group of girls, such an amazing coaching staff and support staff. It is a complete effort from everybody."

With the hardware in house and the memories still fresh, several members of Redwine's staff took time Monday to look back at every point that was scored and the women who racked them up.
1. Senior Andrea Geubelle (16 pts: 2nd-place long jump, 2nd-place triple jump)
"Andrea took it upon herself to put the team on her back and it's tough to jump that way. She's always been one of the leaders on this team. She's just a war horse. For any athlete to score 16 points at a meet of this caliber, it's just incredible." — Wayne Pate, horizontal jumps/multi-events
2. Sophomore Lindsay Vollmer (10 pts: 1st-place heptathlon)
"What Lindsay did was phenomenal. It's hard to put into words how impressive that performance was. We expected her to score, but to do what she did was a huge surprise. It's not that we never thought she could be that good, but the speed in which she got there is what really shocked us. She just nailed it." — Wayne Pate, horizontal jumps/multi-events
3. Junior Natalia Bartnovskaya (8 pts: 2nd-place pole vault)
"In both national meets she didn't miss until she went out, which really put the pressure on the other competitors. She just made one little mistake at the end or else she would have been the national champion. She was the best one there, she just got a little unlucky at the end. I'm really excited for next year because I think she's going to be very hard to beat." — Tom Hays, vertical jumps
4. Senior Paris Daniels (6.75 pts: 4th-place 200m, 5th-place 4x100m, 6th-place 4x400m)
"I'm very pleased with how Paris performed. She ran an awesome first leg of the 4x100-meter relay. That definitely put us in a great position on the last day. She ran two great rounds of the 200 meters and showed why she is one of the best in the country in that race. Overall, Paris had a great meet. She was very focused and determined to end her senior year strong and she definitely did that." — Elisha Brewer, sprints
5. Senior Alena Krechyk (6 pts: 3rd-place hammer throw)
"She was leading after her first three throws and was in position to win and that's what we expected of her. Even though she didn't win she competed very well and got the points that the team needed." — Andy Kokhanovsky, throws
6. Junior Jessica Maroszek (5 pts: 4th-place discus)
"Jessica threw almost 200 feet, which would have won the event pretty easily but she ended up fouling on her attempt. It was tough for her to recharge after that but she got some big points for the team and ended her season really well." — Andy Kokhanovsky, throws
7. Senior Heather Bergmann (3 pts: 6th-place javelin)
"Heather was almost too nervous to stand but I was happy with how she handled it. She got her best throw on her final attempt which I was really excited to see. It was great for her to finish with a (personal record) and help out the team, which is what we needed her to do." — Andy Kokhanovsky, throws
8. Junior Diamond Dixon (1.75 pts: 5th-place 4x100m, 6th-place 4x400m)
"The only time Diamond has run a faster spilt in the 4x400-meter relay was at the Olympics last year. That just shows you how much heart she had in it and how well she competed. She was also a great anchor for that 4x100-meter relay all year long and that didn't change in Eugene, Ore." — Stanley Redwine, head coach
8. Senior Denesha Morris (1.75 pts: 5th-place 4x100m, 6th-place 4x400m)
"For Denesha, what better to end your career, than to go out with the team title. Denesha had her best splits ever in the 4x400-meter relay. She wanted to do well and she sure performed well all week." — Stanley Redwine, head coach
10. Freshman Tianna Valentine (1 pt: 5th-place 4x100m)
"I was really happy that Tianna could be a big part of that 4x100-meter relay. To become an All-American as a freshman is pretty special. She has a lot of track & field left at KU and I'm excited to see where she'll go from here." — Elisha Brewer, sprints
11. Senior Taylor Washington (.75 pts: 6th-place 4x400m)
"We're really going to miss Taylor. She sacrificed a lot in order to be healthy and help out the team. She's been a big part of that 4x400-relay team that has run many of the fastest times in school history. It was special to watch her compete last week." — Stanley Redwine, head coach