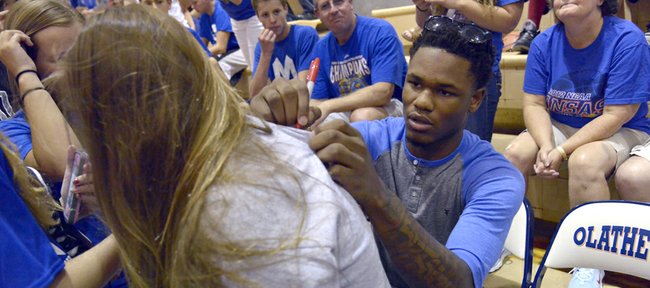 Olathe — The Sacramento Kings will be happy to know their top draft pick, Ben McLemore, didn't risk injury by playing in Mario Chalmers' Miracle Shot camp all-star game on Thursday night at Olathe East.
The No. 7 overall pick in the 2013 NBA draft out of Kansas University was content to sign autographs for 500 or so fans at halftime and after the game, while also serving as an assistant coach next to the Miami Heat's Chalmers.
"Mario invited me to be here. I wanted to show my support. He's a KU fan. He's a KU alumni. I'm a KU alumni too. It's just the love of the Jayhawk family," said McLemore, who last week wrapped up his two-week stay in Las Vegas for five NBA Summer League games.
"Mario's game is great. I love his game," the 6-foot-5 McLemore said of the 6-2 Chalmers, who just completed his fifth season in the NBA. "I'm definitely going to try to get a lot of advice from him throughout the season. He played at the same school as me. He's been there a while. He knows the life."
McLemore's first taste of the NBA played to mixed reviews. He averaged 15.8 points (off 33.3 percent shooting; 19.4 percent from three) and 5.0 rebounds a game for the 1-4 Kings. He had a monster final game, exploding for 27 points off 10-of-21 shooting in a win over the Atlanta Hawks.
"The NBA is a different game. I just have to get used to it. The summer league ... I struggled a little bit but I got used to it, I definitely did," McLemore said. "When I went there I wanted to work on my all-around game and go in there and play ball, go in and have fun, work on some things like ballhandling."
He had 18 turnovers in the five games.
"I enjoyed my team, meeting my new teammates and new ownership, playing my game," McLemore said.
McLemore said he hoped to spend a few days in his home town of St. Louis before heading to the NBA rookie transition program in New York.
"I'm being a kid right now, just being here with the fans of Kansas," said McLemore. "I've been working out. I've been in summer league, getting ready, getting prepared, prepared to start."
He won't receive the first paycheck (he's ticketed to make about $2,413,000 in 2013-14) until the season starts.
"I haven't bought anything yet. I don't have money yet to buy anything like that," he said of cars and residences. "I've been buying little things I need. I don't have a place yet. I'm just now figuring out what I'm going to do."
Robinson signs two-year deal
Former KU guard Russell Robinson reported that he's signed a two-year deal with Stelmet Zielona Gora in Poland. He's also played in Spain and France during his career. "The money's good. I get to see the world. It's been exciting," said Robinson, who showed up for Thursday's game sporting a mohawk haircut. Former KU players Jeff Graves, Jeff Hawkins, Brady Morningstar, Conner Teahan participated in the celebrity all-star game with Robinson and former KC area college players at O-East.
Self on NBA jobs
The hiring of Butler's Brad Stevens by the NBA Boston Celtics have made some wonder if teams will begin an all-out hiring assault for college coaches like KU's Bill Self.
"Well, nobody has really flirted with me. I'm not going to say no one has called," KU coach Self said Thursday on Andy Katz's Katz's Corner on ESPN. "I don't believe there's been a lot of interest. Personally I think I have one of the premier jobs in the world at any level. I think there's a lot of jobs out there in the league that are hard jobs just like there are college jobs that are hard jobs. I'm blessed to be at a place I think we can attract good players year in and out.
"I think everybody thinks about it, coaching at the highest level, being able to test your skills of your trade against the so-called best of the best, with the best athletes to work with. That's not anything that's ever motivated me. I think everybody thinks about doing different things from time to time not to the point where there's actually serious interest. There hasn't been for me. Then again I haven't been flirted with very much. I love where I'm at. You have been to Lawrence," he added, speaking to Katz. "It's a different place. As long as we can keep getting good players hopefully I can stick around a while."
Embiid a top-two pick
Louisville coach Rick Pitino tells ESPN's Jeff Goodman that freshman center Joel Embiid is the most impressive prospect in the recruiting class of 2013.
"I think Kansas could have the No. 1 and No. 2 picks in the draft with (Andrew) Wiggins and Embiid. (Embiid) does everything," Pitino said.