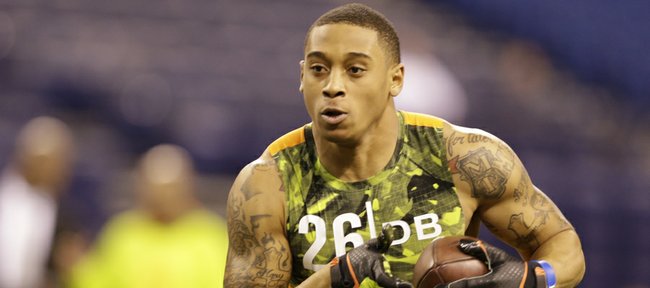 2013 Kansas University graduates Bradley McDougald and Toben Opurum may no longer be playing football in Lawrence, but both have a bunch of friends still on the team and an interest in the future of the program, particularly since they both are attempting to get their professional football careers going just down the road in Kansas City, Mo.
Thursday, at Chiefs training camp in St. Joseph, Mo., McDougald and Opurum became the latest in a long line of people to be asked about KU coach Charlie Weis' comments earlier at Big 12 media days earlier this week in which he linked the phrase "have you seen that pile of crap" with his recruiting strategy.
None of the four players who were with Weis in Dallas — Jake Heaps, Ben Heeney, Cassius Sendish and James Sims — were the least bit offended by their coach's comments, and Opurum and McDougald do not appear to be either.
"I mean, that's what it was, truth be told," Opurum, an undrafted free agent fullback, told the Associated Press. "We didn't put out a good product on the field and he was just expressing how he feels about it. He may have been able to word it differently, but that's the type of guy he is. He's going to tell you straight forward. He's not going to beat around the bush."
McDougald, an undrafted free agent safety who pointed out that last year's 1-11 record did not deserve any sugar-coating, agreed with Opurum and said he had no issue with the comment.
"He wasn't disrespecting any players," McDougald said during Thursday's interview. "1-11 was a crap season. He's complimented me many times on my skill and me as a player. So I can't really take too much offense to it because of what we produced last year."
More on commitment
Late Wednesday night, JayhawkSlant.com reported that Tyler Patrick, a 5-foot-11, 171-pound wide receiver from The Woodlands (Texas) High had orally committed to the Jayhawks.
At the time of his commitment, Patrick had just a few offers (Air Force, Lamar and Louisiana-Monroe) but was receiving interest from several BCS programs, including Iowa State and Oklahoma State. The aspect of his game that seemed to attract the most interest was his speed. Patrick ran a 4.4-second 40-yard dash time at KU's Friday Night Lights camp earlier this summer and has been clocked as fast as 4.38. Rob Ianello was the lead recruiter for Patrick, who said KU's receivers coach was a fan of his wheels.
"He liked my straight-line speed and lateral speed," Patrick told JayhawkSlant.com. "It showed I just don't have track speed. He said with my speed I will have a chance to compete right away."
Patrick becomes the seventh member of the Class of 2014 to pledge his services to the Jayhawks, joining offensive linemen Jacob Bragg and Apa Visinia, defensive backs Joe Dineen and Andre Maloney, linebacker Kyron Watson and running back Traevohn Wrench.
Fan Appreciation Day
KU has designated Aug. 17 as the date for this year's Fan Appreciation Day. The first of two KU practices that day will be open to the public and will run from 11:15 a.m. to 1:15 p.m. Jayhawk fans are invited to attend the open practice and then stick around afterwards to get autographs and meet their favorite Jayhawks.
KU is slated to open fall camp on Aug. 7 and will kick off the season with a 6 p.m. home game Sept. 7 against South Dakota.