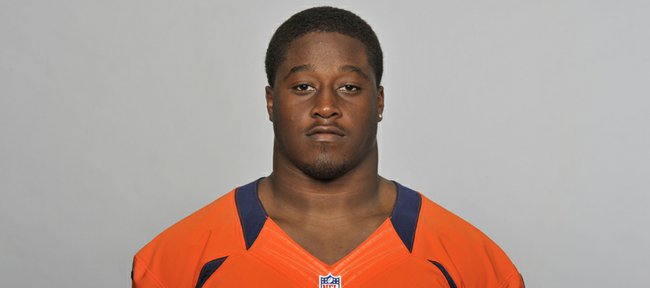 By sometime this afternoon, 11 former Kansas University football players hoping to stick in the NFL this preseason will have reported to various training camps around the league.
And while some, such as former defensive backs Chris Harris (Denver) and Aqib Talib (New England), have cemented their place as key players on their respective squads, the rest are either trying to make a name for themselves or simply trying to make it.
Perhaps none of those other nine are in as improbable of a position as former KU linebacker Steven Johnson, a second-year player with the Denver Broncos who began his college career as a walk-on. Like Harris before him, Johnson was signed by the Broncos before as an undrafted free agent. All he did was make the 53-man roster and lead the Broncos' special teams in tackles.
As he heads into this year's camp, the 6-foot-1, 237-pound Johnson appears to be on the verge of earning more playing time. As of today, Johnson is competing with third-year linebacker Nate Irving for the Broncos' starting spot at middle linebacker.
"We're excited about those two," Broncos Hall of Famer and current executive vice president of football operations John Elway told The Denver Post this week. "They're both guys very capable of handling that job."
The Broncos enter the preseason as the favorites to win this year's Super Bowl, according to oddsmakers in Las Vegas. Quarterback Peyton Manning and newly acquired wide receiver Wes Welker, along with the rest of Denver's high-powered offense, are a big reason for that, but many believe the Broncos' defense is among the most talented in the league, as well. Harris, now entering his third season, is a key part of that defense, which features one of the top pass rushers in the league in Von Miller, and all-pro cornerback Champ Bailey.
The AFC West is home to a few other Jayhawks hoping to crack 53-man rosters this preseason, as 2013 KU graduates Bradley McDougald (safety) and Toben Opurum (fullback) opened camp with the Kansas City Chiefs last Monday and 2013 KU grad Greg Brown (cornerback) joined fourth-year pro Darrell Stuckey (safety) in opening camp Wednesday in San Diego.
In Cincinnati, offensive linemen Anthony Collins, a fourth-round pick in 2008, and Tanner Hawkinson, a fifth-round pick last April, also reported to camp Wednesday and will compete for playing time on the Bengals' O-line. Former KU wideout Dezmon Briscoe reported to Washington camp for the second straight year on Wednesday and is looking for a more prominent place in the Redskins' offense. And, in New England, linebacker Mike Rivera joins Talib in reporting to Patriots camp today.
A handful of other former Jayhawks remain hopeful they'll get a shot with an NFL club at some point this preseason. Most notable among them is 2012 starting quarterback Dayne Crist, who was undrafted but went through rookie camp with Kansas City and later signed a free-agent deal with the Baltimore Ravens before being released in early June.
Patrick commits: Tyler Patrick, a 5-11, 170-pound senior wide receiver from The Woodlands (Tex.) High School, on Wednesday orally committed to KU, Rivals.com reports.