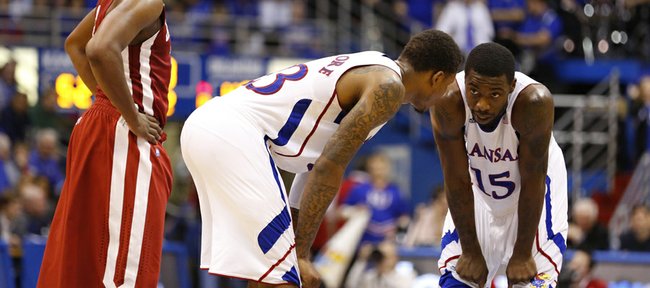 Photo Gallery
KU basketball v. Oklahoma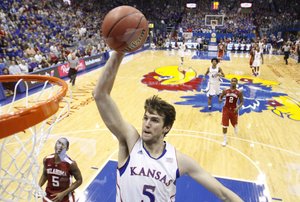 Images from Saturday's game against Oklahoma at Allen Fieldhouse.
Podcast episode
Kansas coach Bill Self talks after his team's 67-54 win over Oklahoma on Jan. 26, 2013.
Elijah Johnson would like to see the ball start dropping through the basket.
"It's a little frustrating right now, because I feel like my numbers, as far as shooting, haven't shown how well I can really shoot," Johnson, Kansas University's senior point guard, said after scoring eight points off 3-of-8 shooting (2-of-6 from three) in the Jayhawks' 67-54 victory over Oklahoma in Allen Fieldhouse.
"I don't feel that I have shot to my potential at all. All of my shots are limited because I don't shoot that many. I need something to start falling for me, but I'm not focused on it too much. They'll fall."
The 6-foor-4 Las Vegas native has hit 39.8 percent of his floor shots — 34.6 percent of his threes — for the Jayhawks (18-1 overall, 6-0 Big 12). He hit 43 percent of his shots (33.8 from three) a year ago.
Johnson did not score or dish an assist while playing just nine minutes the first half Saturday. Two quick fouls cut into his playing time.
"Those two fouls the first half were wasted plays. He took himself out of the game. The second half, he played a lot better," coach Bill Self said. "It (fouling) was a lack of focus on his part."
Freshman gaurd Ben McLemore scored seven points off 2-of-4 shooting in 18 minutes the first half and 11 points off 3-of-6 shooting while playing 19 minutes the second half.
"Coach Self always stresses to me that he needs me to be more aggressive, and I need to create more opportunities offensively to get myself open one pass away," McLemore said. "I need to get myself open. I need to do a better job of that.
"I didn't plug myself in the first half. I wasn't aggressive like coach wants me to be. Coach told me to go out second half and be more aggressive and plug myself in."
Self wants McLemore to become more involved in the offense.
"It's hard to get shots if our guards can't ever get in the scoring area," Self said. "They (Sooners) are pressuring, denying. We can't dribble past anybody. We don't drive to pass.
"I didn't think Ben was very aggressive the first half. The second half, he was more aggressive. He has such a nice stroke, he needs to get more looks. It's the other guys' responsibility to help him. We are not forcing his man to help much. Naadir (Tharpe, eight points, 1-for-5 shooting, 5-of-6 from line) and Elijah will get better at that. It wasn't the case today."
Adams plays three minutes: Reserve point guard Rio Adams missed a shot and committed a foul during a three-minute stint the first half.
"I was there to specifically play defense and keep our point spread spread out," Adams said of keeping KU ahead of the Sooners. He entered with his team up eight and exited with KU up six.
"I enjoyed it a lot," Adams added of his getting in his second consecutive game. He played two minutes Tuesday at Kansas State.
Special jerseys Monday: KU will wear special jerseys provided to the school by adidas during its next game — Monday's 8 p.m. contest at West Virginia. The "tone-out" jerseys have been described as featuring a "more aggressive Crimson and Blue." They will only be worn during the West Virginia game. KU also will wear "tone-out" warm-ups and shoes. The jerseys are available for sale in the KU store in Booth Family Hall of Athletics.
Team notes: KU is 6-0 in conference play for the second-straight season and fourth time under Self ... KU leads the all-time series with OU, 139-64, including 43-7 in Allen Fieldhouse. ... KU has won 10 in a row vs. OU. ... KU has won 33 in a row at home, tying for the fourth-longest streak in school history. ... KU won in the 800th game played in the building. KU is 693-107 in Allen. ... KU has held 13 opponents under 60 points. ... KU outrebounded OU, 41-31. KU has outrebounded 16 of 19 opponents, five by double digits. ... After leading 5-2, OU went 3:21 without a field goal as KU went on a 10-2 run. ... OU entered as the best scoring offense in the league in conference-only games (71.6 ppg). KU held the Sooners to a season-low 21 points in a half (previously 22 vs. Gonzaga in November).
Individual notes: McLemore, who went 5-for-5 from the free-throw line, is 23-for-26 in six Big 12 games. ... Travis Releford has scored in double-digits in 15-straight games. Releford's five assists were his most since a career-best six against Colorado (12/8). ... Jeff Withey took sole possession of third-place on KU's career blocked shots list. Withey has 247, just 11 shy of tying KU's all-time record (Greg Ostertag, 258). ... Johnson had two assists and is tied with Calvin Thompson for 20th place on the KU career assists list.
Faces in crowd: Former KU frontcourt players Eric Chenowith, Mark Randall and Wayne Simien attended and sat in the same row behind the KU bench. Royals announcer Denny Matthews attended and spoke with Self after the game, the two chatting about baseball. What else?