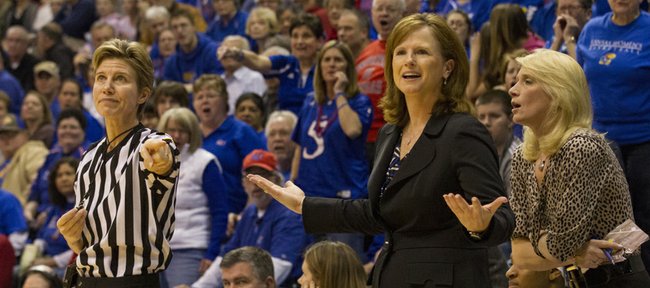 The nice thing about veteran teams at any level of basketball is that they exhibit sound fundamentals, except when they don't, that is.
Kansas University's women start three seniors who are members of the 1,000-point career scoring club and two sophomores who started three NCAA Tournament games a year ago. Mix in a home-court advantage, and what do you get?
Well, for starters, 18 turnovers by Kansas and in the second half 13 offensive rebounds for Oklahoma State, which muscled its way to a 65-52 victory that sent a crowd of 3,655 fans in Allen Fieldhouse home with heads hanging low.
"No excuse for 18 turnovers against a 2-3 zone," Kansas coach Bonnie Henrickson said. "Just no excuse for that."
Seven of the eight players who appeared for Kansas had multiple turnovers.
"We had two offensive boards at halftime, and we told our team at halftime the difference was going to be the battle on the offensive boards," Oklahoma State coach Jim Littell said. "We challenged some people at halftime."
It worked. The Cowgirls (15-3 overall, 4-3 in the Big 12) had three more offensive rebounds in the second half than Kansas (12-6, 3-4) had defensive boards, a disparity that should never take place if the team playing defense is bringing enough passion.
"I think we were slacking on the boards on defense, and we didn't box out like we should," said sophomore Chelsea Gardner, who led Kansas with 14 points, nine rebounds and four blocked shots.
Senior center Carolyn Davis chipped in with 12 points and five rebounds and took just six shots from the field and had three turnovers.
On the perimeter, senior point guard Angel Goodrich, hounded tightly by Cowgirls point guard Tiffany Bias, made just four of 15 shots, but did defend Bias (4-for-12) well and totaled 10 points, six rebounds, six assists and two steals on a night she had three turnovers.
KU's last lead, 20-19, came with 8:45 left in the first half. Oklahoma State built an eight-point lead late in the first half, but in the final 1:04 of the first half, KU sophomore guard Natalie Knight hit a three-pointer and two-point jumper to trim the deficit to three at the half.
During a Kansas second-half drought that lasted 5:55, the visitors pushed their lead from two points to nine, and KU never drew closer than seven for the rest of the night. Some in the crowd, no doubt, wondered during that dry spell if things might have been different had Keena Mays not left at the end of the first semester last season. Mays transferred to SMU and became eligible at the start of the spring semester. She is averaging 21.2 points and making 46 percent of her three-point shots.
Last March, even without the injured Davis and without Mays' explosive scoring, the Jayhawks brought national attention to the program with a spirited, Goodrich-driven run to the Sweet 16 of the NCAA Tournament. That was just 10 months ago, but Saturday night it seemed like longer ago than that.