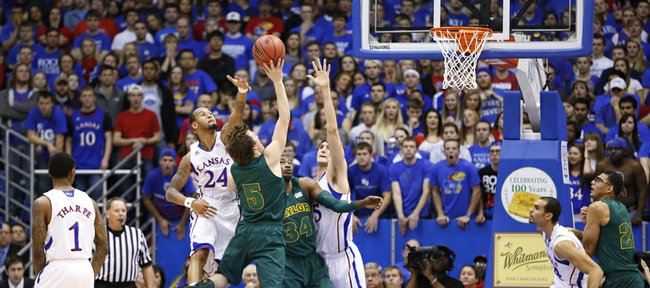 Photo Gallery
KU basketball v. Baylor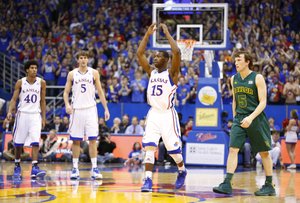 Images from Monday night's game against Baylor at Allen Fieldhouse.
Podcast episode
Kansas coach Bill Self talks after his team's 61-44 win over Baylor on Jan. 14, 2013.
Podcast episode
Baylor coach Scott Drew talks after his team's 61-44 loss to Kansas on Jan. 14, 2013.
Podcast episode
Kansas seniors Jeff Withey, Travis Releford and Elijah Johnson talk to reporters following the Jayhawks' 61-44 victory on Jan. 14, 2013.
Box score
The Baylor Bears found different ways to bemoan their poor offensive performance following their 61-44 loss to the fourth-ranked Kansas University men's basketball team on Monday night at Allen Fieldhouse.
"We weren't going strong to the basket like we should've, like we usually do," senior guard A.J. Walton said.
"We didn't play our game today, we played their game," admitted freshman center Isaiah Austin.
"I thought Kansas really did a great job defensively," Baylor coach Scott Drew said. "All year long we've been a lot better with the ball, and that's the most disappointing thing."
Whether it was a lack of tenacity, an absence of style or coughing it up too many times that caused Monday's madness for the Bears, one statistic spelled out just how bad things were better than any words could.
The Bears' 23.2-percent clip from the floor was their worst field-goal performance since at least the 1997-98 season. BU's worst effort in that time was 24.5-percent shooting in a 49-46 loss to UMKC in 1998.
"Defense wasn't played at the free throw line and we still shot 60 percent there," said Drew of his team's 14-of-23 showing at the free throw line on Monday. "We've got to do a better job shooting the ball."
Although the Bears (11-5 overall, 3-1 Big 12) pinpointed plenty of reasons for their off night, they made sure to give credit to the Kansas defense, which KU coach Bill Self called "exceptional."
The Jayhawks blocked 13 shots, 10 in the first half, dominated 38-14 in points in the paint and held Baylor sharp-shooter Brady Heslip scoreless on just three shots in 17 minutes.
There's more.
Baylor tied a season-low with 20 points in the first half and set season lows for points (44), assists (six) and field goal percentage, while committing the second most turnovers (16) they had all season.
"Sometimes that happens," Austin said. "Tonight was very physical. It's the Big 12, the most physical conference out there. That's what we expected when we came here."
And that's exactly what they got.
By far the most glaring advantage for the Kansas defense came inside, where KU center Jeff Withey, the man regarded by most as the nation's best shot blocker, invited others to his block party. Withey still led the team, with three, but Jamari Traylor (three), Kevin Young (two), Ben McLemore (two), Perry Ellis (two) and Travis Releford (one) joined in on the fun.
"I was surprised by that," Drew said of KU's success protecting the rim. "With our size and length, we block a lot of shots and we practice against good shot-blockers. So normally, when we play against shot-blockers, it's not that big of an adjustment."
The Bears are now just 3-19 all-time against KU (15-1, 3-0) and 0-11 in games played in Lawrence.
"We knew that the home court was going to be to the advantage of Kansas," freshman forward Rico Gathers said. "I knew it's one of the toughest places to play in college basketball and all of basketball. I already knew what to expect. But, defensively, I felt the home-court advantage played to their side. We're in their place, so we knew we weren't gonna get calls anyway."