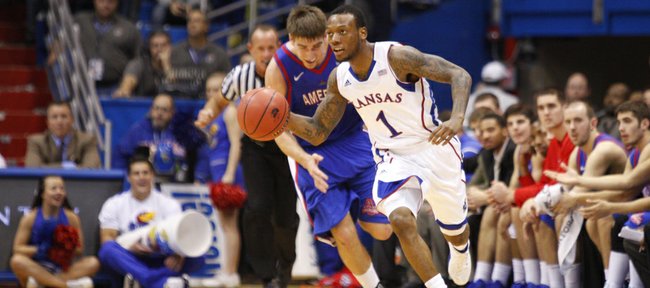 Pleased with Kansas University's men's basketball starting lineup, Bill Self has also been impressed with the work of his reserves.
"We haven't really taken a step back when we've gone to the bench," said KU coach Self, who has started Elijah Johnson, Ben McLemore, Travis Releford, Jeff Withey and Kevin Young the last nine games — since a Nov. 19 win over Washington State in Sprint Center in Kansas City, Mo.
"I'll be real candid. That was one of my biggest concerns playing Michigan State and playing all five (actually three) starters 33 minutes because you are a little nervous. Now we are getting more confidence," Self added of bench players Perry Ellis, Naadir Tharpe and Jamari Traylor, as well as Andrew White III and Rio Adams.
"All you need to be worried about when you are in the game is whether the advantage increases or the deficit decreases. That's how you determine if you are playing well or not. You are one of five out there. (Lately) we've done a good job of that," Self noted of the substitutes on his weekly radio show.
In all, 10 Jayhawks played 11 or more minutes last Saturday against American; nine players 11 or more minutes on Dec. 18 against Richmond and nine players 10 or more minutes on Dec. 15 vs. Belmont. Self had used five starters 32 minutes or more versus Ohio State on Dec. 22 and four starters 28 minutes or more vs. MSU.
Tharpe, a 5-11 backup point guard from Worcester, Mass., has dished 22 assists against no turnovers over the last four games heading into Sunday's 3:30 p.m., home game against Temple. For the year, he's averaged 5.0 points with 38 assists against 11 turnovers.
"He is playing well in practice. He is comfortable. I think he is playing at a level he hasn't played at since he's been here," Self said. "He's a terrific shooter (13 of 30 threes for 43.3 percent) but you can't always bank on making shots. You bank on being able to guard the ball, creating pressure, creating havoc and pushing it in transition, getting other guys looks. He's done a really good job in that area."
Tharpe is ahead of schedule, Self said.
"I thought he'd be capable of being a good backup early in his career and have a chance to play major minutes moving forward," Self said. "His attitude is so good right now. I go through phases with all guys and I know they go through phases with me. You like what you see and then you don't like what you see and then it takes a while to get it back.
"I've not been easy with Naadir by any stretch. Looking back, he deserved to be somebody gotten on hard because we see (now) what he's capable of doing. If he wasn't doing it before it means somebody wasn't getting it out of him. That's me. I like where he is."
Freshman forward Ellis averages 6.1 points (off 50 percent shooting) and 3.7 rebounds in 15 minutes a game.
"Perry is playing pretty well right now — practice and in the games," Self said. "He is getting more comfortable and confident. Jamari seems to be making some positive strides in that area," he added of frosh forward Traylor, who averages 2.8 points and 3.1 boards in 13.1 minutes per game. "There seem to be some good things taking place even though it may not translate to Sunday (versus 10-2 Owls). Right now in practice, it's looking pretty good."
Self said competition has been strong in workouts.
"The better Perry plays, the harder Kevin plays. The better Jamari plays, the harder Perry plays. It's unbelievable that it works like that," Self said. "You obviously get better as a team when that happens."
Freshman guard White has averaged 4.4 points and 1.9 rebounds (7-of-22 from three for 31.8 percent) while logging 8.2 minutes a game in nine games. Freshman guard Adams, who has been used mainly in mop-up time, played 11 minutes against American. Junior Justin Wesley has missed the last four games because of a broken little finger on his left hand. He has five points and 10 rebounds while combining for 35 minutes in seven games.
Greene MVP: KU signee Brannen Greene, a 6-7 senior from Tift County High in Tifton, Ga., was named MVP of the recent McDonald's Invitational in Georgia, Rivals.com reports. Rivals.com's No. 25-rated player nationally scored 32 points in the title game of the event, which matched teams from Georgia, Florida and Tennessee.
This, that: More than 1,200 Kansas State fans, who attended Wednesday's Phoenix Suns-Philadelphia game in Phoenix, booed former KU forward Markieff Morris of the Suns during the game. The KSU fans were in Phoenix for Thursday's Fiesta Bowl.
"I told Markieff that Big 12 stuff runs deep. I think that's the first time he's been booed when he checked into the game," Suns coach and former KU assistant Alvin Gentry told valleyofthesuns.com.
The KSU fans cheered former Wildcat Michael Beasley who played sparingly for the Suns.