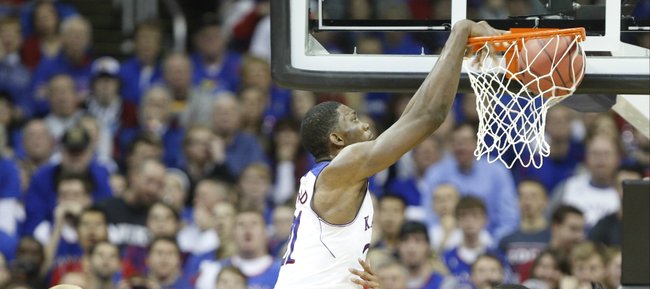 Photo Gallery
KU basketball v. New Mexico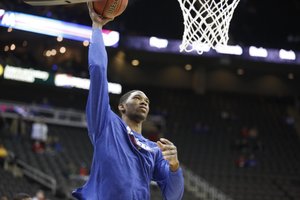 Images from Saturday's game against New Mexico at Sprint Center in Kansas City, Missouri.
Podcast episode
Bill Self postgame after KU's 80-63 victory vs. New Mexico
Podcast episode
Embiid, Ellis, Selden New Mexico postgame
Kansas City, Mo. — Joel Embiid, who averaged 20.2 minutes in Kansas University's first nine games of the 2013-14 season, figures to see a dramatic increase the rest of the way.
"We need to play him all the time," KU coach Bill Self said after the 7-foot freshman from Cameroon exploded for a career-high 18 points with six rebounds, four blocks and three steals while working 25 minutes in the Jayhawks' 80-63 victory over New Mexico on Saturday night in Sprint Center.
"But the more he plays, the less time he's going to spend in Lawrence. I'm not sure it's a real wise decision for me to do this, but he's got to play because he's got so much talent he's going to continue to get better and better. He just needs opportunities," Self added.
Self — he's started Embiid the past two games — figures to have the big man just one year in Lawrence, with NBA scouts already salivating over the skills he displayed in the second half on Saturday.
Embiid, who picked up his second foul with 10:50 left in the first half, had just two points, three rebounds and one block in seven minutes the initial half as KU led, 39-38, at the break. He erupted for 16 points off 4-of-5 shooting (6-8 from the line) the second half and also had three blocks and three steals.
At one point, Embiid pulled off his version of Hakeem Olajuwon's "Dream Shake" move, in which he shook one way, then went the other way for a hoop.
"All the time," said Self, asked how often Embiid resembles Olajuwon in practice. "People haven't seen in a game what he can do. We've seen glimpses but we haven't seen an offensive repertoire where he can score over both shoulders, (with) both hands or step out and shoot it. That was nice to see.
"He's becoming a better rim protector too," Self added. "He gets three steals and four blocks and no turnovers. That's pretty good for a big. He and Perry (Ellis, 21 points, nine rebounds in 31 minutes) both were great."
Embiid scored nine points and Ellis seven in a 16-4 run that upped KU's one-point halftime lead to 55-42 at 13:21.
The two again took over after a four-point play by Kendall Williams (24 points) cut KU's lead to 63-58 at 8:03. Andrew Wiggins (11 points, 3-11 shooting) committed his fourth foul on that three make by Williams and did not return the rest of the game.
Embiid scored seven, Ellis three and Wayne Selden two off a nice pass from Naadir Tharpe (nine assists, four turnovers, 37 minutes) and KU led, 75-59, after a 12-1 run.
"I was frustrated," Embiid said of his feelings after playing sparingly the first half because of foul woes. "I wanted it bad. I wanted to play. They (teammates) threw me the ball.
"We knew we had to get ready in the second half and play better," Embiid added. "We had a little run and blew the game away."
Of Embiid, Ellis, who hit nine of 14 shots, said: "Joel has great moves. The key is to get the ball into him. It opens everything up. We have to continue getting him the ball."
KU, which improved to 7-3, compared to New Mexico's 7-2 mark, played awfully hard in an attempt to shake a slump that included three losses in four games.
"I felt like I knew we had to hit them first and had to go at them first and defend and be first on the floor," freshman guard Wayne Selden said after scoring 10 points with four rebounds, three assists and two steals in 34 minutes. "That was our main goal, to try and be the first one on the floor and be aggressive."
The Jayhawks prevailed before 18,493 fans in their home away from home.
"It definitely felt like a home court and we were saying it looked and felt a lot like the United Center," Selden said. "The home support was great."
Next up, KU will meet Georgetown at 11 a.m., Saturday, in Allen Fieldhouse.