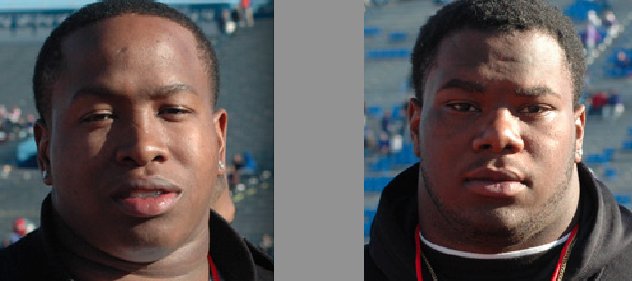 Kansas University football coach Charlie Weis has completed the Georgia Military sweep.
Not long after reporting that Keyon Haughton, a 6-foot-2, 300-pound offensive lineman from the junior college had committed to Kansas, JayhawkSlant.com's Jon Kirby got in touch with Haughton's teammate, Devon Williams, and learned that he, too, had given an oral commitment to join the Jayhawks.
Like Haughton, Williams, a 6-5, 335-pound left tackle, met with Weis and running backs coach Reggie Mitchell on Monday morning and basically committed on the spot.
The two visited KU last weekend for the Kansas State game and Williams said they talked about playing together at Kansas on the plane ride home.
According to Kirby's report, KU captain Keon Stowers, a former Georgia Military player himself, played a key role in landing both players.
"He really helped me on the visit and we clicked right away," Williams told Kirby. "Since he is from Georgia Military, he knew where I was coming from. He told me it would be a great place for us. I could tell he and the other players really want to win."
Despite KU transitioning from former offensive line coach Tim Grunhard to its next O-line coach — Rice's John Reagan, sources have told the Journal-World — Williams said he felt a lot of love from the existing KU coaches and was not worried about his future position coach.
Williams, who chose KU over offers from Florida A&M;, South Alabama, Troy and Tulane and had interest from Auburn and Kentucky, will graduate in May. Haughton is scheduled to graduate in December and be eligible to report to campus in January.
They became the fourth and fifth offensive linemen in the Class of 2014 to commit to KU and the 10th and 11th players in the class overall.
Weis and the KU coaching staff will remain on the road recruiting until Dec. 14.
Ianello up for job?
According to a recent report from Wayne Nelson of the Grand Forks Herald, KU wide receivers coach Rob Ianello, who also serves as the program's recruiting coordinator, has thrown his name into the hat for the vacant head coaching job at the University of North Dakota.
Ianello coached under Weis at Notre Dame and briefly became the Fighting Irish's interim head coach after Weis was fired. He then spent two seasons as the head coach at Akron (2010-11) before being relieved of his duties there and landing at Kansas.
Weis said following KU's season-ending loss to Kansas State last weekend that if he were to make other changes to his coaching staff, it would be after the December recruiting period.
According to the report, UND has received 24 applications for the position and the deadline to apply is Dec. 10. Nelson also wrote that UND athletic director Brian Faison said he would like to fill the job as soon as possible.