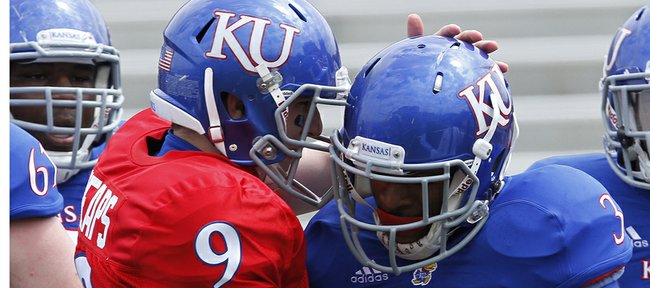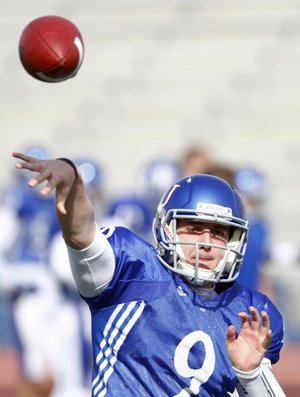 Some of the most frequently asked questions of Kansas University football coach Charlie Weis this offseason centered on his quarterback, Jake Heaps, the junior transfer from BYU who sat out the 2012 season and will start his first game for the Jayhawks nine days from today.
People asked, How has Heaps looked? What kind of leader is he? What are his strengths? What are his weaknesses?
All are valid questions, especially in the wake of last season's Dayne Crist experiment. But, as was the case with Crist, another former transfer who came to town with a five-star pedigree, Weis' answers about Heaps often come with a bias.
"I am, obviously, very high on Jake," Weis said this offseason. "I think Jake is ready to go. I think he's champing at the bit."
The mere fact that Weis can acknowledge his fondness for Heaps — something he has for many of his players, past and present — is an indication that even he does not know, definitively, what kind of season Heaps will have. So rather than stand in front of the media or his players and talk about all of the things Heaps can do, Weis encouraged people to check with Heaps' teammates about all the things he has done since the 2012 season ended and the spotlight for the 2013 season landed squarely on the No. 9 jersey.
His teammates were more than willing to participate.
"Jake's a great person. Let's start there," said junior wide receiver Justin McCay, who, like Heaps, sat out in 2012 and got to know his new quarterback well. "He's a great person, and he's a great quarterback, too. I like Jake a lot."
Asked to explain which of Heaps' many traits he liked most, McCay pointed to the junior quarterback's intensity.
"He has that fire in him that you don't expect," McCay said. "He'll get onto you, and he'll say, 'Let's go, let's do this or do that,' and you don't expect it. He looks like a little, laid-back guy, but he's got a motor."
Of course, McCay said it was more than just Heaps' intangibles that lead him to believe he's in for a big season.
"His arm," McCay began when asked about Heaps as a thrower. "He's like 99.99 percent accurate. He puts it on the money every time. If it's not on the money ... well, it's always gonna be on the money, so there is no if. He throws a great ball."
Others who share the huddle with Heaps said his leadership skills set KU's new quarterback apart.
"I just look at Jake like one word — motivating," junior tailback Tony Pierson said. "Day in and day out, he's talkative. He backs it up with his play, and he works hard."
Added junior tight end Jimmay Mundine, who stood beside Heaps in a leadership role this offseason: "He's gonna be here first, he's gonna leave last. He's gonna work hard. He hates losing. He has everything you want in a quarterback.
"Since I've been here, we haven't had a leader like Jake. We haven't had a guy whose confidence is that high. He knows what he's doing. He knows what everybody else is supposed to be doing. He has confidence that he's gonna get his job done. If you don't get your job done, he's gonna let you know, but it's gonna motivate you to get better. He just makes you better as a player. He really is a good teammate."
Prodded for examples of ways in which Heaps has motivated his teammates, Pierson offered an unlikely exchange.
"He calls me slow all the time," said Pierson, whom Weis recently said runs the 40-yard dash in the 4.3-second range. "He knows that's gonna push my buttons. He's got it down pat."
Heaps has not taken on this role to endear himself to his teammates. Sure, that's an added bonus of the extra effort, but the main goal is winning.
"I think (football) is the ultimate team game," Heaps said. "You look at different sports, and there are certain guys that can dominate a game, but with football, you really have to have everybody together. If you talk about any winning program, it doesn't matter if you're the star player or the last guy on the depth chart, everybody has to have the same mentality and attitude."
With Heaps leading the way, sometimes that means competing, even where there's no competition to be had.
"He's definitely a competitive guy, whether it's video games, a shoe-tying contest, whatever," senior running back Taylor Cox said. "Everything the coaches ask him to be, he's been that and more."