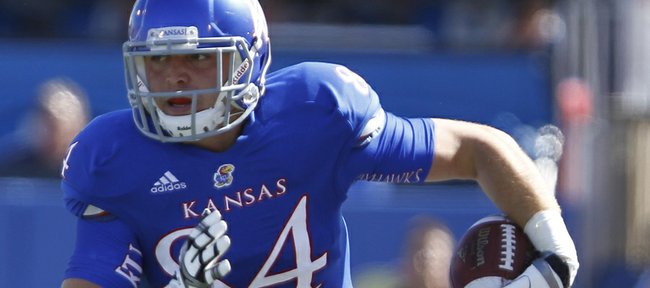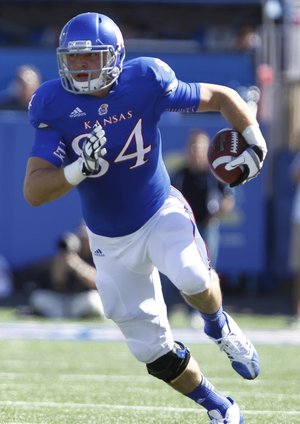 The early results have been disappointing and his own statistics — two receptions, 11 yards, a touchdown — hard to come by, but Kansas University tight end Mike Ragone is thrilled to be here.
Ragone, the senior who transferred from Notre Dame, came to Kansas to be reunited with KU coach Charlie Weis. He also came to go to battle with his former quarterback, win games and knock heads. He got much more than he anticipated.
"I almost don't want to say this," Ragone said during a recent interview, "but I'm almost glad I hurt my knee so I could be here."
Ragone suffered three major knee injuries during a seven-year span. The setbacks, though difficult, allowed him to apply for a medical red shirt and a sixth year of eligibility. He never believed that would lead him to Lawrence, but, with a disappointing 1-3 record and his first taste of the KU-K-State rivalry just around the corner, the 6-foot-4, 255-pound bruiser can't keep himself from expressing how thankful he is for all of it.
"I love it here," he said with his loud-and-proud New Jersey accent. "It's awesome. I'm very, very happy and blessed. I really truly love everyone on this team. I don't know how to describe it. It's a brotherhood."
While Ragone's personality has made him a hit with his teammates, it also has made him an automatic request by the local media. Sure, there are things reporters can learn from Ragone about the KU offense or the Jayhawks' next opponent, but, more often, Ragone's media sessions become spirited conversations about video games, pro wrestling, food and, of course, Jersey.
"C'mon, bro," is one of Ragone's favorite phrases, but he says it in a way that's completely non-threatening and almost endearing. Most of the time it comes out when Ragone thinks someone is busting his chops, like the time prior to KU's first road game when Ragone was asked if he had a suit to wear for the trip.
"Come on, bro," he said. "I wear suits to class."
Then there was the time when, because of his hometown's proximity to Philadelphia, he was asked if he liked cheese steaks.
"C'mon, bro," he said.
True foodie
Ragone does not discriminate when it comes to food, and has found Lawrence to have plenty of suitable options.
"23rd Street Brewery's pretty good," he said. "I want to go to Basil Leaf. My dad went there. He said it was very good."
By first paying homage to West Coast Saloon's Woo burger, Ragone continued: "I love Jefferson's. I'm a big Johnny's Tavern guy — the food place, not the bar. The pizza's good there. Their burgers? Slim Wilson. Huge, man."
On Sept. 18, Ragone turned 24, "old" by his calculations. He didn't do much to celebrate.
"Get some food, some treatment, watch film," he said. "It's another day."
But his roommate and former Notre Dame teammate Anthony McDonald made sure it was more. Knowing Ragone was a huge fan of video games, McDonald scored one of Ragone's favorite games, "Sunset Riders," for one of the seven gaming systems they have in their apartment.
"When I gave it to him, he was just like, 'Oh, man, best present ever,'" McDonald said.
Asked what it was like to live with Ragone after rooming with a traditional student at Notre Dame, McDonald gathered himself and said, "It's a lot different going from a regular student to Mike Ragone, the Jersey boy who's in your face about everything and doesn't care what anyone thinks about him. But he's my boy. I'd do anything for Mike."
'… such a great town'
Like Ragone, McDonald has come to love Lawrence, a city he called the perfect place to end a college career.
"The thing that makes us keep believing this is such a great town is the people here have so much pride, regardless of how we're doing," McDonald said. "They just love the Jayhawks."
So do a handful of Ragone's friends and family from back home in Blackwood, New Jersey, several of whom made the trip to Lawrence for the season opener. Included among them was a man named Bob Yackle, Ragone's youth football coach who was blown away when, during his layover in Chicago, a KU fan informed him that Ragone was one of the best interviews on the team.
"The funny thing about Mike is he was very, very quiet," Yackle said with nearly the same accent as Ragone. "Never said nothing to nobody. He was 'Yes. No. Maybe.'"
Yackle and Ragone have stayed in close touch throughout the years. Trips to the local steakhouse are a regular thing. Yackle even made the trip to Notre Dame for Ragone's 21st birthday. Three years later, he sees a much different Ragone than he knew in the past.
"When he was at Notre Dame, I think he was more stressed," Yackle said. "He's more comfortable, more relaxed now. I remember saying to him, 'You just gotta go back to having fun with football.' I think he's done that."
The Ragone zone
Ragone's popularity has not been limited to the people who know him or the media. There's a group of tailgaters who have a regular hangout halfway up the hill who have adopted Ragone as their favorite player. Yackle bumped into the group by coincidence. That, too, blew his mind.
"Lemme put it this way," Yackle said in his wise-guy way. "When I got invited to a Mike Ragone party down in Kansas, I was like, 'This ain't happenin' in Jersey.'"
Although Ragone has fallen in love with Lawrence, his mind still races at times. When he had nights like that back in South Bend, Ind., he went down to Notre Dame's famed Grotto, the stone shrine known for its tranquility.
"I like being alone for a sec to catch my breath," he said. "You know, you just need that 5-10 minutes to be by yourself, a clear-your-mind type of thing."
His new escape is not as picturesque as The Grotto, but Ragone said it's just as soothing.
"I like to walk around, relax, listen to music," he said. "Wescoe Beach … I walk down there all the time. It's beautiful here. I love it. It's so peaceful."
'Jersey Savage'
Don't confuse those quiet moments for a soft side. Ragone's tough, the kind of guy who could transform into a WWE wrestler without much effort.
"That'd be cool," Ragone said in all seriousness. "What would my name be? Italian Stallion or something? It would be cool to have one of those little dolls. That'd be sweet. I would definitely buy one. I know you guys would, too."
In the next breath, just moments after a reporter suggested that Ragone's wrestling name should be The Jersey Savage, Ragone first said, "I like that. It's mine," but then added that he did not see himself getting away from football. It's why he came to KU. But it's just one of the reasons he loves being here.
"Time goes by fast," he said. "I'm 24 now. My body hurts. I can't eat McDonald's any more. But I really want this to last. I want to be 35 and be on one knee with these guys, listening to coach talk. I love it. ... What else you guys want to talk about?"