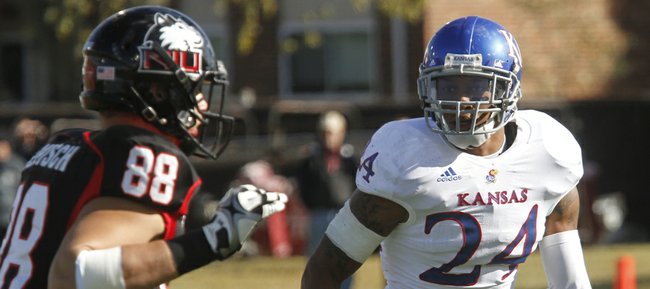 During his four years with the Kansas University football program, wide-receiver-turned-safety Bradley McDougald has played two positions for three head coaches, lined up alongside some of the best players in school history and suffered through a trying period of consistent losing that has stretched into the first four games of his senior season.
The time has flown by, and the losing has been tough, but you would never know that from watching or talking to McDougald, who, through it all, has been the same upbeat and energetic player and person.
There's a reason for that. And his name is Brandon McDougald, Bradley's older brother who has served not only as Bradley's rock but also has provided the KU senior with the perspective that football, though important, is a game and that family, strong character and appreciation of life all rank as more critical.
"It's kind like the old grandmother a lot of people have," Bradley said of his brother, who is three years older than he. "Kind of like that voice that's always just good to hear. My brother is a person that has an unbelievable amount of faith in me. When you respect a person that much and they respect what you're doing, it's just a great feeling."
Although Brandon's status as the older sibling afforded him a head start on learning some of life's lessons, the perspective he provided for Bradley came not by choice but from a bad break.
When Brandon was in fifth grade, he was diagnosed with osteosarcoma, a type of bone cancer that eventually led to the amputation of his left leg and the end of his athletic career.
"It was a little bit harder for him," Brandon said. "I could tell. Growing up, we really didn't have a father figure, and he kind of looked up to me. When he saw me going through tough times, it really touched him. Even though it happened to me at an early age, it happened to him, too, and he had to deal with it all at an even earlier age."
At the time, Bradley knew nothing about cancer and could not even pronounce the specific type that had taken his brother's leg. What he did know was that someone close to him was suffering. From the moment he first realized his brother would spend the rest of his life on crutches to this day, Bradley vowed to keep his complaints to a minimum.
"When I saw him going through his chemotherapy and then physical therapy, I saw the pain and the fight, and it just made my life seem a little bit easier," Bradley recalled. "The only grind I had to go through was football, but I still got to go out there and do what I wanted day in and day out."
Bradley has carried that feeling with him ever since. Instead of quitting when he got tired, he found a way to push through. Instead of taking a day off here or there, he worked tirelessly to fine-tune his skills. And instead of celebrating and easing up once he became a Div. I football player, he kept the pedal down and shaped himself into one of the most talented and respected players on his team. All of this for and because of Brandon, who, from a distance, has stayed in Bradley's ear to remind him to live right and take advantage of every opportunity.
"That's probably the biggest thing my brother does is keep me level-headed," Bradley said. "He really reminds me of the blessings that I have in front of me. The more success somebody has and the more compliments you get, the bigger your head might get. But when I go home, it's nothing but a humbling experience because I'm just the little brother, the little guy, and I love it."
Although being away from his hometown of Dublin, Ohio, has been tough, the deep bond he has with his brother has helped. Many days, at random moments, Bradley will receive a text message from Brandon which includes an inspirational quote or a particularly meaningful song lyric. Most come from music, because Brandon is not actually much of a sports fan.
"Unless it's Bradley playing, I'm not watching it," Brandon said. "So don't come over talking about 'SportsCenter.'"
While he has no love for the local pro scene and could care less about Ohio State sports, Brandon has attended more than his share of athletic events. That's thanks to Bradley, who, since middle school, has kept his brother busy with football and basketball games and track meets. Although he may not have known all of the rules and did not really care to learn about the opposing teams, it didn't take much to understand why Brandon was in the stands hooting and hollering.
"He came to all of my high school basketball games with an airbrushed picture of me on his shirt," Bradley recalled while shaking his head and smiling. "He's just always in my corner. I definitely don't see it as any more pressure. I enjoy when I know he's up there watching me play."
Added Brandon: "I really feel like I live through Bradley. I played sports when I was younger, but after surgery, I've just been living that through him. I love watching him play. I'm his biggest fan."
A couple of years ago, Brandon welcomed a daughter, Alani, into his life. In addition to instantly falling in love with his new niece, who will turn 3 in November, Bradley said the new addition brought out a different side in the brother he already respected so much.
"I think it really motivated him," Bradley said. "He said he never had that thing that would just push him. He said sports had always been the thing that drives me, and he said he never really felt like he had that until she was born."
Brandon said he has enjoyed watching Alani bond with Bradley even though the two have spent a limited amount of time together because of uncle Bradley's football commitments at KU.
"It's like having another kid," said Brandon, laughing. "They go and play together all day, and he's a loving guy, like a big kid."
Like most college football players, Bradley hopes what he has shown on Saturdays will earn him a chance to play on Sundays in the NFL. The ties to pro football possessed by new KU coach Charlie Weis and defensive coordinator Dave Campo can only help. Bradley's current status as the team's leader in tackles (34), tackles for loss (3), interceptions (2), forced fumbles (2) and sacks (1) also doesn't hurt.
But it's not like Bradley is obsessed with making it to the NFL. It's a goal, no doubt, but he has other goals, too. Brandon said he and his baby brother talk all the time about the future, but made sure to point out that Bradley has spent nearly as much time dreaming about becoming a coach, a teacher or even a principal — anything that gives him a chance to mentor children.
"That's the only thing, besides football, that I've seen him get so passionate about," Brandon said.
Passionate is just one of the words that describes the way with which Bradley has approached this season. Even though offseason conditioning quickly became the bye week, and Bradley's Jayhawks sit at just 1-3, the 6-foot-1, 209-pound free safety has savored every practice, film session and tackle.
"I realized, when we checked into camp way back in August that I was only gonna have 12 opportunities guaranteed," he said. "But as soon as we got locked into the season, I promised myself that I was gonna take 'em one week at a time. I love to play every Saturday, go out there and get 'em, but the bye week does help slow it down."
Brandon also would not mind if things slowed down. After all, he's not ready to stop watching Bradley play ball. He has been to Lawrence for a couple of games during the past few seasons but hopes to make it to as many as possible this season with their dad. They're talking about next week's K-State game in Manhattan and probably will make the trek to the Oklahoma game in October. And they're definitely headed to West Virginia on Dec. 1. That's the one that's closest to their Ohio home and could very well be Bradley's final game as a Jayhawk.
Like any set of siblings, the McDougald brothers have been there for each other in every way imaginable throughout the years. From their younger days back in Ohio to today, with nearly 700 miles separating them, Brandon has helped keep Bradley grounded during the high times and grinding during the low.
"I know my big brother's always going to be there and always have my back," Bradley said. "When I think everything's at its worst, I can call him on Skype and just start cracking up without him even saying a word. It's one of those unbelievable connections in life. He's my best friend, the type of person I'd do anything for."
Brandon said the feeling was mutual and insisted that the brotherly support has been a two-way street, with Bradley providing as much pride and joy for Brandon.
"That's why I love Bradley so much," Brandon said. "I've been watching him since high school and middle school and he always keeps a good attitude even if things are rough or not going his way. My brother or not, I love him for that."