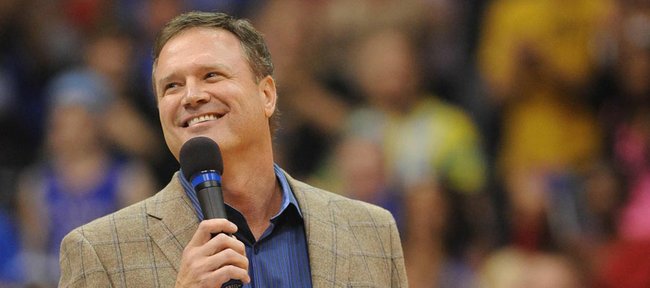 Bill Self, who is beginning his 20th season as a college basketball head coach and his 10th at Kansas University, has modified his position regarding certain issues throughout the years.
For instance ...
"I used to be totally against paying players, paying athletes. I've changed," Self said Friday in a phone conversation with the Journal-World to discuss particulars of his upcoming "Courtside View" panel discussion set for 7-8:30 p.m., Nov. 1 at Lawrence's Crown Toyota Pavilion.
"I think if presidents are willing to take these athletes and send them across America, miss more school because they have conference realignment, and with the big business of the BCS Championship playoff in football plus the amount of money we generate through television in basketball, I can't imagine why there aren't different angles and avenues in which we could compensate the people that are exactly the ones bringing the money to the schools — the student-athletes," Self said, taking one long breath.
Perhaps the athletes could sell their own jerseys and receive the profits?
"We can get into that later," Self said with a laugh, referring to the event at Miles Schnaer's Crown facility.
The panel, which includes Self, plus national basketball writers/broadcasters Mike DeCourcy, Fran Fraschilla and Blair Kerkhoff, includes another supporter of paying athletes — ESPN's Jay Bilas.
"The idea that regular students cannot be paid is ludicrous," Bilas told the Durham Herald-Sun. "It's a fiction that we put out there because we don't want to pay them, and we don't want to provide them with anything more. I don't think it's immoral or wrong for North Carolina or Duke or Norfolk State to make money off of sports. I think it's profoundly immoral and wrong that they make all this money and don't allow the players to have anything beyond a scholarship."
This can all be hashed out at the roundtable discussion, which will include questions from the audience. Those who wish to purchase tickets to the event, which will include a social hour with food from several local restaurants, should visit www.assistyouth.org.
"We'll get into paying amateurs. We'll get into NCAA academic reform. We'll get into the big business the NCAA has become, what the future will be of it in our opinion," Self said. "We'll get into rule enforcement. We'll get into international recruiting, the one-and-done rule, conference realignment. We'll also preview not only the Big 12 upcoming season but the national landscape."
All proceeds from the event will benefit Self's Assists Foundation's programs, which include community grants and academic scholarships.
"We continue to grow our programs, but we're also excited about the progress being made toward a facility in west Lawrence and hopeful that when plans are finalized we'll be able to make a contribution," Self said.
Self, whose third-annual Ladies Night Out event sold out in a day, is hoping for a huge crowd at Crown.
"I'm so excited for basketball coming on the heels of the 30-30 film with David Booth," Self said of this week's ESPN production which chronicled Booth purchasing James Naismith's original rules of basketball at auction for his alma mater, KU. "The generosity and interest of individuals to better our sport in our area at our institution is remarkable."
Weight talk: KU's men's and women's basketball players have been using the new EliteForm weight training system during workouts this semester at Anderson Strength Center.
The EliteForm system, which according to KU officials is used by 10 strength training systems worldwide, uses a network of cameras, sensors and software. It allows coaches the ability to chart progress and performance during team workouts, tailor a workout specifically for an athlete during the course of the season and use the camera system to monitor and correct form.
For a video on KU's new weight training system, go to http://www.kuathletics.com/genrel/101812aac.html