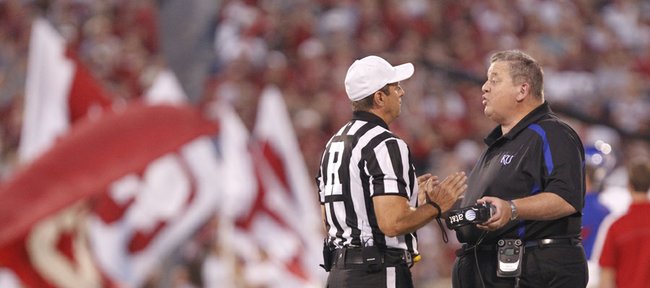 Podcast episode
Kansas football coach Charlie Weis talks following KU's 52-7 loss to Oklahoma on Oct. 20, 2012.
Box score
Norman, Okla. — It takes quite a while for a man who weighs 309 pounds to pick up a football and run 45 yards with it, which only served to prolong the pain of everyone on the opposite sideline watching the play that ended an unforgettable mini-series featuring Charlie Weis and Dayne Crist.
The two Notre Dame castoffs, brought to Lawrence to restore a football winner built by Mark Mangino and Todd Reesing and dismantled by Turner Gill, reached a low point Saturday when Oklahoma defensive tackle Casey Walker chugged almost half a football field with the latest Crist turnover, this one a fumble.
The circus music started playing when KU recovered a fumbled punt at the OU 11 late in the first quarter.
First mistake: Weis sent Crist into the game instead of Michael Cummings, who had been performing better. Ah, but it appeared Weis knew what he was doing when he called a masterful play on which Tre' Parmalee at various stages of the play went into motion, swung around Crist for a fake reverse handoff and ran out into the left flat, where he was all alone, a touchdown waiting to happen. Crist had practiced that play. Cummings had not.
Edward Scissorhands could have led a pass to Parmalee that would have given him a walk-in touchdown. Not Crist. He threw it so far behind the receiver that Parmalee fell down catching it. No gain. Six points, maybe even seven, lost. Cummings nearly threw an interception on second down, and Weis went back to Crist for third down. Sack-fumble, Walker was off to the races, and Kansas couldn't compete for the rest of the half.
The total breakdown that resulted in Oklahoma cruising to a 52-7 victory extended well beyond any one quarterback or for that matter unit — special teams were worse than the offense — but that doesn't change the reality it's time for Weis to move on from believing he can turn Crist the quarterback who looked so sharp for him in practice at Notre Dame and Kansas into the same guy in games. It's not going to happen. Not for this team that has less talent than the opponent every week.
Give Crist the protection Landry Jones had and the receiving talent from which he chooses and it might be a different story, but that's fantasy football talk.
Bump Crist to third on the depth chart, encourage him to teach the offense to others and give third-string quarterback Turner Baty a look if Cummings doesn't show ample improvement.
Baty led New Canaan High (Conn.) to a state title as a senior and San Francisco City College to a national junior-college title as a freshman. Whenever he is asked about Baty, Weis says he doesn't understand his offense well enough, if he says anything.
At one point, Baty was warming up on the sideline, but a closer look revealed he merely was playing catch with Crist, getting him ready to go back into the game. Asked after the game if he gave any thought to putting Baty in, Weis said, "No. No thought."
Unlike Cummings, Baty didn't get a head start on learning the offense by participating in spring football, but he's had plenty of time to study it since.
Nobody knows Charlie Weis' offense better than Charlie Weis, but that doesn't mean if he had any eligibility left, that knowledge would make him the best choice to try to execute Charlie Weis' offense. Crist is said to have a deep understanding of the offense, but that didn't translate to performance.
Baty's winning history ought to count for something. Weis must have liked something about him or he wouldn't have offered him a scholarship, so if Cummings proves he's not ready, why not see if Baty could give this team the best chance at avoiding a 1-11 record?
When a team allows a touchdown on a kickoff and a punt in the same game, misses a 30-yard field goal, repeatedly gets torched deep with passes to multiple receivers and trails 38-0 at the half, a coach has plenty of fix-it projects weighing on his mind.
"I'm not worried about the quarterback," Weis said. "I mean, I've got a whole bunch of issues. Why don't we talk about special teams? Why don't we start there? It seems like every time they had a return, it was for a touchdown."
True, but it always starts at quarterback, and if there is one position Weis knows best, that's it. The position is broken, and Charlie needs to get to work fixing it with someone other than Crist. Jake Heaps will need an experienced backup next season.