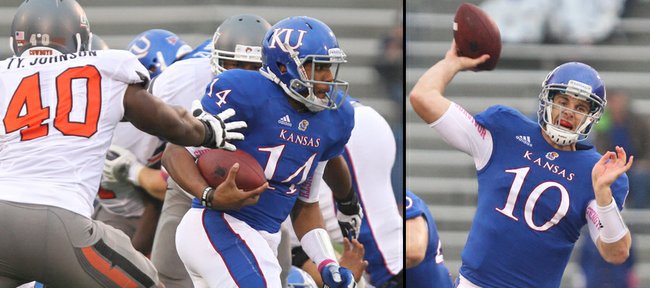 It was an answer, only in the fact that we now know that Kansas University quarterbacks Dayne Crist and Michael Cummings both will play Saturday, when the Jayhawks travel to Oklahoma to take on the Sooners at 6:05 p.m.
Podcast episode
Kansas coach Charlie Weis talks to reporters on Oct. 16, 2012, four days before his team's game against Oklahoma.
Who will start? That's still anybody's guess, and, in a way, that's exactly how KU coach Charlie Weis likes it.
"I'm obviously not here to let (OU coaches) Bob and Mike Stoops know the order and how many plays," Weis said. "We know that they'll be getting ready for both guys and the fact that they do things a little bit differently."
According to KU quarterbacks coach Ron Powlus, there remains a significant difference in the depth with which Crist and Cummings understand KU's offense. But Powlus said he first noticed things beginning to click for Cummings at the end of spring practice and added that, through heavy studying, the red-shirt freshman had done a lot to close the gap since then.
"It's one thing to know the playbook," Powlus said. "And it's another thing to execute the play. And that's what experience does for you."
Weis said he expected OU's defense to have different plans for both Crist and Cummings, which makes sense, considering Weis does, as well. But while their obvious differences — Cummings is more mobile and brings better energy and Crist is more experienced and has better size — lead to some basic answers about how each will be used, Weis' gameplan sounded anything but basic when he discussed it vaguely during his weekly meeting with the media Tuesday.
"I have a whole bunch of things in for this game," Weis said. "We can't just go vanilla and sit there and figure we're gonna slug it out and that's gonna work out to our advantage."
When asked if playing Cummings would limit what pages he could flip to in the playbook, Weis was more frank.
"Not with what we're doing," he said. "As a matter of fact, I'm fired up about this, to see what this stuff looks like. I mean, I haven't been sleeping very well, but I've been drawing (plays) in the dirt for the last 48 hours."
The Jayhawks reached this point, of course, because of Crist's struggles and the brief but bright spark that Cummings provided in relief during last week's loss to Oklahoma State.
"I owe it to my team, and I owe it to all the Kansas supporters to put the best product on the field," Weis said. "I think Michael deserves an opportunity to play."
The two-QB system, however, is more than just a service to Cummings, who missed time during his senior year of high school because of a knee injury, red-shirted last season and has played around 25 minutes of football this season.
"I think it keeps Dayne from going totally in the tank," Weis said.
Both QBs were informed on Monday night that they would be playing. They also learned one other piece of information that may help their focus.
"They're not gonna talk to the media this week because I'm not gonna make this into any bigger distraction than it already is," Weis said.
As a general philosophy, Weis does not appear to be a fan of the two-quarterback system. But with the Jayhawks at 1-5 overall and 0-3 in the Big 12 and his offense struggling, it seems as if the first-year coach is willing to throw it all out there and see what works.
"Let's hope that whoever goes in first plays so great that it makes it impossible for me to want to put the second guy in," Weis said. "But I have to think that in a 60-minute game, there'll probably come a time when I say, 'OK, let's flip over to this other package.'"
Injury update
Linebacker Tunde Bakare is back to full speed after missing last week's game because of a head injury. In addition, tailback Tony Pierson, who has missed the past seven quarters because of an elbow injury also appears closer to a return, said Weis.
Senior wide receiver D.J. Beshears (shoulder fracture) is out for "an extended period of time," and senior wideout Daymond Patterson (head injury) is listed as questionable for this weekend against OU.
Willis on the rise
While injuries have taken their toll on the Jayhawks during the past few days, a few other players have taken steps to more playing time.
Linebacker Jake Love, who started in Bakare's place last week and recorded 12 tackles, is listed as the starter at Sam linebacker and junior Darius Willis, is listed as a second-string defensive end behind senior Toben Opurum.
"He got beat out by a bunch of guys," Weis said of Willis, last year's starting middle linebacker. "Instead of whining and complaining, he went down to show team and then he just went hard and hard and hard. And now he's put himself in position to be in the two-deep and get on the field."
Last week, Willis was in on three tackles. Entering the game, he had just two for the season.
"It's one thing having a motor; it's another making plays," Weis said. "He's disruptive. He's helping us."
Doherty to punt again
After missing last week's game, junior Ron Doherty is expected to work as the Jayhawks' punter this week against Oklahoma.
Doherty is averaging 40.5 yards per punt on 21 attempts. With Doherty out, sophomore Sean Huddleston handled punting duties and averaged 40.8 yards on five kicks but struggled with hangtime.
Sophomore Nick Prolago holds the starting spot as KU's place kicker for the second straight week, with Doherty listed as the backup. Doherty is 5-of-10 this season on field goals, and Prolago, who also kicks off, did not attempt a field goal last week and was 2-for-2 on extra points.
Proud coach
The Jayhawks aren't celebrating too much, but it continues to be clear that the Jayhawks took a lot out of last week's close-call loss against Oklahoma State.
"As miserable as I was after that game, that's the first time I was ever proud of our team," Weis said before correcting himself. "Actually, it's the second time. The first time was when I got their grades last semester. And it's the first time since that 3.0 grade-point-average where you could see any true pride in the locker room, even though they had lost a game."
OU loaded
Weis talked Tuesday about the number of future pros on Oklahoma's roster compared to the number on his roster.
"Yeah, they have a bunch," Weis said. "And they have 'em on both sides of the ball, too. ... It's night and day. Let's be practical. If they play their best game and we play our best game, they win. Because they have good coaches and they have good players. But I'm counting that that's not the way it goes. I'm counting that we play our best game and they don't."