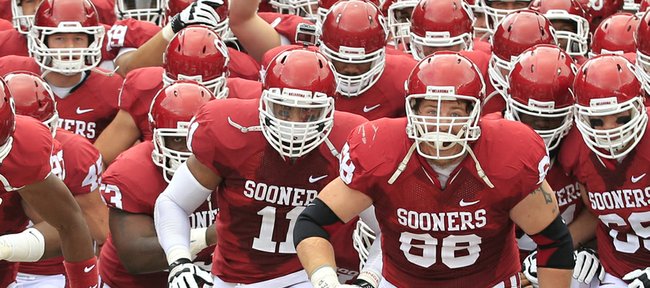 Captain Optimistic could look at 10th-ranked Oklahoma's schedule, see the Sooners' match-up with Kansas University on Saturday is sandwiched between last week's Red River Rivalry game against Texas and next week's showdown with No. 5 Notre Dame and think, "Maybe OU will overlook the Jayhawks."
Don't count on it, said Sooners head coach Bob Stoops on Monday morning's Big 12 coaches teleconference.
Stoops said his squad prepared the same every week no matter the opponent, and he expected that to be the case for Saturday's 6 p.m. game against KU in Norman, Okla.
"Just like we did last week, just like we will next week," Stoops said. "There'll be one name up on the board, and that'll be Kansas. That's all we're thinking about."
It stands to reason the Sooners would be a little more fired up than normal this week coming off of last weekend's 63-21 pasting of the Longhorns. Not only did the victory — along with a West Virginia loss to Texas Tech — put OU right back in the Big 12 title race, but it also gave the surging Sooners an added dose of confidence.
Regardless, Stoops said that game was behind his team now.
"I've been here 14 years, and we've always had a game after Texas," he said. "And through the years we've done pretty well."
Indeed. Stoops is 9-5 against UT, but undefeated in the weeks following the Texas game during his 14 seasons, with an average margin of victory of 27 points. Five of those post-UT triumphs have come against Kansas.
"Our season doesn't begin and end with Texas," Stoops said. "Never has."
OU defense dominant
After an early-season slip-up against Kansas State, the Sooners (4-1 overall, 2-1 Big 12) have bounced back, thanks largely to the dominating play of their defense.
During the past three games, OU's first-string D has given up just one touchdown. Stoops said Monday that his brother/defensive coordinator, Mike Stoops, had a lot to do with that.
"He believes in being very disciplined, very technique-oriented, being physical," Stoops said of his brother. "I think it's always been our belief that you don't play great defense by trying to fool people or trying to blitz. Sometimes you blitz yourself right into trouble."
Weis also has been impressed with the approach taken by OU's defense.
"It's interesting to be able to watch a team that just lines up and plays," Weis said. "So many defenses are gadgets and gimmicks and pressure on every down, and these guys just line up, and they just try to rough you up. They just line up and try to smash you in the mouth. It's kind of old-fashioned defense, and they're really good at it."
Stoops on KU's offense
During his regular meeting with the local media Monday, Stoops was asked for his thoughts on the KU offense. He made no mention of Weis' move to turn to back-up QB Michael Cummings in place of starter Dayne Crist late in the game Saturday against Oklahoma State.
"They do a really good job of getting a lot of different sets, combining the run with the pass," Stoops said. "Dayne Crist has thrown the ball well. They have good balance, and I see a lot of good players. Overall, they've been very competitive."
Weis has not announced which quarterback will start at OU on Saturday, and he said earlier this week that he planned to give Crist and Cummings equal reps during practice to find out which guy gave KU the best chance against the Sooners.
KU-UT kickoff set
The Big 12 conference announced Monday morning that KU's homecoming football contest against Texas on Oct. 27 will kick off at 11 a.m. and will be televised by Fox Sports Net, marking the third-straight week that the Jayhawks have appeared on FSN this season.
Kansas will welcome Texas to Lawrence for the first time since 2008, when the Longhorns claimed a 35-7 win at Memorial Stadium. UT leads the all-time series with KU 9-2, including 4-2 in games played in Lawrence. KU's last win in the series came in 1938.