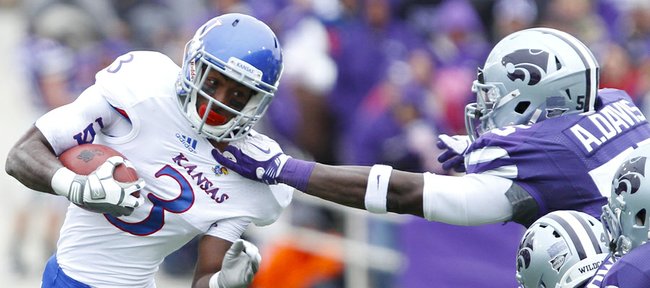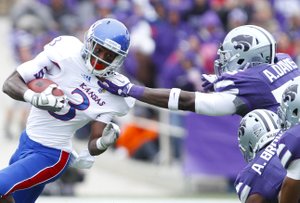 Kansas University football coach Charlie Weis claims he's just like everybody else. He feels better after wins than he does after losses.
That's why, following Saturday's 56-16 stinker in Manhattan, Weis hunkered down in his office at the Anderson Family Football Complex and did not leave for six hours.
"The worse it is, the harder I work," Weis said.
KU's first-year head coach spent the majority of that time between 5 and 11 p.m. Saturday reliving the loss that dropped his Jayhawks to 1-4 overall and 0-2 in Big 12 play. He watched the game film two times through, each time breaking it down into offensive clips, defensive clips and special-teams clips.
"Normally, I wait 'til Sunday morning to do that," Weis said. "But I didn't want to wait 'til Sunday morning because I wanted to see, in detail, what happened."
What he saw was not much different than he expected — too many mistakes on offense, too many breakdowns on defense and too much talent on the other sideline.
During Saturday's postgame meeting with the media, Weis told reporters that the status quo would not be accepted. Sunday, he proved that was not just lip service by the way he ran practice. Instead of going through the normal load of film and field work, Weis watched the game tape with the entire team and then switched things up.
"I took everyone that's gonna be on the team next year, and they practiced," Weis said. "And anyone that's not gonna be on the team next year, they ran and lifted."
Weis told his team exactly what he was doing and why he was doing it, and it was development, not punishment, that he sought with the change of pace.
"You have to do two things here," he said. "You have to develop your current squad, but you also have to develop your future squad. If you practice everyone who played all the reps in the game (Saturday), then you're never developing anyone else."
Included in that idea of dual development is the concept of how to handle the players who are eligible to red-shirt this season. Normally, Weis and his coaches have a pretty good handle on how that will play out after a just few games. But with the way things have gone so far, he ruled nothing out.
"We talk on a weekly basis," Weis said. "It's Week 5, but if we believe that Player X can help us for seven games, seven games is a lot of games now. So it's still not too late to go ahead and get that player into the mix."
Weis said he would make certain a player did not burn a year for what could be deemed "insignificant playing time."
As for the overall rebuilding race, Weis said the Jayhawks had cleared the first hurdle of being in each game at halftime.
"Now we have to come up with a better way to get through the last 30 minutes," he said. "It'd be easy for me to just say, 'The players gotta do this, and the players gotta do that,' but because the players haven't done it now for multiple years, we, as a coaching staff, have to guide 'em through that, and that's what I'll continue to do until I get this thing figured out."
Pierson just fine
There was some good news for the Jayhawks this weekend. Weis learned Sunday that sophomore tailback Tony Pierson was not expected to miss any time because of an injured elbow that kept him out of the final three quarters Saturday.
"The X-ray was negative," Weis said. "Now, he had a sore elbow, but the way they were talking to me, I thought for sure we were talking an extended period of time. He actually went out there and practiced some (Sunday). That was a pleasant surprise."
Through five games, Pierson leads KU in rushing (319 yards on 59 carries) and ranks second on the team with 198 receiving yards on 15 receptions. He also has scored three touchdowns.