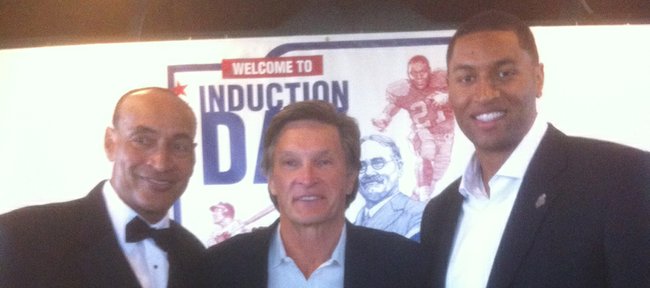 A blue-chip quarterback at Bonner Springs High School, David Jaynes committed to play football for Bear Bryant's powerhouse University of Alabama football program in the fall of 1970.
Jaynes changed his mind after Kansas University assistant football coach Terry Donahue invited him to a KU-Kansas State basketball game in Allen Fieldhouse.
"I probably would have been the best third-string quarterback in Alabama history," Jaynes joked Sunday during his Kansas Sports Hall of Fame induction speech in Wichita.
Jaynes — he was inducted as a member of the Class of 2012 with KU basketball greats Wayne Simien and Bud Stallworth — instead became one of the best QBs in KU history.
He threw for 34 career touchdowns and 5,132 yards while helping KU land a spot in the 1973 Liberty Bowl.
"I've looked at the names of those who are already inducted in this Hall, and the kid from Bonner Springs in me is asking, 'What am I doing in a group like this?' This is my day to say 'Thank you' to all the people who helped me become what I wanted to become," said the 59-year-old Jaynes, who is in the real estate business in Los Angeles.
Leavenworth native Simien, 29, was a consensus first-team All-American his senior year (2005) and was also a two-time All-Big 12 first-team pick (2004 and 2005). He was the 2005 Big 12 Player of the Year after averaging 20.3 points and 11.0 rebounds per game. Simien, the 13th-leading scorer and seventh-leading rebounder in KU history and a member of KU's 2002 and '03 Final Four teams, had his jersey hung in the fieldhouse rafters in 2011.
"I'm not here because of what I've done, but because many people have made significant contributions in my life," Simien said. "I've played for some great coaches and with some great teammates, and now I want to be remembered as someone who helped others achieve greatness in all areas of their lives."
Simien has his own Called to Greatness ministry and also is a volunteer mentor to student-athletes at KU and chaplain for the men's basketball team.
"By no means was I able to achieve this by myself. I fully believe it's because I had a number of people who really significantly invested in my life," Simien said.
Stallworth, 62, on Sunday told the story about driving from his hometown of Hartselle, Ala., to KU for a band camp and, while on the trip, playing pick-up basketball with KU guard Jo Jo White.
"To this day, I am totally indebted to Jo Jo," Stallworth said. "We stay in touch over all these years, for him taking time to mention to a coach that there is a band camper playing in Robinson Gym that might come to the University of Kansas and help us."
Coach Ted Owens, on the word of his players, met with Stallworth and offered him a scholarship. Bud went on to become a two-team all-league selection who ended his career with an 18.1-point scoring average.
His 50 points against Missouri in 1972 rank second on the KU single-game scoring list.
He was 1972 Big Eight Player of the Year after averaging 25.3 points and 7.7 rebounds a game. He played in the NBA from 1972 to '77.
"The lesson my parents taught me — that education is the most important thing — has led me to this honor. I thank you for including me among the great athletes, coaches and administrators who are in this Hall," said Stallworth, who is currently retired after working many years at KU in the department of design and construction management.
Other inductees in the Class of 2012: Kansas State quarterback Michael Bishop, Oklahoma State basketball coach Kurt Budke (deceased), Wichita State Olympic track athlete Harold Manning (deceased), K-State basketball player Willie Murrell, Arizona and Texas tennis coach David Snyder and Emporia State softball pitcher Brenda Stolle.