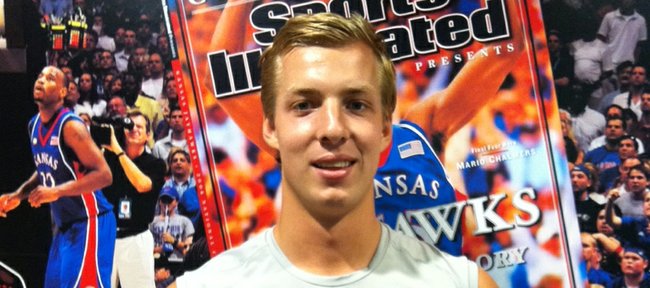 Photo Gallery
KU basketball v. San Jose State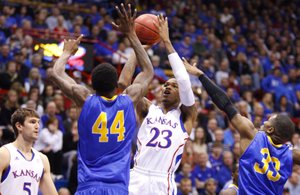 Images from Monday night's game against San Jose State.
Podcast episode
Kansas coach Bill Self talks to reporters following the Jayhawks' 70-57 victory over San Jose State on Nov. 26, 2012.
Podcast episode
Jeff Withey, Elijah Johnson and Travis Releford talk to reporters following the Jayhawks' 70-57 victory over San Jose State on Nov. 26, 2012.
Zach Peters' basketball career at Kansas University is over.
Peters, a 6-foot-9 freshman from Prestonwood Christian Academy in Plano, Texas, has health concerns that include four concussions in the last two years and a rotator cuff injury that has kept him from practicing this season.
"Zach and I met today after he went home to meet with his family for Thanksgiving, and he has informed us that he will be leaving the basketball program effective at the end of the semester," KU coach Bill Self said. "Zach has labored with health issues since he has been here. His shoulder has improved but he's also been dealing with multiple concussions that have become a big source of frustration and concern for him."
Peters, who played football and basketball his senior year of high school, suffered two concussions last school year, as well as one in July and one in September at KU, Self said.
He was cleared to resume play after a period of time following both concussions at KU, Self indicated.
"Our medical staff did MRIs and all that," Self said. "He cleared all the medical tests,"
Self said Peters, whose shoulder "has improved but is not 100 percent." Peters has decided to give up sports at least for now to return to Plano at semester.
"He's not leaving here to go play (elsewhere) but be done. I don't think he's going to try to play sports, at least for a while," Self said. "The fact he has had that many (concussions) in this short amount of time, plus the shoulder, I think he got pretty discouraged. He wants to move in a different direction, which to be honest, if it was my son, I'd tell him to do the same thing. I don't think this is a bad move on his part at all. I know his family was hoping it could work out differently. There was too much concern about getting hit again."
Self added: "We have had numerous contacts with his family about this and we are all in total agreement that before Zach could move forward with any type of athletic endeavors, he needs to be in a situation where he can address his health issues."
Peters, who committed to KU before his junior year of high school, said: "I hate that this is happening. I have really enjoyed my time at KU. I was looking forward to having a great college experience here but with all the injuries, including the concussions, that I have dealt with lately, I feel like in order for me to move on and be able to get over all this, I need to go home and basically heal.
"I really like all my teammates. This was the best situation I could have put myself in to excel in basketball," he added. "I want to say thank you to KU, the coaches, staff, teammates and fans that have supported me. I wish it didn't have to end up like this, but it's important for me to do so for my future. I plan on continuing to take classes while I'm home but I will not be playing sports in the near future."
Tempers flare: KU's Elijah Johnson was whistled for a technical foul along with San Jose State's La Vanne Pennington in the second half. The two barked at each other after Xavier Jones was called for an intentional foul on a breakaway by KU's Andrew White.
"I felt that was dangerous for him to grab Drew like that," Johnson said. "I asked him, 'Can he watch those kind of plays with my teammate?' The referee felt it was more a hostile conversation."
Self was upset that a point guard received a technical for standing up for a teammate, not a big man.
"That's the first thing I said (to team), 'Why are you letting him (Johnson) do that? I mean that's ridiculous,''' Self said. "We haven't had teams here in the past act that way, ever. It should have been a big guy go get it. C'mon, if you are going to say something to somebody it shouldn't be your point guard doing it, it is one of your enforcers. So our point guard did it."
Self, by the way, said Johnson "nicked up" his knee during a game in last week's CBE Classic and as a result "had no juice." Self said Johnson should not miss any time.
This, that: KU senior Travis Releford, who was named MVP of last week's CBE Hall of Fame Classic, on Monday earned Big 12 player of the week honors Monday for the second time in his career. ... Julius Randle, a 6-9, 240-pound senior from Prestonwood Christian Academy in Plano, Texas, will be sidelined the next three months because of a fractured right foot. Randle, the No. 2-ranked prospect in the Class of 2013 has a final list of KU, Kentucky, N.C. State, Florida, Texas and Oklahoma. ... Jeff Withey has 202 career blocks, good for sixth on KU's all-time list. ... SJSU's James Kinney scored 30 points, most by a KU opponent in Allen since Texas' J'Covan Brown hit for 33 last season. ... KU's 16 blocks were most by a Jayhawk team since blocked shots were officially recognized by the NCAA in 1974-75. It passes the 15 blocks KU recorded against Toledo in 2006.