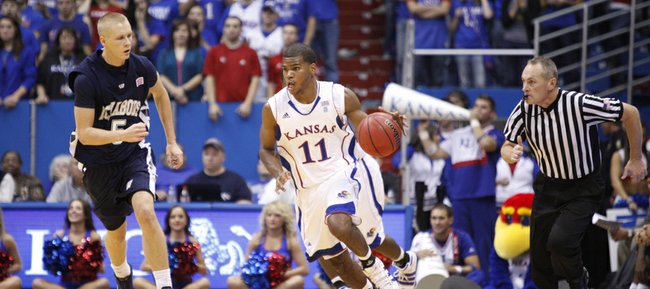 Kansas City, Mo. — It didn't take former Kansas University basketball player Royce Woolridge long to become a fan favorite at his new school, Washington State.
The 6-foot-3, 175-pound third-year sophomore point guard, who practiced but could not play in games last season according to NCAA transfer rules, flushed a one-handed dunk following a 360-degree spin move, then completed a between-the-legs jam to win the slam-dunk competition at the Cougars' 2012-13 season-opening ZZU Mania in Pullman, Wash.
"The crowd liked it. My friends from Phoenix were there and loved it. One of them taped it," Woolridge said.
He is expected to start for the Cougars during today's 9 p.m. CBE Classic contest against KU in Sprint Center.
Woolridge takes over at the point for Reggie Moore, a three-year rotation player who was removed from the team in September for a violation of team rules.
Woolridge had been considered more of a shooting guard prospect at KU, where he scored nine points total his freshman season (2010-11) while logging 44 minutes in 16 games.
"I played a little bit of point guard in high school," the former Phoenix Sunnyslope High player told the Journal-World in a phone conversation. "When I got to Kansas, I got some reps there. I went against Tyshawn (Taylor) and Elijah (Johnson), who are good point guards. When I got here, I knew I had to be a point guard and had to transform.
"I got in the gym and worked on getting a lot of shots up, talking to coach (Ken Bone) to see what he wanted from a point guard."
When Moore departed, "Coach decided he wanted me to take charge at point guard. I like playing the point. It's fun," Woolridge said. "I like playing the 2 and playing the 1."
His decision to leave KU was over the prospects of potential playing time looking slim down the road. It had nothing to do with his love of the place he committed to as a high school sophomore.
"It's like my second home," Woolridge said of Lawrence. "I committed so early. I'd been to Kansas so many times. I have a lot of friends there.
"I still talk to Niko (Roberts, KU junior), my roommate, all the time. I talk to Elijah from time to time. I actually came back and visited Kansas last spring. I got a chance to see everybody. I hung out three or four days to kick it with Niko and see what Lawrence was like. I was missing it."
Roberts said Woolridge's return visit proved "how much KU has impact on people. Merv (Lindsay, transfer to New Mexico) wants to come back and visit. When you leave KU, you are still part of the family, and you always want to come back."
He said he could tell Woolridge loves his new situation at Washington State (2-1), where he averages 7.7 points with 10 assists against nine turnovers in 31.3 minutes a game. He has made eight of 18 shots (44.4 percent) and four of eight threes. He scored 11 points with two assists against five turnovers in the Cougars' last game, Friday's 58-56 overtime loss at Pepperdine.
"He told me he is getting a lot of playing time and a lot of opportunities to get better," Roberts said.
Woolridge said he's looking forward to seeing familiar faces tonight in K.C.
"You know it's going to be competitive, but after the game we'll be friends," Woolridge said. "When they put the ball in the air, it's competitive like it was at practice there (KU). I'm looking forward to shaking the hands of the coaches and players."
Of the competitive aspect of the game, Roberts noted: "Once we start the game, it'll be all business. After the game, it'll be friendly. During the game ... we don't have friends during the game."
Woolridge said in a perfect world this game would be in Allen Fieldhouse.
"Of course, everybody would like to play in Allen. It's crazy there," Woolridge said. "But Kansas City is cool. I'm just glad to get to play a great team like Kansas there. I mean, I'm just grateful for the opportunity. It's something out of a dream, to go from a college as good at Kansas to a new one and now have an opportunity to play them."
Notes: Saint Louis will play Texas A&M; in today's 6:30 p.m. opener. The losers of both games play at 6 p.m. Tuesday; the winners will tangle 30 minutes after the conclusion of the first game, or about 8:30 p.m. ... Saint Louis is 1-1; Texas A&M; is 3-0. ... KU coach Bill Self said freshman center Landen Lucas, 6-10 from Portland, would definitely red-shirt this season. He has said repeatedly that Lucas would red-shirt if no big men were injured in coming weeks. ... KU is shooting for its 200th all-time win in Kansas City tonight. The Jayhawks are 199-78 in KC. ...Washington State is coached by Ken Bone who is 59-47 in his fourth season at WSU and 394-219 in his 13 season overall. ... WSU averages 72.0 points per game and has a +13.3 scoring margin. The Cougars crash the boards with a +10.0 rebound margin (37.0-27.0). ... Senior forward Brock Motum averages 17.7 points and 6.7 boards. ... Freshman guard DaVonte Lacy averages 11.3 ppg, leads WSU with five three-pointers and he is tied for the team high with 10 assists. ... WSU has beaten Eastern Washington and Utah Valley in Pullman, Wash. …