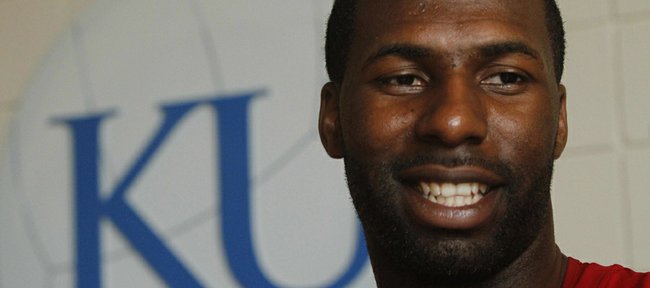 Julian Wright believes an ultra-successful season in the NBA Developmental League has resurrected his basketball career.
The No. 13 overall pick in the 2007 NBA Draft — who played sparingly for New Orleans and Toronto during his first four seasons in the NBA — averaged 15.1 points and 8.0 rebounds a game for the 2012 NBADL champion Austin (Texas) Toros.
More importantly, the 25-year-old former Kansas University forward was the team's leading scorer in the playoffs. Wright averaged 19.8 points (off 60.5 percent shooting) and 7.8 boards while logging 31.7 minutes a game in nine playoff games.
"For myself, it was comforting to know I have skills and have what it takes. It's all about hopefully getting in the right situation to show it," said the 6-foot-8, 240-pounder, who has accepted an invitation to play for the NBA's Brooklyn Nets in the Orlando Summer League in early July. "It was my first time in a while just being aggressive while scoring and being a guy they could count on.
"I was hoping for a call-up (to the Toros' affiliate, the San Antonio Spurs), but in hindsight I was glad I was able to get those minutes rather than getting called up and not playing as much."
Wright — he is in town for this week's Bill Self basketball camp — said his confidence is at an all-time high after playing for what he called "a great organization, one affiliated with the Spurs, who are top-notch. It was great to develop, get a lot of repetitions and just play."
Wright's first NBA contract expired at an inopportune time — the year of the NBA lockout.
He was not invited to Toronto Raptors' training camp, leaving him as a free agent with limited interest from other NBA teams.
"There was a risk in staying (in U.S.) because of the lockout," said Wright, who played at KU two seasons before turning pro. "Not knowing what was going on ... I felt I had a duty to be a representative of the Toronto Raptors at the time of the lockout, going to meetings and traveling back and forth. Overseas didn't seem like the best idea with me having to go midseason.
"I took it in stride. There were other guys with NBA talents that were not able to stick with a team or get on a team. I went to the developmental league and it was great for me.
"Me coming off my rookie contract, a lot of teams may not even know what I can do. I feel I didn't even know what I could do at that level. Playing in the developmental league helped me a lot getting 30 minutes a game and those repetitions. I'm very confident right now."
In his words, he's also "stress free."
Wright, who is originally from Chicago, now makes his home in laid-back Los Angeles.
"Being in L.A., there's so many things to do. You've got the water. I learned how to do a little Salsa (dancing)," Wright said with a smile. "I'm always doing music (rapping, singing, producing). It's something that's been a passion of mine. I guess I kept it a secret for a long time. It's something that helps me balance life, having creative juices flowing as opposed to everything being mandated when you are in season — having to be at this place at this time. I can let my mind go."
Music-lover Wright has started a production company.
"I'd like to be more a producer than an artist," he said. "I want to be a person that makes the song, make everybody jump up and have a good time."
When asked, he's more than willing to sing and rap in front of an audience.
"I've done some rapping. A lot of people haven't heard me sing. I will get a kick out of seeing people see me sing," he said. "I want to be a songwriter and producer first and foremost — artistry is just for fun."
In the music world, he's known as Jay Midi.
"It's a stage name, something I had since I was a little kid, actually," Wright said. "I kept it on low. It has nothing to do when I'm in my jersey playing basketball. It's a whole different persona when I'm on the court."
Why Jay Midi?
"I like Jay-Z (rap legend) a lot. The Midi? I have to get my nerd face on (to explain it). It means 'Musical Instrumental Digital Interface.' It had a ring to it. I like it," Wright said.
He also likes being back at KU.
"I'm going back to school," he said. "I need about 50 hours to graduate. I'll take online courses, correspondence to earn my degree in the summer of 2013 probably. I've taken a few small classes at UCLA, but I said to myself, 'I can't get a degree from UCLA," he exclaimed, noting he's a Jayhawk forever.