Former Kansas guard Mario Chalmers likes life as an NBA champion.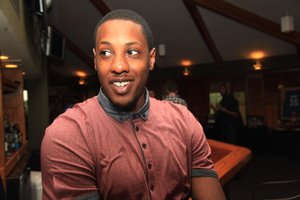 "Miami's been crazy. This is my first time out of Miami since we won," said Chalmers, who joined guests at a benefit mixer/auction at Alvamar Golf Club in Lawrence on Thursday. "The atmosphere is a little bit different. In Miami, everybody's all about Miami. You go anywhere, they're there cheering."
Chalmers — his Miami Heat clinched the NBA title with a 121-106 victory over the Oklahoma City Thunder on June 21 — took time away from the celebration to make it back to his college town this week, as today he's hosting the National Championship Golf Classic at Alvamar.
Proceeds will go to the Mario V. Chalmers Foundation to benefit cancer research and community-based youth programs.
"This event means a lot to me," Chalmers said. "It's the first kickoff to my foundation — the first event we did to help raise money for it. It's always going to be a special event."
Chalmers, who averaged 9.8 points and 3.5 assists last year, is enjoying the spotlight that comes with winning a title.
"It's been fun. Everywhere I go, I'm recognized as, 'Hey, there goes a champ,'" Chalmers said. "That's never a bad thing to be called a champ. I look forward to that and interacting with people."
Of course, this isn't a first for Chalmers. He also played a crucial role in KU's 2008 national championship team, hitting a late three-pointer to send the national championship game to overtime in the Jayhawks' 75-68 victory over Memphis.
So which title — NBA or college — was more satisfying?
"It might be the college one, just because that's the one ... I hit the shot. I had a big moment in that game," Chalmers said. "But the NBA one is at the top, too, because that's winning at the highest level, competing against the best of the best."
Chalmers said he wasn't sure yet when he'll get his NBA championship ring, but he already has plans for it.
"I'm going to wear them all," Chalmers said with a smile. "I'm going to wear my two high school (ones), my college (one) and my NBA (one). I'm going to wear them all at the same time one day."
After winning the NBA title, Chalmers received congratulations from KU alums Aaron Miles, Wayne Simien, Tyshawn Taylor, Paul Pierce, Nick Collison and Cole Aldrich, among others.
One of the ways Chalmers stayed focused late in the season was by refusing to watch ESPN's SportsCenter.
"It wasn't tough. It was just something that I felt like would ease my mind and keep me at ease for the whole playoffs," Chalmers said. "It worked."
Taylor scores 23: Former Kansas guard Tyshawn Taylor scored a game-high 23 points in the Brooklyn Nets' 87-86 loss to Oklahoma City in Thursday's NBA Summer League game in Orlando.
Taylor was 9-for-18 from the floor, 1-for-2 from three and 4-for-7 from the free-throw line in 31 minutes. He also added five assists to go with three turnovers, two rebounds and a steal.
Former KU center Cole Aldrich did not play for Oklahoma City because of a coach's decision (rest).