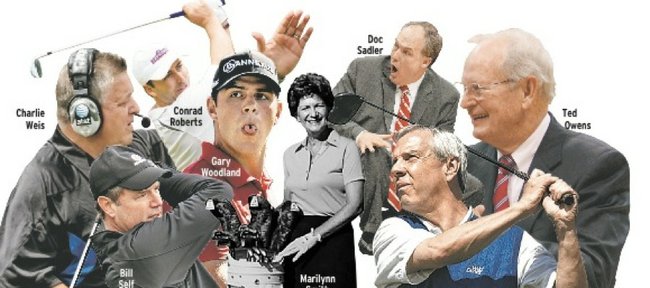 From Tiger's resurgence on the PGA Tour to the heat-soaked rounds of local golfers at Alvamar, Eagle Bend and Lawrence Country Club, golf often dominates so many summertime conversations in Lawrence.
The past couple of weeks have added to the list of topics, as Kansas University announced Jamie Bermel as its new men's golf coach, and former Jayhawk Conrad Roberts won his sixth Lawrence Amateur Golf Association city championship in the past seven seasons last weekend.
The only thing that prevented the Welshman from winning during that stretch was a scheduling snafu that forced him to miss last year's event.
But forget about the big-time events for a minute. For the rest of us, one of the most popular events of the summer golf season is the scramble. Four guys get together for a few laughs, a couple of beverages and a fun round. It's the perfect set-up for any golfer, from awful to average, and it allows for players of all skill levels to compete on an even playing field.
Such a setting is the scene for the fourth installment of our summer series, which looks back at some of the biggest and best names to come through KU.
It surely won't take long to see which of us was going for the win and which was looking to have a good time with good company when putting together our teams.
Matt Tait
Conrad Roberts — Conrad and I go way back, so I've had the pleasure to play golf with him dozens of times. Each time, I play better just by being out there with him.
Gary Woodland — If it's a scramble, I'm guessing we'll use his tee shot a lot.
Kit Grove — Kit's exactly the kind of guy you want on your squad when you're looking to have a fun round.
Chris Thompson — He mixes well with the other three, both in terms of golf ability and potential to act like a clown. I think we'd have a good shot to win, and I know we'd have a round full of laughs.
Andrew Hartsock
Marilynn Smith — The Topeka native — nicknamed "Miss Personality" — was one of the 13 founders of the LPGA and won 21 events on tour, including two majors. Surely the Hall of Famer could help carry my sorry behind.
Roy Williams — Everybody knows golf is Williams' second love. No, wait, Kansas is his second love, behind North Carolina. No, wait, Carolina is second behind wife Wanda. No … oh, never mind. Williams loves his golf, and I'd love to hear one more time his trusty line about only having had one wife and one putter his entire life.
Lew Perkins — I'm an awful golfer. Awful. Perkins should be more than capable of helping manage — and maybe even massage — the big numbers I'd be sure to put up.
Bob Frederick — Golf is a gentleman's game, and Frederick was the consummate gentleman. He'd make everybody want to play the right way.
Tom Keegan
Bill Lienhard — And if he wants to invite his beautiful wife and three gorgeous daughters to join us for drinks after the round, who am I to tell him he can't? Played one of the most enjoyable nine holes of golf of my life with the forward from the '52 national champs.
Ted Owens — The golf-addicted former KU basketall coach has been ducking me for too long. It's time for a match.
Doc Sadler — The highly competitive director of basketball operations won 48 games in two seasons as UTEP's head coach. It would be interesting to see how he coaches himself through 18 holes worth of challenges. Can he turn his high-on-the-dial intensity into more of a positive than a negative in a game that rewards those who know how to relax?
Bill Self — Cross-handed putter has an aggressive, inside-out swing with a wide arc, hits the ball a mile and draws it. With the restrictions the NCAA places on when coaches can evaluate and/or talk to recruits, there is no reason Self shouldn't play twice as much golf as he does. If he did, he would cut his 10.8 handicap index in half.
Jesse Newell
Bill Self — He tells great stories once he gets going.
Charlie Weis — He has enough NFL experience to keep the funny tales going for a couple hours.
Dave Campo — Campo is another gifted storyteller, and I'm sure his years with the Dallas Cowboys could make for some interesting chatter.
Scot Pollard — He's so zany that I'm not sure what would happen, but it would probably be funny.
Gary Bedore
Glen Mason — I picture him as being a fierce competitor on the course. He had little bit of a temper. I always liked him, though.
Bill Self — I've seen him hit the ball. Far.
Roy Williams — I've seen him putt and also hit some bombs off the tee.
Gary Schwartz — Any friend of the media can play in my group any time. Schwartz is probably the first KU coach in the modern era actually to phone the Journal-World with meet results and ask if we needed any information from him. That's expected of high school coaches, but a rarity at the college level.