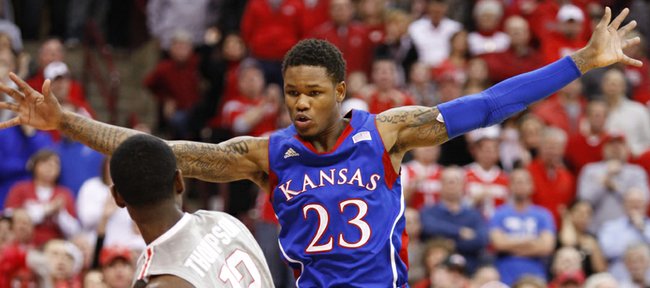 Kansas University freshman guard Ben McLemore on Monday was named Big 12 rookie of the week, the conference office announced.
McLemore, a 6-5 red-shirt from St. Louis, averaged 18.0 points and 6.5 rebounds as the Jayhawks defeated Richmond (87-59) and won at then-No. 7 Ohio State (74-66).
He opened with 14 points off 5-of-9 shooting versus the Spiders and added seven rebounds. He scored 22 points and grabbed six rebounds in KU's win in Columbus, Ohio. He shot 50 percent (13-of-26) for the week, including 55.6 percent (5-of-9) from three-point range.
McLemore, who was honored by the league for the first time, leads KU and all Big 12 freshmen in scoring at 16.5 points per game, including four 20-point performances. His 16.5 ppg ranks second overall in the conference.
This marks the 23rd time in the 17-year history of the Big 12 that a Kansas player has been named Big 12 Rookie of the Week. Rookie of the week recognition goes to first-year players in the conference.
Kansas State's Rodney McGruder was named player of the week. He scored 26 points in a win over Texas Southern and had 13 points and six rebounds in a win against Florida.