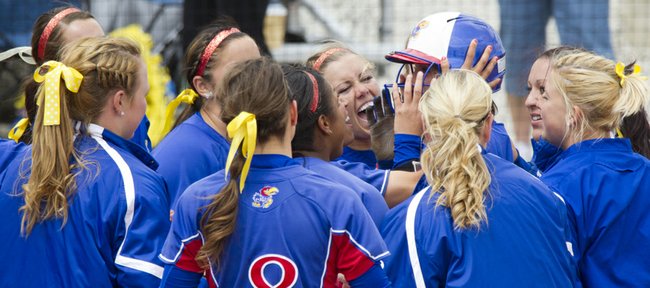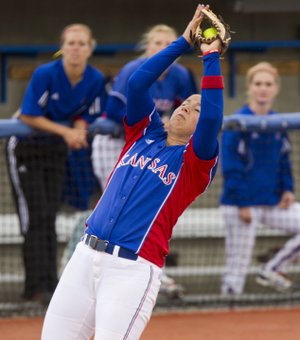 The first two games of Kansas University's Big 12 weekend softball series with Iowa State weren't much to look at.
KU won Friday's opener convincingly, but relied heavily on five unsightly Cyclone errors and a weird inning-prolonging substitution snafu.
Saturday, the Jayhawks brought the ugly, squandering a couple of big leads to hand ISU a one-run victory.
Hoping to make up for the cosmetically challenged first two games, KU put it all together in a fetching 8-0 rout in Sunday's finale on Bark in the Park Day at Arrocha Ballpark.
Sunday's game was so lovely, even the coaches relied on hyperbole.
"After the game," related KU left fielder Maggie Hull, "one thing our coach said was that this was the most complete game he'd seen in the three years they'd been here. … One of my teammates said, 'That's KU softball. That's the real us.'"
If so, the Jayhawks (28-16 overall, 5-13 Big 12) must be the real deal.
Sunday, freshman Alicia Pille (15-9) surrendered just one hit over the full run-rule-shortened five innings, fellow freshman Maddie Stein clobbered her third home run in two days — and third of her career — and Hull went 2-for-3 (and 8-for-11 for the weekend) to boost her season average to a Big 12-best .424.
"Ending it that way was the best thing we could do," said Pille, who struck out three and walked none and was a fourth-inning single from Lexi Slater away from perfection.
Pille took the decision in all three games against ISU (14-30, 2-13).
She won the opener with seven solid innings but lost Game Two with three shaky innings of relief.
"Alicia Pille was phenomenal in the circle," KU coach Megan Smith said. "Alicia Pille was dominant today. She's a freshman. She has ups and downs. Yesterday was a down for her."
A constant up for the Jayhawks all weekend was their offense.
They collected 25 runs off 38 hits over the three games.
"It was awesome," Pille said. "Our offense is amazing."
Case in point: Stein. She went 2-for-3 Sunday with two runs and three RBIs to hike her season average to .408.
And, oh, yeah, she homered again a day after twice leaving the yard.
"I really have no clue," Stein said, in response to a question about her sudden power surge. "That first home run was great. Every one that went over after that surprised me even more."
And then there's Hull, who stretched her hitting streak to 12 games and leads the league or is near the league lead in several offensive categories, including average, hits (61), runs (42) and doubles (13).
"It feels good," she said of Sunday's victory. "Yesterday, I hurt. I hurt a lot.
"Now we have to make sure to come out and bring it every day."
Kansas will host a doubleheader with UMKC at 3 p.m. Wednesday at Arrocha, then host Texas Tech next weekend.