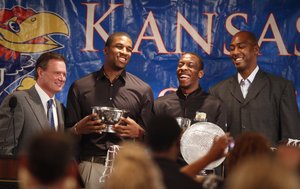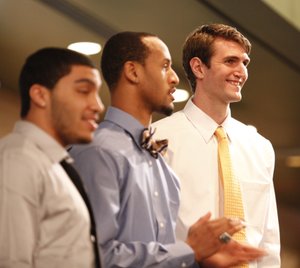 Departing Kansas University basketball players Thomas Robinson and Tyshawn Taylor were named co-winners of the coveted Danny Manning "Mr. Jayhawk" Award at the conclusion of Monday's postseason banquet at the Holidome.
Manning, the new head coach at Tulsa University, was on hand to present the hardware to Robinson, a junior who earlier Monday declared for the NBA Draft, and Taylor, a senior expected to be taken somewhere late in the first round or in the second round.
There were standing ovations from 600 banquet-goers for not only those two, but some of the marquee players on next year's team — junior starters Travis Releford, Elijah Johnson and Jeff Withey.
"He's the unsung hero of our team, our glue guy," KU coach Bill Self gushed of small forward Releford.
Of junior combo guard Johnson, Self said: "The two most talented guards we've recruited since we've been here, taking everything into consideration — speed, strength, slide, stroke, vision, handles — are Sherron Collins and Elijah Johnson."
Saving perhaps the greatest compliment for 7-foot center Withey, Self said: "All he did was set the all-time record in the history of our school in blocks and in the history of the NCAA Tournament. If Jeff gets a little bit better, little bit stronger, he can go down as one of the best big men Kansas has had not in recent memory, but the last half century. I really believe that."
Withey appreciated the glowing remarks.
"Last year at this time, coach said I would hold the block record, get all the blocks I did. Hopefully I can make him proud and do what he said again (next season)," Withey said.
Self isn't expecting any surprises regarding Withey and/or Johnson as far as leaving for the 2012 NBA Draft. Players have until April 29 to enter their names in the draft. However, if they wish to return to school, they'd have to withdraw from the draft pool by today.
"I think Elijah could play himself into the first round, and Jeff could play himself into the first round (in 2013 Draft)," Self said. "I don't think it'd be in their best interests to come out now because the reality of it is, they are probably on the outside looking in."
Withey was asked if he considered entering the draft.
"Of course," he said, noting he hadn't spoken to Self about the matter. "Definitely that goes through your mind. As of right now, I'm staying. I'm really happy with my decision (to stay), and I'm excited for next year."
Recruiting: The Jayhawks, who are expected to receive a letter-of-intent from Andrew White (6-6, Chester, Va.) on Wednesday, are not finished recruiting. KU also has a spring commitment from Seattle guard Anrio Adams, who still needs to receive a qualifying score on the ACT and may wait before signing.
"We are not close to being done," Self said, not discussing specific recruits in accordance with NCAA rules. "If we get lucky late or get the right transfer, we'd certainly be open to taking them."
As far as possibly finding a point guard: "I'm hopeful we can tighten that up through recruiting in the spring. If not, I think Elijah can be your primary point. I'd like to recruit one more, without question."
KU may play IU: ESPN reported on Monday that KU and Indiana are talking about scheduling a home-and-home series that would start in Allen Fieldhouse next season. Nothing is finalized.
Foreign tour: Self said the Jayhawks will likely take a foreign tour to someplace like Italy in August.
He said KU could play some teams that fail to qualify for the Olympics.
"If we can go in the summer and take freshmen, which is the rule, why wouldn't we go to Italy or somewhere, play six games in eight days, do some sightseeing and actually enjoy each other?" he said.
Self on new KSU coach Bruce Weber: "Bruce is a good coach, no question. I saw firsthand what he did with those kids at Illinois (in succeeding Self). I think they are hiring a very good basketball coach."