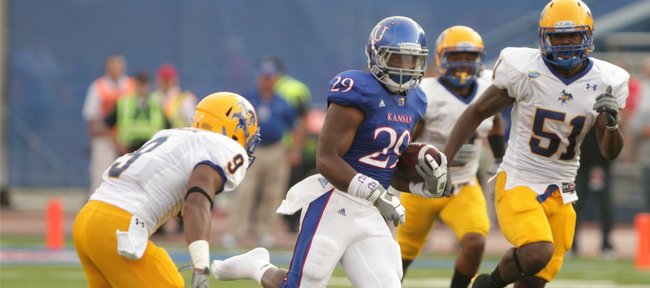 If Kansas University running back James Sims hopes to lead the Jayhawks in rushing for a third consecutive season, he'll have to do it in three fewer games than everybody else — maybe less.
KU coach Charlie Weis announced Monday that Sims had been suspended for the first three games of the 2012 season for violating team rules.
Sims, 20 of Irving, Texas, was arrested early Sunday morning for operating a vehicle under the influence in the 1300 block of Jayhawk Boulevard. He becomes the latest member of the KU football team to fall victim to Weis' new standard of discipline and accountability.
"Every player on our team knows and understands our rules and regulations," Weis said in a press release Monday. "They also know the consequences for violations."
As a true freshman in 2010, Sims led the Jayhawks with 742 yards and nine touchdowns on 168 carries. Last season, the 6-foot, 206-pound inside runner racked up similar numbers, rushing for 727 yards and nine TDs on 182 attempts.
Despite the presence of returning backs Brandon Bourbon and Tony Pierson, who both challenged Sims for carries in 2011, the veteran tailback opened the spring atop KU's depth chart at the tailback position.
With his suspension looming, that figures to change, opening the door for Bourbon, Pierson and newcomers Taylor Cox and Tevin Shaw to take over the top spot.