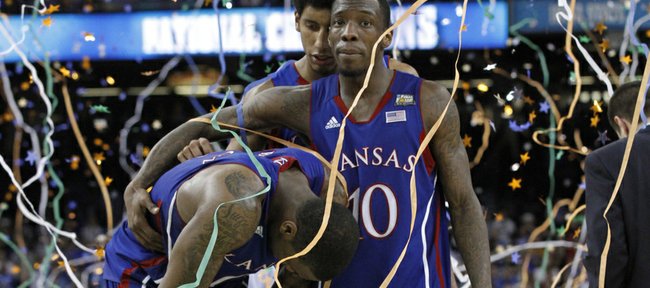 New Orleans — Thomas Robinson stood at the free-throw line closest to Kansas University's basketball bench, bending over at the waist as tears streamed down his cheeks late Monday night in the Superdome.
KU's big, bruising junior forward needed assistance from teammates Tyshawn Taylor and Kevin Young, who consoled the 6-foot-10 future NBA lottery pick after the Jayhawks' 67-59 loss to Kentucky in the NCAA title game.
"It hurts. I wanted to win so bad," Robinson said after scoring 18 points and grabbing 17 rebounds in 36 minutes.
He hurt badly, but also was "proud" of his Jayhawks, who sliced an 18-point first-half deficit (39-21 at 2:49) and 15-point second-half deficit (59-44 with 5:09 left) to five points (62-57) with 1:37 to play.
"Like coach (Bill) Self said, I don't think we lost this game. I think we just got beat. All season we've been coming back from 12-point deficits," Robinson said, adding, "I'm just glad I got to be part of this team."
The Jayhawks (32-7), who trailed at half in four games in the 2012 NCAAs, again didn't go quietly, this time against a powerful Kentucky squad (38-2), the overall No. 1 seed in the tourney.
"That's us. We've been the comeback kids all year," junior guard Elijah Johnson said after scoring 13 points off 5-of-13 shooting.
He was involved in one of the game's key plays.
With KU down 65-59, Johnson went up for a three-pointer in the corner, but came down with the ball in the hands and was whistled for a traveling call. He was bothered by UK big man Anthony Davis, who finished with six points off 1-for-10 shooting, with 16 rebounds, five assists, six blocks and three steals.
"Davis impacts the game so much with his length, and he's so quick," KU coach Self said. "He made an unbelievable play when he forced the walk. We tried but never could get it to a one-possession game."
Doron Lamb (game-high 22 points) cashed two free throws at :17 to conclude the scoring. Lamb, by the way, also hit back-to-back threes to boost a 48-38 lead to 54-38 with 10 minutes left.
KU lagged 62-52 with 2:52 left following a three by Marquis Teague (14 points, 5-14 shooting). That's when Johnson hit a three and Robinson two free throws, slicing the gap to 62-57 at 1:37. It reminded some of KU's comeback from a nine-point deficit late in the 2008 title victory over Memphis, a team then coached by Kentucky's John Calipari.
KU's Taylor had a near steal, however UK kept control of the ball. Davis was fouled and hit one of two free throws, making it 63-57 at 1:11.
Then Taylor had a reverse layup rejected by Michael Kidd-Gilchrist. Taylor threw the ball away after grabbing his own rebound at :54.6. Teague was fouled and expanded UK's lead to 65-57 at :53.
"He made an unbelievable play. I thought I had it. I should have finished on the same side," Taylor said of his layup try. "I felt I was too far under the rim. He didn't quit on the play. Him not giving up and using his length, he made an unbelievable play."
KU's comeback notwithstanding, the Jayhawks were disappointed they dug an 18-point hole.
"Kentucky controlled everything the first 20 minutes. They had an unbelievable half and had us on our heels," Self said. "We got the game the way we wanted it. It was a muddy track. We came up short, but I don't think we lost. They just beat us."
Noted Taylor: "It sucks we have to be down 14 before we want to start fighting. But the fight never stops with us, man."
UK, which led by as many as 17 points in a 10-point victory over KU in November in New York, blazed to an 18-point first half lead (39-21) and took a 14-point advantage (41-27) into the break.
Kentucky, which was led by Lamb's 12 points and Kidd-Gilchrist's 11 (Teague had nine), hit 16 of 30 shots for 53.3 percent in the half (41.1 for the game to KU's 35.5). KU, which received eight points from both Robinson and Taylor (Jeff Withey had five with two blocks), hit 11 of 33 for 33.3 percent that half.
UK killed KU on the boards, 25-14, the first half and won the board battle, 43-35 overall. Davis, who didn't score, grabbed nine rebounds and had four assists and three blocks in 18 minutes.
"We played as individuals the first half," Johnson lamented. "But we got it together and fought hard the second half. We let Kentucky know if they wanted it they were going to have to take it from us. We made them uncomfortable."
Yet the Wildcats were the ones clipping the nets afterward.
"Seeing T-Rob like that ... it killed me," Johnson said of the big man sobbing. "We've been working on this since October."
"It was heartbreaking, just heartbreaking," noted Withey.
KU's Robinson and Taylor were named to the all-tournament team with Kentucky's Kidd-Gilchrist, Lamb and Davis. Davis was named most outstanding player of the Final Four.