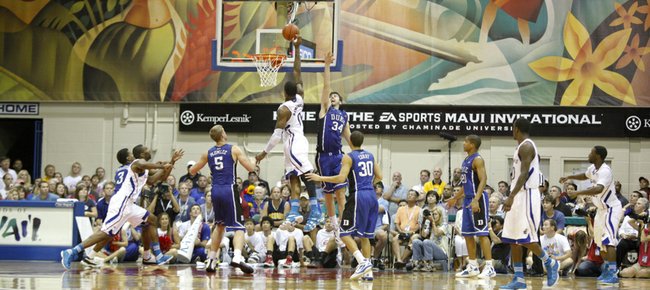 Kansas University's men's basketball team, which has defeated Georgetown, UCLA and Towson, and lost to Kentucky and Duke so far this season, currently has played the eighth-toughest schedule in the country, according to Jeff Sagarin.
The nonconference slate resumes on Wednesday when the Jayhawks meet (3-4) Florida Atlantic at 7 p.m., in Allen Fieldhouse. The Owls have lost to Washington, South Florida, Portland and American and defeated Lynn, George Mason and Hofstra.
In its other game this week, KU plays host to (5-2) South Florida on Saturday in a game with a strange starting time of 4:15 p.m.
KU, on Tuesday, Dec. 6 plays host to (3-2) Long Beach State — a squad that shocked Pitt on the road (86-76) and also has defeated Idaho and Boise State and lost to San Diego State and Montana. The 49ers play at Louisville on Monday night.
Ohio State (6-0), which boasts All-America candidate Jared Sullinger, travels to KU on Dec. 10. The Jayhawks also play (4-1) Davidson on Dec. 19 in Sprint Center and travel to (3-4) USC on Dec. 22 to complete the pre-Christmas portion of the schedule. Davidson recently lost to Duke, 82-69, in Durham, N.C.
"You should try to schedule based on your team that is returning a little bit and we don't have a lot of experience returning," KU coach Bill Self said. "(But) how can you pass up the opportunity to play in the Champions Classic (versus Kentucky this year and Michigan State and Duke in successive years)? How can you pass up Maui and a home-and-home with Ohio State? We are returning the USC game and the other games are tough — the Davidsons and Long Beach States. Those are the ones that make your schedule so tough. South Florida and the others ... it's good. It's the best schedule we've had since we've been here."
It's fun for the players, that's for sure.
"It's the toughest schedule we've had since I've been here," noted junior forward Thomas Robinson. "The best players and best teams bring out the best in everybody. If you want to be the best you have to take on the best," Robinson added.
After Christmas, the nonconference slate concludes with games against Howard (Dec. 29) and North Dakota (New Year's Eve) in Allen. KU's conference opener will be at home against Kansas State on Jan. 4.