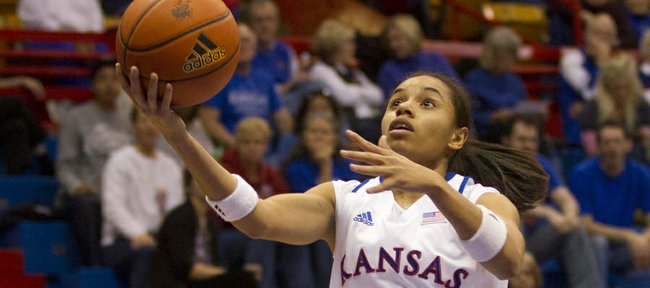 Document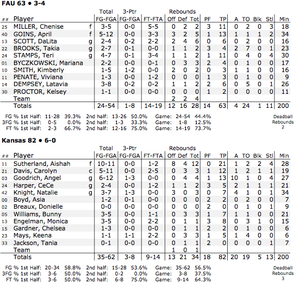 Just a few minutes after the final horn sounded Sunday afternoon, marking the end of the Kansas University women's basketball team's 82-63 victory over Florida Atlantic, junior point guard Angel Goodrich applauded as her Jayhawk teammates, senior Aishah Sutherland and junior Carolyn Davis, were named to the all-tournament team at the conclusion of the three-day Basketball Travelers Classic.
The Jayhawks' floor general and captain didn't know she would soon be introduced and brought back onto the Allen Fieldhouse floor, too, as the classic's MVP following her 13-point, 10-assist showing against the Owls (3-4) that clinched the Classic championship for KU.
"It means a lot," Goodrich said of the award. "Personally, I was shocked, because at first I thought they just gave an all-tournament team."
In a game in which Sutherland dominated the glass and cleaned up eight offensive rebounds on her way to 21 points and 12 boards, Goodrich stood out as well by making plays on both ends of the floor. Not only did her pace and play-making help KU (6-0) shoot 56 percent (35-for-62), but she managed four steals and four defensive rebounds while helping keep the FAU starting backcourt in check.
Kansas coach Bonnie Henrickson said she was thrilled for Goodrich, a 5-foot-4 junior, because Goodrich is exuding confidence, aggressiveness and leadership.
"From a confidence standpoint," Henrickson said, "she's playing at a really, really high level right now, and that's contagious."
The coach said the two of them had a discussion this past spring in which Goodrich told Henrickson she wanted to take control of the team as a junior. Goodrich said she feels like she has come a long way since her freshman and sophomore seasons, when she had to deal with injuries and didn't feel as though she was in a position to speak up and lead Kansas.
"This year, being one of the oldest veterans and seeing we had five freshmen coming in," Goodrich said, "I wanted to be the one to step up and be a more vocal leader."
Henrickson was pleased one of her other captains, Davis, was able to play in all three KU victories at the Classic despite still not being totally recovered from a stress fracture in her right foot. The 6-foot-3 forward only played four second-half minutes against FAU, but finished with 12 points, three rebounds and a pair of blocks, despite the fact she hasn't practiced the past few weeks due to her injury.
That led Henrickson to joke players will soon be advocating for no one practicing: "Why do we have practice, coach? Look at Carolyn."
The coach said Davis has much less pain in her foot now and is actually frustrated by not being able to practice because it impacts her timing on the court.
At 7 p.m. Thursday, the Jayhawks will play host to SMU.