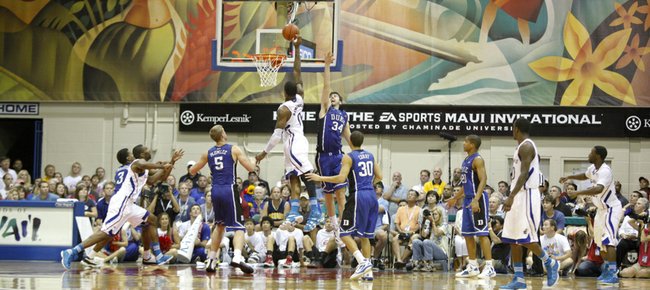 Lahaina, Hawaii — Kansas University's basketball players did more than body surf and spy on sea turtles while snorkeling during their just-completed trip to paradise.
The Jayhawks (3-2), on their first extended road trip of the season, beat Georgetown (67-63) and UCLA (72-56) at the Maui Invitational before losing to Duke, 68-61, in the final, gaining some valuable experience against top-notch competition so early in the season.
Playing teams from three premier conferences — the Big East, Pac-12 and ACC — also figures to be a bonus at this juncture of the 2011-12 campaign.
"We've had a monster schedule so far for a team not even close to where we are going to be in my opinion," KU coach Bill Self said. "I think we're doing some good things. We're better than we were a week ago when we played Kentucky (and lost, 75-65, in New York). Still, unforced turnovers ended up being our Achilles heel in both those games (the UK and Duke losses).
"We are 3-2, with nobody else in the country playing Kentucky, Duke, Georgetown, UCLA back-to-back-to-back."
Of course, KU expects to beat those schools, even in a year with a lot of inexperienced players.
"We've got to find a way to win close games. That's how you have great seasons," Self said. "We did it against Georgetown, who is really good. We didn't do it against Duke. It was a one-possession game that could have gone either way."
As far as KU's rugged early season slate, Self said: "Looking back, I'm not sure this was bad for us at all. A lot of people play soft schedules, which we have, too. You can get confidence that way. I think we got some confidence playing Kentucky, Georgetown, Duke and UCLA."
The all-tournament team: Thomas Robinson, Kansas; Jason Clark, Georgetown; Tim Hardaway, Jr., Michigan; Austin Rivers, Duke. MVP: Ryan Kelly, Duke.
TO trouble: KU's Tyshawn Taylor had a career-high 11 turnovers against Duke, the most in a game in KU school history. The previous record was nine twice, the last by Jerod Haase versus Baylor on Jan. 11, 1997. The other player and game could not be located in the record books. Since the 1997-98 season, no Jayhawk has had more than eight in a game.
"He'll be fine," Self said of Taylor. "He played great. He got careless there in the second half, but we put the ball in his hands a lot. We told him the game plan was drive it, drive it. When that is your game plan ... he got out of control on key possessions the second half. But I thought for the most part he played really well. Looking back now, I wish I subbed him a bit. He played well. He competed hard. I thought our whole team really tried."
T-Rob says: KU's Robinson had 16 points and 15 rebounds versus the Blue Devils.
"Like we said yesterday, this is what we came to Kansas for ... for games like this," he said. "I haven't been around that long. I'm still a young player. But I do believe that game will go down as one of the top games of the tournament. It's too bad we got the short end of the stick, but I feel that my team got better. We did accomplish something when we came to the islands, and we'll go back to Kansas a better team. So I'm happy, but at the same time, I wanted to have the trophy."