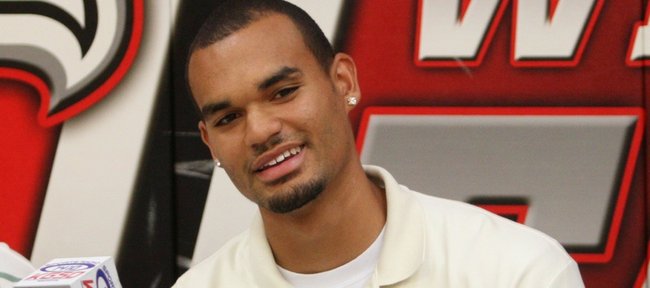 Wearing a bright crimson and blue Kansas Jayhawks sweatshirt while seated in between mom, Fonda, and dad, Will, Wichita Heights senior forward Perry Ellis signed a national basketball letter of intent with KU on Wednesday in an early-morning ceremony at his high school.
A No. 34 KU jersey and KU banner served as the backdrop as the 6-foot-8, 220-pound Ellis put pen to paper, ending one of the most significant recruitments of the nine-year Bill Self era.
"We've been excited about Perry Ellis for a long time. We've been recruiting Perry pretty hard for a while. We felt like he was as important of a recruit as we have had since we've been here," KU coach Self said upon receipt of the letter Wednesday afternoon.
"You have to get your local guys, and certainly he has a chance to be in that same mold of a Wayne Simien-type guy. Fans are going to fall in love with him because he is so responsible and disciplined. He's a great student and will be a great ambassador for any program," Self added of the three-time state Gatorade Player of the Year and No. 24-rated prospect nationally according to Rivals.com.
Ellis orally committed to KU on Sept. 22 following a recruitment that began after KU's 2008 national title season.
"He has progressed to the point to where he may play as much on the perimeter than on the inside for us," Self said of Ellis, who averaged 22.1 points and 7.9 rebounds a game last season for undefeated Heights.
"He's going to be a three man. He has a very good skill set. Coach Auer (Joe, Heights) and his staff; Steve Young and his team's AAU program (Pray and Play Players) have put him into a position that he is able to do different things. He's an athlete. He can really, really run. (He) is so explosive and so strong now. I've seen him develop and I think he's prepared to have an impactful freshman year because we can pretty much put him out there and he can figure it out because he's so versatile," Self added.
Ellis, who has a perfect 4.0 grade-point average, spends much of his free time as a youth basketball instructor and volunteer at the Wichita Children's Home.
"He's so talented and going to be great. The fact he has never made a B. The fact he's competitive in the classroom. The fact he will be a great ambassador for our university and athletic program, shows that he comes from great parents in Fonda and Will," Self said. "They do a remarkable job with their children. We're really excited about having this family be a part of everything we do. He's had a nice blend of summer and high school, where everybody is on the same page."
Two of Ellis' teammates also signed letters at the ceremony to kick off the first day of the weeklong signing period. Terrence Moore inked with Emporia State and Gavin Thurman with Missouri State.
"I knew for so long. I've been there so many times. I felt so comfortable there," Ellis said of the reason he chose KU over Kansas State, Kentucky and Wichita State. "It (comfort level) made me realize that was the school. It's one of the top programs. I'm going to try to be a part of it.
"He (Self) was the first to come to my games my freshman year. That really impressed me and humbled me," Ellis added. "He's a real good person and I'm excited to play for him."
Why No. 34?: Ellis' mom said Perry has worn No. 34 since third grade. "He was a Shaq (O'Neal) fan back then and has kept that number ever since," she said.
Zach next: Zach Peters, a 6-9 forward from Prestonwood Christian Academy in Plano, Texas, who is ranked No. 144 by Rivals.com, will sign with KU at a banquet on Monday. Peters committed to KU on April 21, 2010. He averaged 15.3 points and 9.0 rebounds a game last season. A wide receiver for his school's football team, Peters has 42 catches for 549 yards and nine touchdowns for the 7-2 Lions.
Lucas to visit today: Landen Lucas, a 6-8, 240-pound senior forward from Westview High in Portland, Ore., today will begin an official recruiting visit to KU. Lucas, who is currently unranked, is considering KU, Cal, Stanford, Tennessee and Washington. He played at Las Vegas' Findlay Prep last year.
"Lucas is considered one of the better power forward/center-types on the West Coast," writes ESPN.com. "Due to his physical nature and advanced skill set he should be a viable recruit for the high-major level. He doesn't have great bounce, but he does have good hands, excellent foot work and a high basketball IQ to compete at that level."
Recruiting class No. 24: Rivals.com has KU's recruiting class ranked the 24th best in the country with one semester to go. KU will have two scholarships left to award if Thomas Robinson, as expected, turns pro after the season. KU would have three to give if Justin Wesley returned to walk-on status. He is on scholarship this year after transferring from Lamar as a walk-on.
The losses: KU most recently lost No. 20-rated center Kaleb Tarczewski to Arizona. Earlier, J'Mychal Reese picked Texas A&M;, Ioannis Papapetrou selected Texas, and Marcus Smart tapped Oklahoma State. Recruits that remain available include No. 56 Andrew White, 6-6 from Miller School in Chester, Va.
"We still have a chance to have a very good recruiting class. We obviously have missed out on a couple guys that certainly we felt would be difference-makers. I do think there's other guys out there. Certainly we're on top of those guys," Self said.
"Recruiting is a never-ending deal," he added. "Several of the key players in this class aren't going to sign early. We'll still continue to recruit some guys."
Players in last year's recruiting class who will be eligible at KU next season: No. 34 Ben McLemore, 6-5 from St. Louis; and No. 141 Jamari Traylor, 6-8 from Chicago.