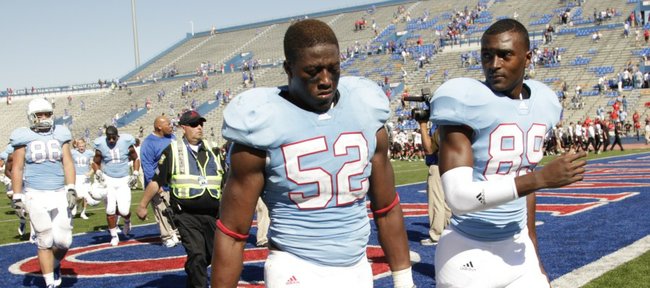 There were only a few minutes remaining in the game and Texas had built a 43-0 lead. The Kansas University football team was staring down the barrel of a sixth-straight loss, the fourth in a row by 30 points or more, and the familiar feeling of disappointment, frustration and embarrassment was starting to creep into the players' minds.
Not all of them chose to pay attention.
"Our guys were tired," KU defensive coordinator Vic Shealy said. "They had played a lot of snaps. We had most of our twos in those last two series, but some of our seniors and starters were on the sideline begging to go back in. Guys, if they're beat down from a psychological standpoint, then those kids don't ask to go back in. They did not want to see more points put up on that board."
This is the world of Kansas football these days. Each week, despite preparing a game plan that gives them the best chance to succeed, the Jayhawks are beaten up physically by bigger, stronger and faster Big 12 opponents. With the physical match-up so obviously in favor of KU's opponents, the Jayhawks are left to search for some kind of mental advantage that might help. It's tough. But for a team in KU's position, it's every bit as critical as lining up properly, wrapping up on a tackle or holding a block for an extra second.
"The mental part is so important, especially to kids at this level, because a lot of them have not ever dealt with losing, especially like this," said Dr. Andrew Jacobs, a sports psychologist in Kansas City, Mo. "It's an adjustment period. You have to teach kids at the college level how to fail. You have to teach them what happens when they fail, and you have to teach them about the emotional side of how you're gonna deal with losing and failing."
To those on the outside, the Jayhawks appear to be handling it with grace, following the lead of head coach Turner Gill, who, despite being on the hot seat in just his second season in town, continues to show up week after week with a smile on his face and sincerity in his voice. Each Saturday beatdown has been followed by a spirited day of practice on Sunday and a week's worth of positivity until the process starts all over again the following Saturday.
This has become the Turner Gill way. And even though the Jayhawks seem to be sticking to Gill's line of thinking, they're not afraid to admit that the six-game losing skid has taken its toll.
"Losing hurts," sophomore cornerback Tyler Patmon said. "An athlete never wants to lose, but, at the same time, you know you're gonna lose, you know you're not gonna win every game, so you just have to learn to get past that, push through it and stay positive."
Added senior co-captain Jeremiah Hatch: "We're taking a lot of blows right now, man. We're taking a lot of losses. Any time any team takes this many losses, you learn and you move on. The team is going through a lot, and it can make the team or it can break the team. But we're together. In everything. That's just the way it's been."
Below the surface, there are signs that the mental strain is getting to the Jayhawks. Messages on Facebook reflect the struggle and frustration they feel for a season that started with promise and went south in a hurry. The KU coaching staff knows it's there.
"You always want to work on the mental framework," offensive coordinator Chuck Long said. "But when you scratch it all away, it's basically working on the field. It's getting more confident on the field. That's really the best way to do it."
Jacobs, who spent the last four seasons working for the Kansas City Royals and was the first sports psychologist employed by KU from 1981-85, said confidence — Gill's word of the week for the Iowa State game, which kicks off at 11:30 a.m. today in Ames, Iowa — is one of the biggest factors in overcoming mental adversity in athletics.
"You're gonna win a game or you're gonna lose a game," Jacobs said. "How you handle that has a lot to do with your self-confidence, your demeanor and your belief system. Now, in (KU's) case, because they've been losing and getting blown out, there's obviously a lot of negativity about the team. These guys aren't ignorant. They're not stupid. They know what's going on. And that can't help but hurt your confidence."
Gill, who graduated from North Texas in 1990 with a degree in behavioral analysis, said he has paid close attention to his players' psyches during the recent rough stretch.
"I really believe in stimulating the brain to better them," Gill said. "I talk to the players one-on-one, trying to get a little deeper. I'm going to take the time to tell them what I see, and I like to hear what they see. We want to make sure we know what we're trying to get accomplished."
Jacobs said Gill's approach likely is responsible for the players' positive attitudes during tough times.
"The key thing in situations like this is the importance of leadership," Jacobs said. "You need to have guys who have level heads. Confidence means believing in yourself. But I always ask this question, 'Do you have to be confident to be successful or do you have to be successful to be confident?' To me, the answer is you need to be confident to be successful."