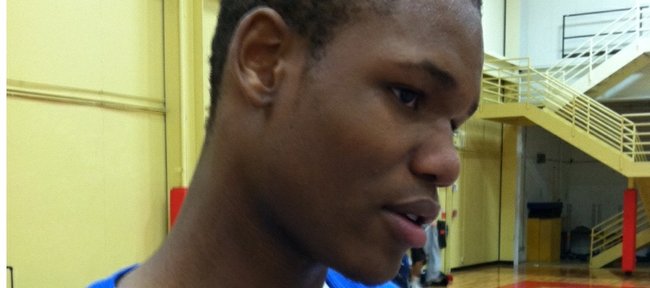 Future Kansas University basketball players Braeden Anderson and Ben McLemore plan on signing national-letters-of-intent today, the first day of the month-long spring signing period.
"They sent it (letter). It's in the mail. Hopefully it comes tomorrow. I'll sign it tomorrow, if not, Thursday," Anderson, a 6-8, 215-pound senior forward from Wilbraham and Monson Academy in Massachusetts said Tuesday from his home in Okotoks, Alberta.
Anderson orally committed to KU assistant coach Joe Dooley on Saturday in Canada and informed KU head coach Bill Self of the decision Sunday.
Once committed to DePaul, Anderson, who averaged 20 points and 11 rebounds this past season, chose KU over Kentucky, Arizona, Florida, Missouri and Memphis.
The 6-5, 185-pound McLemore, who is ranked No. 17 nationally by Rivals.com (Anderson is unranked), will sign his national letter in a ceremony this morning at Christian Life Center in Houston.
"Ben's always been a quiet kid, but I can tell when he's excited about something and I know he's looking forward to signing with Kansas Wednesday," Christian Life Center coach Carlos Wilson told Rivals.com. "He's been great for us and I know his teammates really like him. I've enjoyed coaching Ben and the guys have enjoyed having him around."
McLemore, who chose KU over Missouri, averaged 16 points and seven rebounds in six games at the Houston school. He started the year at Oak Hill Academy in Mouth of Wilson, Va., but was dismissed for violating undisclosed team rules.
KU, which signed point guard Naadir Tharpe in November, has three remaining scholarships to give in the Class of 2011, four if Josh Selby declares for the NBA Draft. Previously a walk-on, Conner Teahan received a scholarship this year because one was available. He figures to receive one again his senior year with KU figuring to not fill all available slots.
"We need to get at least one more commitment from a big and at least one more perimeter commitment, too," said Self. "We may sign more than that, too. It depends on how things fall."
Players on KU's wish list include DeAndre Daniels, 6-8, 180, from IMG Academy in Bradenton, Fla.; Jamari Traylor, 6-7, 210, also from IMG; and Trevor Lacey, 6-3, 190, from Butler High in Huntsville, Ala.
Daniels, who is ranked No. 9 by Rivals.com, is scheduled to visit Duke this weekend. He also has KU, Texas and Kentucky on his list.
Lacey told Rivals.com on Tuesday he will visit Alabama this weekend and likely KU the following weekend. He has a final list of KU, Alabama, Auburn, UConn and Kentucky.
"My interest in Kansas is serious," Lacey told Rivals. "Coach Self is a great coach, Kansas is a winning program and they've got playing time available for me. A few guys are graduating and the Morris twins are leaving early, so I could step in and play right away."
Lacey, Rivals.com's No. 34-rated player, averaged 31.4 points, eight rebounds, 3.1 steals and 2.6 assists per game last season.
Traylor, who is unranked, will visit Oklahoma State this weekend, according to Zagsblog.com. Traylor, who has visited Indiana, also is planning on visiting KU with St. John's, Memphis and Mississippi State in the mix.
Porter off the board
Otto Porter, a 6-9, 200–pound forward from Scott County Center High in Missouri, orally committed to Georgetown on Tuesday. He chose the Hoyas over KU and Missouri.
Roberts hired at Florida
Former KU assistant coach Norm Roberts and former Arkansas head coach John Pelphrey on Tuesday were named assistant coaches on Billy Donovan's Florida staff.
Roberts was head coach at St. John's for six seasons.
"Being from New York, I've known Norm for a long time,'' Donovan said. "He's an outstanding coach, he's a great recruiter, has high character and integrity and I'm thrilled to have him on our staff here at Florida."
Softie at heart
It was revealed at Monday's KU basketball banquet that Self had his players cut down the nets at Allen Fieldhouse following a practice after KU's regular-season ending victory at Missouri. The Jayhawks, who wrapped up the undisputed title at MU, obviously couldn't cut down the nets in Columbia. Self, who felt his team hadn't had a chance to celebrate much the past couple seasons, brought out a ladder and scissors in the fieldhouse. The ceremony was videotaped, parts of it shown at the banquet.