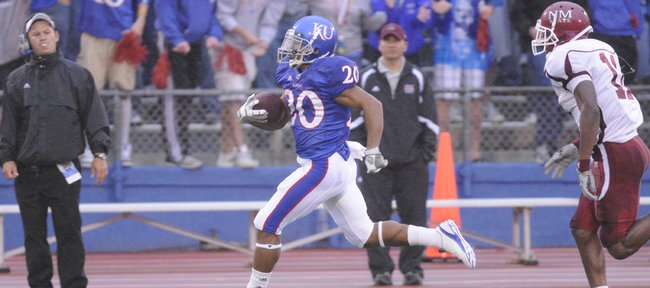 Three touchdowns, nearly 200 total yards and big-time production as a runner, receiver and special-teams return man.
Surely the performance turned in by Kansas University sophomore D.J. Beshears during the Jayhawks' 42-16 victory against New Mexico State on Saturday night was the best game of his life, right?
"In college, yes," Beshears said.
So, wait. You're saying there was a game in high school that trumped this one?
"Yeah," he said. "I know I had like four touchdowns and almost 200 yards receiving. I can't recall the exact stats. (But this one's) right (up) there."
According to many of his teammates, it was long overdue.
"I really think everybody was expecting it out of him," quarterback Jordan Webb said. "It came later than I expected, actually. We've been working him in, running more plays for him, and he really showed tonight that he deserves it."
He also showed that, given that chance, he can be a real weapon for the KU offense.
Of Beshears' future role, whether it will come as a runner or a receiver, KU coach Turner Gill said: "We'll line him up all over the place."
Beshears' breakout performance came on eight carries from the backfield, two catches from his wide receiver spot and two lengthy kickoff returns, one of which went the distance, a 96-yard TD that broke the game open.
Beshears' multi-dimensional skill-set has led many to compare him to some of the most dynamic triple-threat players in the game.
"He's kind of like a Reggie Bush-type of guy," senior receiver Johnathan Wilson said. "He can catch the ball out of the backfield and as a receiver, and he's a return guy on special teams. He has real tenacity. He's mean. He might be little, but he's out there trying to hit people and knock people down. He's crazy."
Of the comparison, Beshears said: "I definitely looked up to Reggie Bush when I was younger, but I really can't model myself after anybody right now. I'm just me."
Right now, whether that means he rocks as a running back, flies as a receiver or races up the field as a return man, the Jayhawks continually are searching for new ways to get the ball to Beshears.
"We've wanted to all along," Webb said. "He's electric with the ball in his hands. He's a physical guy, and he's fast. He wants to get into the end zone every time he touches it. I don't think he has a weakness as far as anywhere we can't get him the ball."
Added Beshears: "I'm a receiver, but I'll do whatever it takes to win. Whatever position coach (Gill) wants me to play, that's what I'll play."